excellent illustrated exhibition catalogue
This is a short but very charming book, published by the National Portrait Gallery. It explores the impact of Bloomsbury personalities on each other, as well as how they shaped the development of British modernism. But most of all it is a delightful collection of portrait paintings and photographs, with accompanying biographical notes. It's an introductory essay which outlines the development of Bloomsbury, followed by a series of portraits and the biographical sketches of the major figures.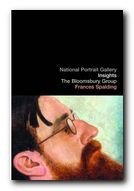 The paintings are supplemented by some quite rare photographs – most of which I suspect came from the National Portrait Gallery for which this publication was once an exhibition catalogue. The characters portrayed are what might be called the usual suspects: Leonard Woolf, Virginia Woolf, Lytton Strachey, Duncan Grant, Vanessa Bell, Ottoline Morrell, John Maynard Keynes, Bertrand Russell, and Dora Carrington, for instance.
It was amusing to note that throughout the pages, Lytton Strachey seems to be in a state of permanent horizontal recline, lounging in a succession of deckchairs and armchairs, which the accompanying text maintains was 'conducive to a life of intense mental activity' – forgetting that Virginia Woolf, a far more productive author, often wrote standing up.
The biographical sketches themselves are an entertaining mixture of historical fact, contextualisation, and discreetly gossipy personal details. They also comment on the painted portraits too – so we get an element of psychological interpretation as well.
I was fascinated by some of the small details – such as Lytton Strachey re-naming Reginald Partridge Ralph; E.M.Forster setting fire to his trousers when visiting Virginia Woolf; Frances Partridge modelling creations by Issey Miyake; and an aged Gerald Brenan being kidnapped from an old people's home in Pinner and taken back to die in his spiritual home in southern Spain.
This is an excellent introduction for newcomers, and there is enough novelty to keep regular Bloomsbury fans interested too. All the paintings and photographs are beautifully reproduced, and the book is well designed and printed. It's become a best-seller on this site.
© Roy Johnson 2005

Buy the book at Amazon UK

Buy the book at Amazon US
---
Frances Spalding, The Bloomsbury Group, London: National Portrait Gallery, 2005, pp.108, ISBN 1855143518
---
More on biography
More on the Bloomsbury Group
Twentieth century literature
---