Adrian Mole meets Bloomsbury
Richard Kennedy started work at the Hogarth Press when he was sixteen. He had been a complete failure at Marlborough School, and was fixed up with the job through a family connection as a special favour, starting work at one pound a week. His memoirs (and atmospheric line illustrations) were produced many years later, and they take great delight in contrasting the youth's naive enthusiasm and his bewilderment with the sophisticated milieu into which he had been transported.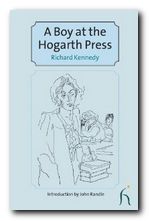 Leonard Woolf ran an enterprise in the Hogarth Press which was commercially very successful, and Kennedy joined it at a time in the 1920s when the work of Virginia Woolf (particularly Orlando) and Vita Sackville-West (All Passion Spent) were virtually best-sellers. But his approach is to depict these intellectual giants as they were seen by a sixteen year old boy. He was far more interested in learning how to chat up girls than the lofty aspirations of his employers. He contrives to present an 'Emperor's New Clothes' approach to all things Bloomsbury, and the result is a sort of Adrian Mole version of events.
The saintly Virginia Woolf, who at that time was producing some of the most advanced texts of literary modernism, is pictured as she would appear to a young teenager:
She looks at us over the top of her steel-rimmed spectacles, her grey hair hanging over her forehead and a shag cigarette (which she rolls herself) hanging from her lips. She wears a hatchet-blue overall and sits hunched in a wicker armchair with her pad on her knees and a small typewriter beside her.
His employer, the indefatigable Leonard Woolf, who ran the whole enterprise with rigorous efficiency, is cut down to size in a similar fashion:
After lunch we all straggled home over the Downs. LW stopped to have a pee in a very casual way without attempting any sort of cover. I could see that this was a part of his super-rational way of living.
But for all the naive self deprecation, you know that Kennedy is well connected. He is in fact from the same social milieu as the people he describes, as he reveals in a throwaway remark on a visit to St Ives::
The picnic over, we returned to Talland House – curiously enough, the scene of Virginia Woolf's first successful novel, To the Lighthouse. Her parents had rented the house from my aunt's parents .
The book is decorated by spidery but very evocative drawings which capture the mood of the era and the spirit of the text. Amazingly, they were drawn from memory in the 1970s, yet capture both the period and the principal characters very well.
It's a slight book to say the least, but it's very amusing and it throws light onto the workings of what was a very successful publishing business – and for Bloomsbury Group enthusiasts it has some delicious thumbnail sketches of the principals, as well as even floor plans of the rooms at the Hogarth Press, showing who was cooped up where. Full marks to Hesperus Press for bringing this delightful book back into print.
© Roy Johnson 2011
---
Richard Kennedy, A Boy at the Hogarth Press, London: Hesperus Press, 2011, pp.90, ISBN 1843914611
---
More on the Bloomsbury Group
More on biography
---