understanding the language of the book trade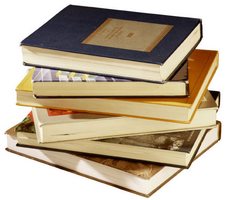 When buying second-hand books you'll often come across bookseller jargon used to describe the goods they have on offer. These descriptions appear in both printed catalogues and on web site bookstores.
The bookseller is giving an accurate description of a book and its condition, but the description often contain lots of abbreviations and specialist terms (jargon). This can sometimes appear like a secret code, and might even include abbreviations of their own bookseller jargon terms.
There is a huge specialised vocabulary involved in the book trade – terms such as 'foxing' to describe discoloured pages, or 'half-binding' to indicate that the spine will be bound in a different material, usually leather.
It's not necessary to learn all these terms, and you can often guess at the meaning of some of them. But knowing a few of the most common expressions can help you to get a better idea of what's on offer – and save you from making a mistake.
Knowing something about this jargon can also help you to spot bargains when buying books for as little as a penny on Internet bookshop sites.
---
Bookseller jargon – example I
Let's start with a fairly straightforward example from an advert on Amazon. It's a second-hand copy of Charles Dickens' novel Martin Chuzzlewit. The description is quite simple, but it does introduce a few bookseller jargon terms.
Published 1935, illustrations by Phiz. Burgandy boards with gold inscription to spine, author's signature on front. Possibly published 1935. Corners bumped and boards a little grubby. Tanning to edges, Binding is pretty tight and very little staining to pages. A few pages turned at corners. Others in series are available. Quick dispatch from Oxford based hospice charity,
author's signature – This is very misleading, because it's not a signature. Dickens' signature is printed on the cover.
Corners bumped – The corners of the book covers are bent or creased with use and age.That's fairly normal in an old book.
Tanning – The colour of the covers is fading because of exposure to light.
Binding tight – The book will not open easily and generally does not want to remain open to any given page.
pages turned at corners – A previous reader has bookmarked pages by turning down the corner of some pages.
One interesting thing to note here is that the publisher is not mentioned. In fact the publisher is Odhams, and this series was a mass-produced very cheap edition. Copies are very easy to obtain anywhere – so the price being asked for this copy (£6.85) is far too high.
---
Bookseller jargon – example II
Here's a relatively simple example from AbeBooks. It's an advert for a first edition copy of Christopher Isherwood's novel Goodbye to Berlin. You will notice that although the advert is descriptive, a few more bookseller jargon terms creep in.
Book Description: London, The Hogarth Press, 1939, 1939. Octavo. Original rough grey cloth, titles to spine in red, top edge stained red. With the dust jacket designed by Humphrey Spender printed in black and red with a photograph of a park scene by Hans Wild. Light partial toning to endpapers, an excellent copy in the lightly rubbed dust jacket with just a couple of minor nicks and creases. First edition, first impression. Published March 1939; 3,550 copies printed.
Octavo – This is the size of the book – five inches wide and eight to nine inches tall.
toning – One of many euphemisms booksellers use to describe the discoloration of paper with age.
endpapers – The sheets of paper pasted onto the inner covers of the book
lightly rubbed – This is wear caused to the edges of the book or its dust jacket as a result of being moved on and off a shelf. Another term might be 'scuffed'.
nicks and creases – Nicks are small cuts or abrasions, and creases are permanent folds in paper which often occur on book jackets and inner pages.
first impression – The book comes from the first batch to be printed for this title – this is a guarantee of the book's rarity.
As you can tell from this, book collectors are very concerned about the physical condition of the books they buy — with good reason. This one was for sale for £3,750.00
---
Bookseller jargon – example III
Here is a much more detailed and complex example. This an advert for a set of volumes which are a genuine rarity and an antiquity from the eighteenth century essayists Addison and Steele.
Addison, Johseph; Steele, Sir Richard. THE SPECTATOR. London: Printed for J. and R. Tonson and S. Draper 1749.
8 vols. T.p. devices., engraved frontiss., dec. head and tail pieces. Some sporadic very light browning, ex-libris Sir Thomas Miller Bt. and with sm. ownership signature, top edge of a couple of leaves in vol. 4 sl. chipped, slightly rubbed gilt filleted edges with some sl. wear to corners, full speckled calf with some minor light staining to a couple of boards, raised bands dec. gilt compartments and leather title labels to rubbed and slightly chipped spines..
£125.00
Eight volumes – This is a genuine eighteenth-centry collection for only £120.00 – which seems good value to me.
T.p. devices – Title page with devices. This page lists the title and any subtitle; the author; the publisher; and the printer.
engraved frontiss – This is an engraved illustration at the beginning of the book, usually facing the title page.
dec. head and tail pieces – A decorative ornament found at the start of a chapter or a division in a book (very common in the eighteenth century).
very light browning – This is signs of discolouration in the paper – an indication of its age.
ex-libris – A Latin term which means 'from the library of'. This is often indicated by a small label pasted into the book's inside cover.
sm. ownership signature – A small signature of a (or the) previous owner.
sl. chipped – Slightly chipped. This usually means that small parts of the page are missing or frayed.
gilt filleted edges – Fillets are decorative lines impressed on a book cover. These have been rubbed, and perhaps lost some of the gilding.
sl. wear to corners – Worn perhaps as the books have been taken on and off shelves.
full speckled calf – The volumes have been bound in leather – and 'speckled' means the calf's hide has been treated to create small dark spots or specks.
boards – This is the heavy-duty cardboard used in the construction of the book covers.
slightly chipped spines – Futher signs of use and age. This is to be expected on something three centuries old.
---

A full glossary of bookseller jargon

Common abbreviations used by booksellers

Book formats and sizes
© Roy Johnson 2013
---
More on literature
More on the novella
More on literary studies
More on short stories
---