Hogarth Press first edition book jacket designs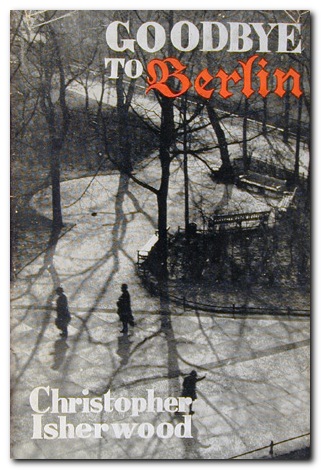 Christopher Isherwood, Goodbye to Berlin (1939)
"Before leaving for China, Isherwood had completed "The Landauers", "On Ruegen Island", and "A Berlin Diary (Winter 1932-33)" and given them to John Lehmann, who was beginning his negotiations with the Woolfs to become managing director of the press. Lehmann collected the various stories from the first Berlin diary to the last and arranged them in novel form as Goodbye to Berlin (1939), and the novel was published by the Hogarth Press under Lehmann's supervision in March.

Goodbye to Berlin, thanks in part to the audacious spirit of Sally Bowles, became another fast-selling, popular success for Isherwood and the Hogarth Press. Reviewers were generally enthusiastic, although troubled by the fragmented structure and the omnipresent narrator Christopher Isherwood who bore the author's name. Few of them saw at the time the irony, art, and control with which Isherwood had shaped his characters and assembled his episodes. Edmund Wilson, almost alone, saw Goodbye to Berlin in terms that would become obvious to later more observant critics. Reviewing the American edition by Random House, Wilson noted that Isherwood was a master of social observation whose eye was "accurate, lucid and cool; and it is a faculty which brings its own antidote to the hopelessness and horror he describes". Isherwood's prose, added Wilson, was "a perfect medium for his purpose", allowing the reader "to look right through Isherwood and to see what he sees".
J.H. Willis Jr, Leonard and Virginia Woolf as Publishers: The Hogarth Press 1917-1941
---
Hogarth Press studies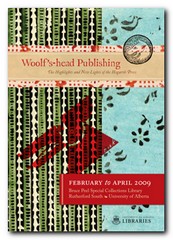 Woolf's-head Publishing is a wonderful collection of cover designs, book jackets, and illustrations – but also a beautiful example of book production in its own right. It was produced as an exhibition catalogue and has quite rightly gone on to enjoy an independent life of its own. This book is a genuine collector's item, and only months after its first publication it started to win awards for its design and production values. Anyone with the slightest interest in book production, graphic design, typography, or Bloomsbury will want to own a copy the minute they clap eyes on it.

Buy the book at Amazon UK


Buy the book at Amazon US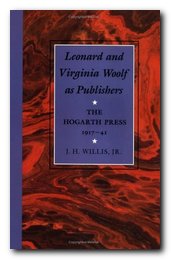 Leonard and Virginia Woolf as Publishers: Hogarth Press, 1917-41 John Willis brings the remarkable story of Leonard and Virginia Woolf's success as publishers to life. He generates interesting thumbnail sketches of all the Hogarth Press authors, which brings both them and the books they wrote into sharp focus. He also follows the development of many of its best-selling titles, and there's a full account of the social and cultural development of the press. This is a scholarly work with extensive footnotes, bibliographies, and suggestions for further reading – but most of all it is a very readable study in cultural history.

Buy the book at Amazon UK


Buy the book at Amazon US
© Roy Johnson 2005
---