short biography and literary background
The new Very Interesting People series from Oxford University Press provides authoritative bite-sized biographies of Britain's most fascinating historical figures. These are people whose influence and importance have stood the test of time. Each book in the series is based on the biographical entry from the world-famous Oxford Dictionary of National Biography. Michael Slater sketches the main outline of Dickens' life – the boyhood in Chatham and Rochester, his love of reading and amateur theatricals, and then the shocking, seminal event in his young life when his father was put into the Marshalsea debtor's prison and Dickens himself was set to work in a blacking factory, sticking labels on bottles. This was an event which was to shape much of his later fiction, as well as his own psychology and his attitudes to social reform.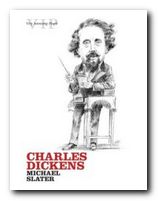 After this difficult start to life, and despite being very largely self-educated, he fought his way into literature via journalism and court reporting. By the time he was in his mid twenties he had catapulted himself to fame with Pickwick Papers. Thereafter, he became a cultural and publishing phenomenon, producing masterpieces at a rate that puts most of today's writers to shame.
On the strength of this success he married and settled down to a life of stupendous creativity and some amazing enterprise. He was active in controlling his own commercial potential as a writer, and he campaigned vigorously on the cause for authors' copyright.
His fame also led him to develop a parallel career as a public speaker, and he gave regular dramatised readings from his own works, travelling to America on lecture tours and taking holidays in France and Italy.
Slater's account manages to balance aspects of Dickens' personal life with the development of his literary work. For instance, he doesn't shirk the fact that Dickens like many other rich middle-class Victorian men became interested in the plight of 'fallen women', but at the same time he was able to produce his great masterpieces in books such as Dombey and Son, Bleak House, and Little Dorrit.
Yet whilst his fame spread and both his family and his bank-balance grew, his marriage slid into the doldrums, and he made matters worse by falling in love with Ellen Ternan, an actress the same age as his own young daughter.
The later years of his life appear to have been tinged with darkness. His relationships with his (ten) children was not good; he seems to have been implacably hostile to his wronged wife; and his health was not robust. Nevertheless, he worked on – and eventually it was his work rate and his dramatic readings which cut short his life at fifty-eight.
For a publication of this size, there's a lot of inline source referencing that takes up space which could have been much better used by offering a bibliography and suggestions for further reading. But it's a book which you can be quite confident is based on a scholarly knowledge of its subject. Most importantly, it makes you want to read the great works – or even better read them again.
© Roy Johnson 2007
---
Michael Slater, Charles Dickens, Oxford: Oxford University Press, 2007, pp.111, ISBN: 0199213528
---
More on Charles Dickens
More on literature
More on the novella
More on literary studies
More on short stories
---