tutorial, commentary, study resources, plot, and web links
Dombey and Son was first issued in monthly instalments by Bradbury & Evans between October 1846 and April 1848. It was then published in a single volume with original illustrations by Hablot Knight Brown ('Phiz'). The full description on the title page reads Dealings with the firm of Dombey and Son, Wholesale, Retail, and for Exportation.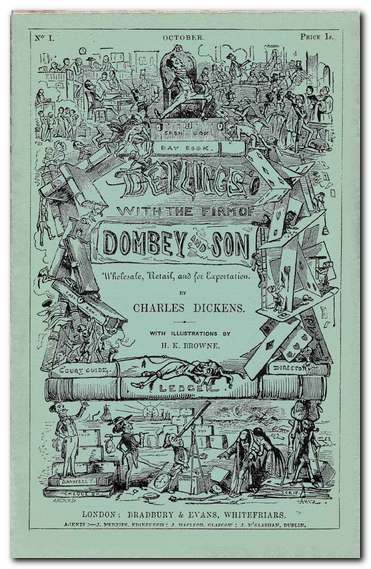 monthly serial cover
---
Dombey and Son – critical commentary
Title
The title of this novel is particularly apt, because it incorporates principal aspects of its two major themes. The term 'Dombey and Son' is obviously the name of a commercial firm. It conveys the notion of a business enterprise which has passed through at least two generations and is therefore effective and reliable.
But in fact the enterprise has this name before the birth of his son. He already has a daughter, but he does not consider her adequate to represent his dynastic ambitions. So all his hopes are pinned on his son Paul
But he has put so much of his energy and enterprise into his commercial endeavours, he has lost the ability to love even his own offspring. So the term 'Dombey and Son' also encompasses the second major theme of the novel – which is the gulf that separates parent from child.
Dickens' primary meaning in his title is the commercial establishment. This is signalled by his full description of the novel on its title page – Dealings with the firm of Dombey and Son, Wholesale, Retail, and for Exportation.. But the secondary meaning coexists without any doubt.
Educating the child
Much of the first part of the novel is about the poor raising, the neglect, and the false education of children. Paul Dombey (senior) has his expectations set on a son who will inherit the commercial success of Dombey and Son and promote its good name into the future. The father ignores and neglects his firstborn child Florence because she is female. He sees her as insignificant in the paternalistic dynasty of business and inheritance. As he says to her: "Girls … have nothing to do with Dombey and Son".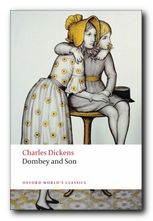 Yet when his wife bears him a male child (Paul junior) the son is immediately removed from his primary sources of emotional comfort – first of all from his mother because she dies, then from his beloved nurse, Polly Toodles, because Dombey fires her. Dombey then submits his son to the dubious care of his stupid sister Mrs Chick and her friend Miss Tox. Even worse, he subsequently sends Paul to the appalling establishment run by the fraudulent Mrs Pipchin in Brighton. She neglects the children placed in her care to an almost criminal extent.
Following this ruinous beginning, Paul is sent to a boarding school owned by Dr Blimber, who is obsessed with teaching 'classics' (Latin and Greek language and history). Blimber runs the establishment on the Spartan and cheerless lines of an English public school (that is, a fee-paying, private school) where Paul is miserably unhappy. It is significant that the only real learning he imbibes is delivered to him by his elder sister Florence, whom he loves dearly and acts as a substitute mother to him.
Dombey péreis a cold, unloving and distant father who wants a son who will continue the commercial enterprise he has created – but he has no love for that child as a human being. He is more interested in the idea of Dynasty than his own flesh and blood.
Paul is intensely aware that he has lost his mother, and he clings to his sister Florence as a means of emotional support.
Point of view
Dickens often appears in his own novels commenting on events, characters, and the situations he has created. But in terms of 'point of view' he does something very interesting in the case of young Paul Dombey. It is quite clear to the reader that Paul is a weak and sickly child. He is fragile and enervated; he has been emotionally neglected; and he leads an intense inner life frequently immersed in thoughts about his mother – of whom he has no conscious recollection, since she died immediately following his birth. These thoughts are often bound up with images of the sea and the stars.
The actual nature of his disability is never made clear. [Given Paul's precocious and philosophic turn of mind, we might today think he was autistic] But Dickens's masterstroke is that he gives an account of Paul's demise and eventual death – entirely from the boy's own point of view. Paul does not want to be a trouble to anybody, and keeps repeating 'Tell my papa I am quite well' (this to the father who has essentially neglected him). Paul merely wishes to be surrounded by the people he loves and who have been kind to him – his sister 'Floy', his old nurse Polly, and his friend Walter Gay.
Given that Dickens is often accused of being sentimental, his rendering of Paul's death is wonderful piece of pathos – because Paul feels that he is quite happy to be drifting in and out of fantasies of his mother and the sea, whilst it is clear to the reader that the child is dying:
Sister and brother wound their arms around each other, and the golden light came streaming in, and fell upon them, locked together.
"How fast the river runs, between its green banks and the rushes, Floy! But it's very near the sea. I hear the waves! They always said so."
Presently he told her that the motion of the boat upon the stream was lulling him to rest. How green the banks were now, how bright the flowers growing on them, and how tall the rushes! Now the boat was out at sea, but gliding smoothly on. And now there was a shore before him. Who stood on the bank! —
As Dickens wrote in his own notes for the novel: 'His illness only expressed in the child's own feelings – Not otherwise described'.
The main theme
Unlike the other major novels of Dickens' mature period – Bleak House (1852-53), Great Expectations (1860-61), and Little Dorrit (1855-57)- Dombey and Son is mainly focused on family and personal matters, even though there are similarly larger political and financial issues in the background to the events of the narrative.
Dombey is the head of a commercial enterprise, and he invests his trust in his villainous manager Carker – who betrays him by bad business practices and attempting to steal his beautiful wife. But the actual mechanisms of commercial deceit are never examined in any detail.
Dombey is rich and powerful. He is proud, emotionally guarded to the point of being a psychopath towards his own daughter (and others). His empire eventually collapses, and he realises that he has no friends and no family as comforts against the catastrophic nature of his downfall. He is psychologically injured by the shock of events, but he recovers, supported by the unstinting devotion of his daughter, and he ends in a tranquil old age devoted to his two grandchildren.
Characterisation
Two major issues of characterisation haunt the novel. Florence's devotion to her father and her endless search for his love are stretched almost to breaking point. She has been neglected, ignored, and even beaten by him – yet after her marriage to Walter she comes back to Dombey to beg his forgiveness for deserting him. This is virtue, patience, and devotion taken to an almost masochistic level.
The other major problem is Dombey himself. He spends nine tenths of the novel as a ruthless, cruel, and heartless businessman and father, but when his company collapses we are asked to believe that he suddenly realises the error of his ways and regrets a lifetime of bad parenting to the extent of becoming a devoted father and grandfather. Dickens is clever enough to plant thoughts of Florence into Dombey's mind even before this spiritual transformation, but this transformation of character takes place too rapidly to be really credible.
---
Dombey and Son – study resources

Dombey and Son – Oxford World Classics – Amazon UK

Dombey and Son – Oxford World Classics – Amazon US

Dombey and Son – Penguin Classics – Amazon UK

Dombey and Son – Penguin Classics – Amazon US

Dombey and Son – eBook formats at Project Gutenberg

The Complete Works of Charles Dickens – Kindle edition

Charles Dickens – biographical notes

The Cambridge Companion to Charles Dickens – Amazon UK
---
Dombey and Son – plot summary
Ch. I.   Mr Paul Dombey (senior) is a proud and severe businessman who thinks his long-awaited and newly born son will fulfil the destiny of the firm Dombey and Son. His sister Mrs Chick gushes with family pride at the event, but Mrs Dombey dies following the birth.
Ch. II   Mr and Mrs Chick argue about the provision of a nurse for young Paul. Their friend Miss Tox arrives with the Toodles family. Dombey reluctantly and suspiciously hires Polly Toodle as a nurse, re-naming her Richards.
Ch. III   Polly comforts Florence Dombey, who has been ignored by her father because he has been waiting for a son who will inherit the firm. Polly tries to bring Dombey and his daughter closer together, and in doing so she encounters the waspish Susan Nipper, Florence's maid.
Ch. IV   Ship's instrument maker Solomon Gills questions his nephew Walter about his new job as a clerk at Dombey and Son. His own trade has been failing and he wants to provide Walter with a good start in life. They are joined by Captain Cuttle, with whom they share a bottle of Madeira.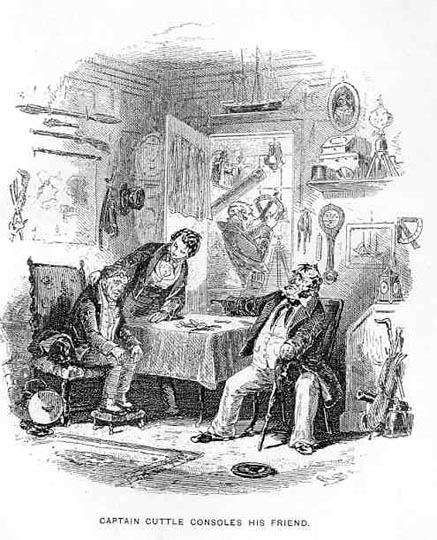 Ch. V   Miss Tox assumes more significance in Paul's upbringing. Paul is christened on a cold and grim day, an event followed by an unappetising and cheerless lunch given by Dombey, who establishes a scholarship for Polly's eldest son Robin.
Ch. VI   Polly and Susan take Paul and Florence to the Toodle's house in Camden Town. The two groups mingle affectionately, but on returning Florence gets lost and is abducted by an old hag Mrs Brown. Florence eventually finds her way to the river and meets Walter Gay, who returns her to the Dombey house. Polly is immediately sacked from her job as Paul's nurse.
Ch.VII   Miss Tox takes up active supervision of young Paul's welfare and spurns the attentions of her would-be suitor and neighbour Major Bagstock.
Ch.VIII   Paul gets a new nurse Mrs Wickam. He is a sickly and strangely precocious boy who asks his father difficult questions on morbid subjects. Dombey decides to send him to Brighton for the sea air. Paul is placed with Mrs Pipchin, a fraudulent 'child developer' who mistreats her charges. Paul is fascinated by her ugliness.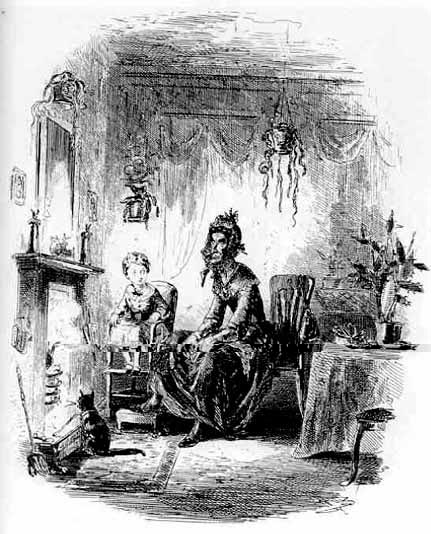 Paul and Mrs Pipchin
Ch. IX   Walter has romantically cultivated his connection with Florence Dombey and is worried that his uncle Solomon Grills seems depressed. The reason is that he is in debt after honouring payments to Walter's dead father. Walter brings in Captain Cuttle who hasn't enough money to help his friend, but who suggests an appeal to Mr Dombey.
Ch. X   Major Bagstock goes to Brighton and inveigles himself into acquaintance with Dombey, with whom he begins to socialise. Whilst there, they are visited by Walter and Captain Cuttle who make an appeal to Dombey for financial help for Gills. Dombey is reluctant, but he puts the appeal to his son Paul, who approves it
Ch. XI   After a year at Mrs Pipchin's, Dombey sends Paul as a boarder to Doctor Blimber's prep school. The establishment is cheerless, uncomfortable, and entirely centred on classical studies. Paul is very unhappy at the prospect of remaining there.
Ch. XII   Paul is supervised by the astringent Cornelia Blimber — that is, given a pile of books and expected to teach himself. The school follows a strict regime imposed by Doctor Blimber. Florence buys copies of Paul's text books and coaches him privately during their weekend meetings. Paul is a wistful, dreamy, and introspective boy
Ch. XIII   Dombey and Son needs a junior clerk for its Barbados office. Walter is appointed. James Carker the manager humiliates his elder brother John in front of Walter and Dombey. Afterwards John Carker reveals the cause of his shame to Walter (he stole from the firm) and gives him his support and blessing.
Ch. XIV   Cornelia Blimber gives Paul a quasi-mathematical 'annalysis' of his character, and concludes that he is 'too old-fashioned'. Paul merely wants to be liked by others. He hopes they will think kindly of him when he 'goes away'. He is befriended by the head boy Toots and his tutor Mr Feeder. He has a serious illness which other people seem to regard as terminal. There is a dancing party at the end of term where everyone is kind and conciliatory to him.
Ch. XV Walter seeks advice from Captain Cuttle regarding his concern for his uncle and the new job in Barbados that he feels he cannot refuse. Captain Cuttle is perplexed and decides to appeal directly to Mr Dombey in secret. Paul meets Susan Nipper who is searching for Polly Toodles at Paul's request. They locate her and hasten to the Dombey House.
Ch. XVI   Paul has been unwell for some time. He drifts in and out of sleep, dreams, and waking fantasies. Finally he calls for Polly and Walter, commends them to his father, then dies.
Ch. XVII   Captain Cuttle's plan to see Dombey fails, and he is forced to reveal Walter's West Indian job to his uncle. Then he sounds out his manager Carker instead, but Carker deceives him by pretending to agree with everything he says.
Ch, XVIII   Paul's funeral and its gloomy aftermath. Dombey retreats into solitude. Florence enviously watches children in a neighbouring house who have a loving father. Mr Toots arrives and presents her with Diogenes, the dog from Blimber's school. Florence reaches out to her father for some sign of affection, but he rebuffs her.
Ch. XIX   Walter is sadly preparing to leave his uncle when Florence and Susan Nipper appear at the shop. Florence proposes to befriend uncle Solomon during Walter's absence, and wants to befriend Walter himself – but as a substitute brother. John Carker arrives to say goodbye, and Walter sets sail on the >Son and Heir for Barbados.
Ch. XX   Mr Dombey and Major Bagstock make a railway journey to visit Leamington. Backstock criticises Miss Tox as a wanton jade. Dombey vaingloriously credits himself with a monopoly on loss and suffering following Paul's death. Thoughts of Florence enter his head for the first time.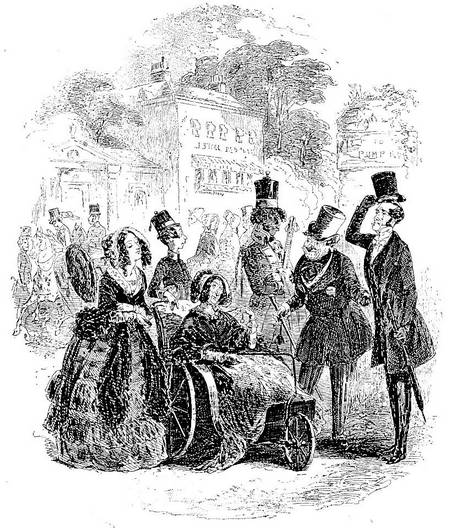 Major Bagstock is delighted to have the opportunity
Ch. XXI   In Leamington they meet the aged coquette Mrs Skewton and her beautiful daughter, the widow Edith Granger. Bagstock flirts with Mrs Skewton, and Dombey takes an interest in Mrs Granger, who paints, sings, and plays the harp and piano. She too has lost a son.
Ch. XXII   James Carker refuses his brother John's pleas on behalf of their sister Harriet. Carker does not act on Dombey's written request to recall Walter, and then he places Rob the Grinder as a spy with Solomon Gill. Toots is in love with Florence but is held at bay by Susan Nipper and Diogenes.
Ch. XXIII   Florence lives alone in her father's house whilst he is absent. She continues to wish he would love her, and wonders if she can eventually win his affection. There has been no news of Walter's ship for a long time. Florence consults Captain Cuttle, who brings in his friend the 'oracle' and 'philosopher' Captain Bunsby, who turns out to be an empty windbag.
Ch. XXIV   Florence visits the Skettles at the same time as Dr and Mrs Blimber, and is also approached whilst out walking by James Carker, to whom she feels an instinctive aversion.
Ch. XXV   Solomon suddenly disappears, leaving Captain Cuttle his keys and a note expressing his final wishes. Cuttle searches for him, fearing he might have committed suicide. He moves out of his lodging with Mrs Mac Stinger and takes over Solomon's place in the shop.
Ch. XXVI   Carker visits Dombey and Major Bagstock in Leamington. He tries to subtly poison Dombey's mind against both Walter and Florence. Major Bagstock visits Mrs Skewton and they plot a marriage between Dombey and Edith Granger.
Ch. XXVII   Carker encounters Edith on his morning walk. He then joins Dombey and Bagstock for breakfast with Edith and her mother. They all go to Warwick Castle where Carker pursues Edith knowingly whilst she is obliged to demonstrate her artistic skills. Edith explodes with outrage to her mother for being used as a lure to catch Dombey, who will call the following day to propose marriage.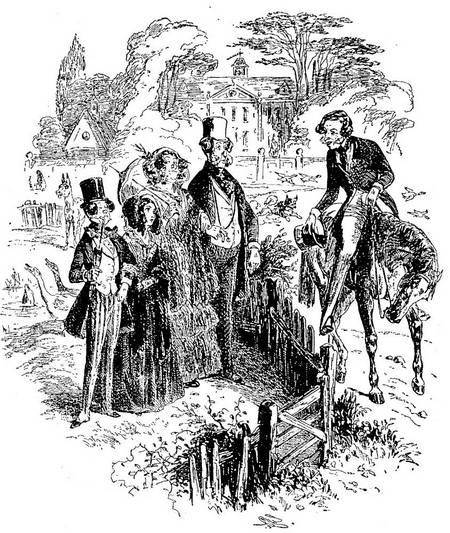 Mr Carker introduces himself
Ch. XXVIII   Florence is very suspicious of the attention being paid to her by Carker. Mr Toots continues to make comic visits to her. She and Susan Nipper return home to London where Dombey introduces her to Mrs Skewton and Edith who is to be her new mother. The two young women immediately feel a bond.
Ch.XXIX   Mrs Chick visits Miss Tox and reveals that her brother Dombey is going to take a second wife. Miss Tox faints at the shock of this news – at which Mrs Chick accuses her of secretly scheming to marry into her family. She excommunicates her friend as a result, but receives no sympathy from her husband.
Ch. XXX   Florence is befriended and comforted by Edith, who invites her to stay in her Brook Street house. Florence is apprehensive about meeting her father. Mrs Skewton wants Florence to stay with her during the forthcoming honeymoon, but Edith threatens to call off the marriage if this happens, fearing that Florence will be 'contaminated' by Mrs Skewton's influence.
Ch. XXXI   All the major characters of the novel are involved on the day of the wedding. After the service there is a breakfast at which Cousin Feenix (MP) makes a rambling and incoherent speech and there is much drunkenness both above and below stairs.
Ch. XXXII   Captain Cuttle is hiding away in Sol's shop , fearing that Mrs Mac Stinger might find him. He is visited by Toots and the Chicken who come from Susan Nipper in search of Solomon. They have news of the Son and Heir being wrecked at sea, with all hands lost. Cuttle checks the news with Carker, who insults him and throws him out of the office.
Ch. XXXIII   James Carker's luxurious home is contrasted with the poorer dwelling of his sister Harriet and brother John. Harriet is visited by a mysterious stranger who knows John's story and wishes to help them both. Harriet then helps a destitute and ex-convict woman (Alice) who is on her way to London.
Ch. XXXIV   Good Mrs Brown is living in abject poverty. Her daughter Alice returns from Australia. She has been hardened by the experience of 'transportation' and points out the lack of parental care in her upbringing. Her mother hints at some mysterious connections with the Dombey family and Carker. When it appears that there is also a connection with Carker's sister Harriet, they go to her house, but she defiantly repudiates their offers of help.
Ch. XXXV   Dombey and Edith return home from honeymoon to their lavishly refurbished house. Dombey makes the first signs of recognising his own daughter Florence. Edith and Florence are reunited, but when Florence asks her for help in winning her father's love, Edith explains that she cannot do so.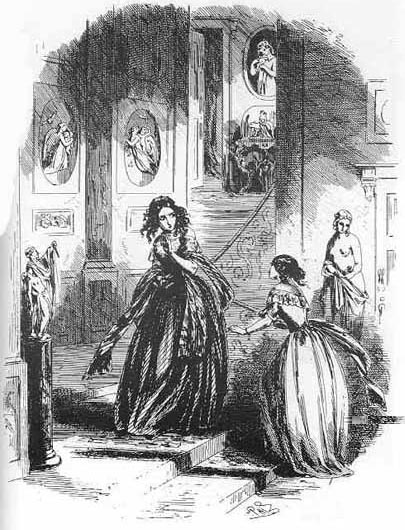 Florence and Edith
Ch. XXXVI   Dombey initiates a series of doom-laden dinners and soirees. Cousin Feenix tells an embarrassing anecdote about a rich man who marries a beautiful woman who does not love him. The soiree is a disaster, and Dombey reproaches Edith for her coldness to her guests in front of Carker.
Ch. XXXVII   Next day Carker menaces Edith by threatening to reveal Florence's connections with Walter and Captain Cuttle to Dombey. Mrs Skewton has a stroke and becomes even more selfish and demanding towards Edith.
Ch. XXXVIII   Miss Tox visits the Toodles, where Rob the Grinder is under suspicion of being secretive. She 'offers' to become a friend of the family and a regular visitor – because she wants any news of the Dombey family.
Ch. XXXIX   Mr Toots requests a formal friendship with Captain Cuttle. Rob the Grinder announces that he is leaving the shop. Feeling alone, Captain Cuttle thinks of himself as Robinson Crusoe. He reads Solomon's will with Commander Bunsby, then is invaded by Mrs Mac Stringer, who Bunsby charms away from the shop and takes back home.
Ch. XL   Dombey blames Florence for the lack of feeling that exists between them. He demands of Edith that she respect and obey him in a deferential manner. She offers to compromise with him for the sake of peace between them, but he scornfully refuses. Dombey orders the transfer of Florence, Edith, and her mother to Brighton, under the supervision of Mrs Pipchin. They encounter Good Mrs Brown and her daughter Alice, with whom Edith feels a strange instinctive kinship.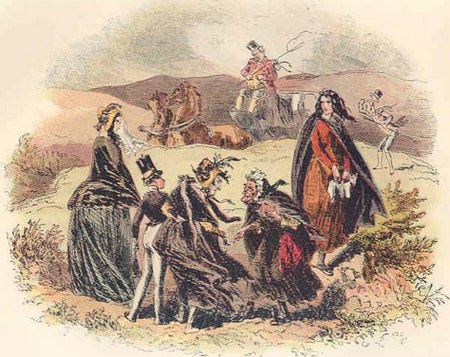 A Chance Meeting
Ch. XLI   Florence meets Mr Toots, who takes her to revisit Dr Blimber and their old school. Toots and Mr Feeder share romantic confidences. After her stroke, Mrs Skewton gets steadily worse, finally dies, and is buried in Brighton.
Ch. XLII   Rob the Grinder goes to work directly for James Carker. Dombey makes Carker his confidential agent in dealing with his wife. He demands that she obey him, and he forbids her to befriend his daughter Florence. Dombey falls off his horse, and Carker takes the news home to Florence and Edith.
Ch. XLIII   Florence feels increasingly conflicted because of the hostility between her father and her step-mother. She visits their rooms late at night. Edith is in a period of black despair, but she comforts Florence.
Ch. XLIV   Susan Nipper finally delivers a critical broadside to Dombey because of his appalling treatment of Florence. Mrs Pipchin is brought in to fire her. Susan leaves the house under the protective custody of Mr Toots.
Ch. XLV   Edith is confronted by Carker who flatters her, pretends to have her interests at heart, and presses his intimacy upon her. But he also warns her about Dombey's threats regarding her obedience and her attitude to Florence.
Ch. XLVI   Rob the Grinder is accosted by Good Mrs Brown and interrogated regarding Carker and Dombey. Carker taunts and insults his brother John, and he feels conscious of having gained closer access to Edith.
Ch. XLVII   Florence is puzzled by Edith's remoteness, but her stepmother (acting under orders from her husband) says the separation is necessary. On Dombey's second wedding anniversary Edith refuses to attend a celebration party. Dombey instructs her via Carker whilst they are sitting at the same dinner table. Edith explodes and demands a separation. Carker intervenes (unsuccessfully) on her behalf. Later that night Edith leaves the house and elopes with Carker. Florence commiserates with her father, who responds by striking her in a rage – so she too runs away from home.
Ch. XLVIII   Florence escapes to Gills' shop where Captain Cuttle looks after her and puts her to sleep upstairs. Mr Toots arrives with a garbled story that Cuttle is required at Brogley's the Brokers, to which he immediately repairs.
Ch. XLIX   Captain Cuttle repeatedly alludes to Walter's death at sea, and then eventually reveals that he was a survivor in the shipwreck. Walter enters and is reunited with Florence 'in a brotherly way'.
Ch. L   Walter and Captain Cuttle discuss finding Susan as a companion to Florence. Toots appears and goes off in search of her. Florence and Walter engage in contorted discussions regarding their relationship, but in the end she proposes marriage to him.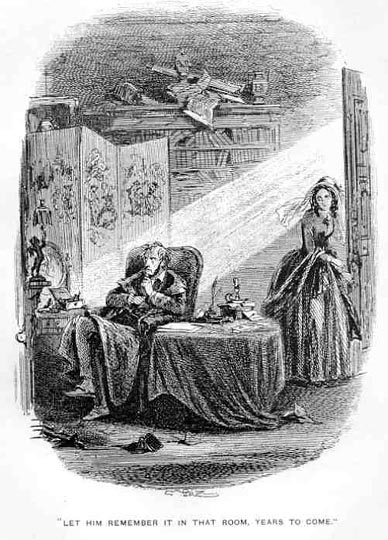 'Let him remember it in that room'
Ch. LI   Dombey is in a state of denial and does not want to discuss the scandal of his wife's elopement. Feenix and Bagstock offer their services to challenge Carker – but nobody knows where he is.. The staff at Dombey and Son enjoy drunken celebrations.
Ch. LII   Dombey arrives at the hovel where Mrs Brown and Alice have access to news of Carker and Edith's whereabouts. They hide Dombey in an adjacent room then threaten Rob the Grinder, who reveals that Carker and Edith have arranged to meet in Dijon.
Ch. LIII   Dombey sacks John Carker because of his association with his brother. Mr Morfin arrives to explain the history of Carker's secret mismanagement of the company and his own offer of help. Alice visits Harriet and explains her own grudge against Carker, which is that she has been 'sold' to Carker as his mistress by her own mother.
Ch. LIV   Edith is in a Dijon apartment where dinner is being served. Carker joins her, but she turns on him, unleashes a torrent of criticisms, and threatens to murder him. She runs off, and he tries to follow her as Dombey arrives at the front door.
Ch. LV   Carker suddenly panics and feels he will only be safe back in England where he can hide. He has a fear of being followed and has no plans or even purpose in his flight. He travels non-stop, and arriving back in England he travels by rail to a remote village. But he cannot escape from his tortured thoughts and fears. Finally, fearing that he has been tracked down by Dombey, he falls in front of an approaching train and is killed.
Ch. LVI   Florence is reunited with Susan Nipper, and Walter prepares for both marriage and a naval commission to sail to China. Toots attends the final reading of the banns. Solomon Gills suddenly reappears, and the Chicken dismisses himself as companion to Toots.
Ch. LVII   Florence and Walter get married in a small, dusty, and obscure church, then set off on their sea journey. Captain Cuttle and Solomon postpone celebrating with the last bottle of Madeira.
Ch. LVIII   A year later Dombey and Son crashes and goes bankrupt. Dombey ruins himself repaying his debts. Harriet and John Carker inherit their brother James' wealth, but arrange with Morfin to secretly pay most of it back to Dombey. Harriet visits Alice who is dying and learns that she is the illegitimate daughter of Dombey's brother.
Ch. LIX   The bailiffs and loss adjusters move into Dombey's house; staff are paid off by Mrs Pinchin; and the contents of the house are sold at auction. Mrs Pinchin goes back to Brighton. Miss Tox lays siege to Dombey, who realises he has no friends or family. He wanders round the empty house late at night, bitterly regretting the loss of Florence – who then suddenly appears to beg his forgiveness and announce the birth of her son, Paul.
Ch. LX   Mr Feeder marries Cornelia Blimber and takes over the prep school. At the wedding. they are joined by Toots, who has married Susan Nipper. Commander Bunsby is reluctantly married to Mrs Mac Stinger.
Ch. LXI   Florence looks after her father, who is very ill and haunted by his past. Cousin Feenix arrives and takes Florence to meet Edith, who he has rescued from France and is taking to live in Italy. Tentative forgiveness is offered from Edith to Dombey, but she parts from Florence 'forever'.
Ch. LXII   Dombey recovers and is devoted to his two grandchildren – Paul and Florence. Captain Cuttle joins Solomon in the business. Mrs Toots has another child, and Harriet marries Mr Morfin.
---
Dombey and Son – principal characters
| | |
| --- | --- |
| Mr Paul Dombey (senior) | a cold, proud, snobbish, and imperious business man |
| Paul Dombey (junior) | his frail and visionary son |
| Florence Dombey | his neglected daughter |
| Mrs Louisa Chick | Dombey's foolish sister |
| Mr John Chick | her husband, a compulsive singer |
| Miss Lucretia Tox | friend to Louisa Chick |
| Mr Toodle | an engine fireman |
| Polly Toodle | his fecund wife, who becomes Paul's nurse |
| Robin (Biler) Toodle | 'Rob the Grinder', their wayward eldest son |
| Susan Nipper | caustic-tongued nurse to Florence Dombey |
| Solomon Gills | a ship's instrument maker |
| Walter Gay | Solomon's nephew, who works for Dombey and Son |
| Captain Edward (Ned) Cuttle | Solomon's friend with a hook for a hand |
| John Carker | prematurely aged office 'junior' at Dombey and Son |
| James Carker | John's brother, the malicious office Manager with white teeth |
| Mrs Pipchin | a fraudulent child 'developer' |
| Major Jack Bagstock | windbag neighbour and suitor to Miss Tox |
| Doctor Blimber | prep school principal, obsessed with classics |
| Cornelia Blimber | his spinsterish and pedantic daughter |
| Mr Toots | head boy, who writes letters to himself from famous people |
| Mr Feeder B.A. | teacher who befriends Paul and Toots |
| Mrs Skewton | an ancient coquette who develops palsy |
| Edith Granger | Mrs Skewton's daughter, a beautiful young widow |
| Commander Jack Bunsby | empty windbag 'philosopher' and friend of Cuttle |
| Sir Barnet Skettles | a social climber, who claims to know people but doesn't |
| the Chicken | a low life bruiser and friend of Toots |
| Good Mrs Brown | a derelict who steals from children |
| Alice Marwood | her daughter, a former convict |
| Mr Morfin | an employee at Dombey and Son |
---

Mont Blanc – Charles Dickens special edition
---
Further reading
Biography

Peter Ackroyd, Dickens, London: Mandarin, 1991.

John Forster, The Life of Charles Dickens, Forgotten Books, 2009.

Edgar Johnson, Charles Dickens: His Tragedy and Triumph, Little Brown, 1952.

Fred Kaplan, Dickens: A Biography, Johns Hopkins University Press, 1998.

Frederick G. Kitton, The Life of Charles Dickens: His Life, Writings and Personality, Lexden Publishing Limited, 2004.

Michael Slater, Charles Dickens, Yale University Press, 2009.
Criticism

Malcolm Andrews. Dickens and the Grown-~Up Child London: Macmillan, 1994.

Philip Collins, Dickens and Education, London: Macmillan, 1965.

Philip Collins (ed), Dickens: The Critical Heritage, London: Routledge & Keegan POaul, 1971.

Steven Connor, Charles Dickens, Oxford: Blackwell, 1985.

Peter Coveney, The Image of Childhood, Harmondsworth: Penguin, 1967.

G.H. Ford, Dickens and His Readers, New York: Norton, 1965.

Barbara Hardy, The Moral Art of Charles Dickens, London: Athlone Press, 1970.

Dirk den Hartog, Dickens and Romantic Psychology, London: Macmillan, 1987.

Donald Hawes, Who's Who in Dickens, London: Routledge, 2001.

F.R. and Q.D. Leavis, Dickens the Novelist, London: Chatto and Windus, 1970.

John Lucas, Charles Dickens: The Major Novels, Harmondsworth: Penguin, 1992.

Steven Marcus, Dickens: From Pickwick to Dombey, London: Chatto and Windus, 1965

Amy Sadrin, Parentage and Inheritance in the Novels of Charles Dickens, Cambridge: Cambridge University Press, 1994.

Andrew Sanders, Authors in Context: Charles Dickens, Oxford: Oxford University Press, 2009.

Hilary M. Schor, Dickens and the Daughter of the House, Cambridge: Cambridge University Press, 1999.

F.S. Schwarzback, Dickens and the City, London: Athlone Press, 1979.

Alan Shelston (ed), Dickens: Dombey and Son and Little Dorrit, London: Macmillan, 1985.

Jeremy Tambling, Dickens: Violence and the Modern State, London: Macmillan, 1995.

Jeremy Tambling, Going Astray: Dickens and London, London: Longman, 2008.

Dennis Walder, Dickens and Religion, London: Allen and Unwin, 1981.

Raymond Williams, The English Novel from Dickens to Lawrence, London: Paladin, 1974.
---
Other works by Charles Dickens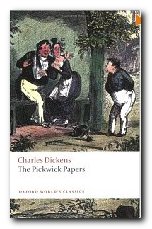 Pickwick Papers (1836-37) was Dickens' first big success. It was issued in twenty monthly parts and is not so much a novel as a series of loosely linked sketches and changing characters featured in reports to the Pickwick Club. These recount comic excursions to Rochester, Dingley Dell, and Bath; duels and elopements; Christmas festivities; Mr Pickwick inadvertently entering the bedroom of a middle-aged lady at night; and in the end a happy marriage. Much light-hearted fun, and a host of memorable characters.


Buy the book here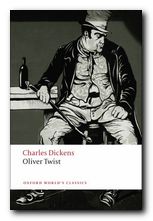 Oliver Twist (1837-38) expresses Dickens' sense of the vulnerability of children. Oliver is a foundling, raised in a workhouse, who escapes suffering by running off to London. There he falls into the hands of a gang of thieves controlled by the infamous Fagin. He is pursued by the sinister figure of Monks who has secret information about him. The plot centres on the twin issues of personal identity and a secret inheritance (which surface again in Great Expectations). Emigration, prison, and violent death punctuate a cascade of dramatic events. This is the early Victorian novel in fine melodramatic form. Recommended for beginners to Dickens.


Buy the book here
---
Charles Dickens – web links
Charles Dickens at Mantex
Biographical notes, book reviews, tutorials and study guides, free eTexts, videos, adaptations for cinema and television, further web links.
Charles Dickens at Wikipedia
Biography, major works, literary techniques, his influence and legacy, extensive bibliography, and further web links.
Charles Dickens at Gutenberg
A major collection of free eTexts of the major works in a variety of formats.
Dickens on the Web
Major jumpstation including plots and characters from the novels, illustrations, Dickens on film and in the theatre, maps, bibliographies, and links to other Dickens sites.
The Dickens Page
Chronology, eTexts available, maps, filmography, letters, speeches, biographies, criticism, and a hyper-concordance.
Charles Dickens at the Internet Movie Database
Adaptations of the major novels and stories for the cinema and television – in various languages
A Charles Dickens Journal
An old HTML website with detailed year-by-year (and sometimes day-by-day) chronology of events, plus pictures.
Hyper-Concordance to Dickens
Locate any word or phrase in the major works – find that quotation or saying, in its original context.
Dickens at the Victorian Web
Biography, political and social history, themes, settings, book reviews, articles, essays, bibliographies, and related study resources.
Charles Dickens – Gad's Hill Place
Something of an amateur fan site with 'fun' items such as quotes, greetings cards, quizzes, and even a crossword puzzle.
© Roy Johnson 2015
---
More on Charles Dickens
More on literature
More on the novella
More on literary studies
More on short stories
---