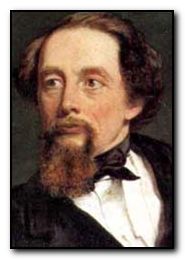 1812. Charles Dickens was born in Portsmouth. His father was a clerk in naval pay office: hard-working but unable to live within income. Several brothers and sisters.
1822. Family settles in Camden Town, London. Father gets into financial trouble. Charles put to work in shoe-blacking factory (traumatic event for child). Father imprisoned for debt, and family (except Charles) visit him in Marshalsea Prison.
1827. Dickens becomes a clerk in Grays' Inn firm of solicitors. Studies shorthand and becomes freelance reporter in the Courts of Law and Parliament. Praised for his speed and accuracy.
1830. Dickens meets Maria Beadnell and falls madly in love with her. She treats him coldly and calls him 'boy'.
1833. Dickens publishes his first story – 'Dinner at Poplar Walk' in Monthly Magazine.
1836. Sketches by Boz successful early fiction earns 150 pounds for the copyright. Commissioned to write stories to accompany sporting prints. Invents Mr Pickwick for Pickwick Papers and the whole enterprise a big success. On the strength of this he marries Catherine Hogarth. Ten children follow. Dickens an enthusiastic family man fond of home entertainments and amateur theatricals.
1837.Writes his fiction as regular monthly instalments for magazine publication. Publication of Oliver Twist begins.
1838. Dickens and illustrator Hablot Browne travel to Yorkshire to see the boarding schools. Publication of Nicholas Nickleby begins.
1841. Publication of The Old Curiosity Shop begins.
1841. Travels in Scotland and United States. Disappointed by experience of the U.S.
1842. Begins work on Martin Chuzzlewit.
1844.Dickens and family travel to Italy.  Successfully treated Madame de la Rue with hypnotism.
1846. Family tours in Italy, Switzerland and France, returning to London the following year. Dickens involved in philanthropic work for the rescuing of prostitutes and other issues of social concern. Publication of Dombey and Son begins.
1848. Dickens' sister Fanny dies.
1849. Publication of David Copperfield begins.
1850. Begins his own weekly magazine, Household Words, which combines entertainment with a sort of reforming social purpose. Heavy work both writing and editing it. Dickens indefatigable journalist.
1851. His wife Catherine Dickens suffers a nervous collapse.  John Dickens, the father of Charles Dickens, dies.  His daughter Dora Dickens dies when she is only eight months old.
1852. Publication of Bleak House begins.
1853. Dickens gives the first of what were to be very popular public readings from his works.
1854. Publication of Hard Times begins.
1855. Secret meetings with Maria Beadnell, his first love, at her suggestion. Dickens disappointed by the experience. Family move to Gad's Hill, Rochester. Dickens involved in theatrical ventures with friend Wilkie Collins (author of The Woman in White) through which he meets actress Ellen Ternan, who probably becomes his mistress. Publication of Little Dorrit begins.
1857. Hans Christian Anderson visits Gad's Hill.
1858. Separates from wife with considerable publicity and bitterness. Begins new weekly, All the Year Round. Gives public readings and acts out dramatised scenes from his work which are very popular. Quarrels with Thackeray.
1859. A Tale of Two Cities published.
1860. Begins publishing Great Expectations in All the Year Round to boost flagging circulation. Burns quantities of his personal letters. Death of Dickens' brother Alfred.
1863. Dickens' mother dies. Reconciled with Thackeray.
1864. Death of Dickens' son Walter in India. First installment of Our Mutual Friend is printed.
1865. Dickens is involved in the Stapelhurst railway accident, along with Ellen Ternan and her mother. Ten people killed and fifty injured. Dickens tries to prevent publicity, to avoid embarrassment.
1867. Despite poor health, embarks on punishing tour of American to give lucrative readings which help to boost sales of his magazine and novels.
1869. Dickens ordered by his doctors to discontinue the public readings. begins writing The Mystery of Edwin Drood.
1870. Further public readings as a 'farewell tour' in England. Private audience with Queen Victoria. More amateur theatricals. Dies of stroke. Buried in Poet's Corner, Westminster Abbey, with full public honours.
---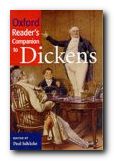 The Oxford Companion to Dickens offers in one volume a lively and authoritative compendium of information aboutDickens: his life, his works, his reputation and his cultural context. In addition to entries on his works, his characters, his friends and places mentioned in his works, it includes extensive information about the age in which he lived and worked.These are the people, events and institutions which provided the context for his work; the houses in which he lived; the countries he visited; the ideas he satirized; the circumstances he responded to; and the culture he participated in. The companion thus provides a synthesis of Dickens studies and an accessible range of information.
---
Charles Dickens – web links

Charles Dickens at Mantex
Biographical notes, book reviews, tutorials and study guides, free eTexts, videos, adaptations for cinema and television, further web links.

Charles Dickens at Wikipedia
Biography, major works, literary techniques, his influence and legacy, extensive bibliography, and further web links.

Charles Dickens at Gutenberg
A major collection of free eTexts of the major works in a variety of formats.

Dickens on the Web
Major jumpstation including plots and characters from the novels, illustrations, Dickens on film and in the theatre, maps, bibliographies, and links to other Dickens sites.

The Dickens Page
Chronology, eTexts available, maps, filmography, letters, speeches, biographies, criticism, and a hyper-concordance.

Charles Dickens at the Internet Movie Database
Adaptations of the major novels and stories for the cinema and television – in various languages

A Charles Dickens Journal
An old HTML website with detailed year-by-year (and sometimes day-by-day) chronology of events, plus pictures.

Hyper-Concordance to Dickens
Locate any word or phrase in the major works – find that quotation or saying, in its original context.

Dickens at the Victorian Web
Biography, political and social history, themes, settings, book reviews, articles, essays, bibliographies, and related study resources.

Charles Dickens – Gad's Hill Place
Something of an amateur fan site with 'fun' items such as quotes, greetings cards, quizzes, and even a crossword puzzle.
© Roy Johnson 2009
---
More on Charles Dickens
More on literature
More on the novella
More on literary studies
More on short stories
---