biography, study resources, and web links
Wilkie Collins (1824-1889) was one of the best-selling authors of the nineteenth century. He was a friend of Charles Dickens, and like his more famous contemporary he maximised his commercial success by publishing in all available formats. His work appeared as newspaper journalism, short stories, magazine serials, novels in three volume format, and adaptations for the stage. Even in his private life he was similarly prolific. He supported two separate families who lived round the corner from each other.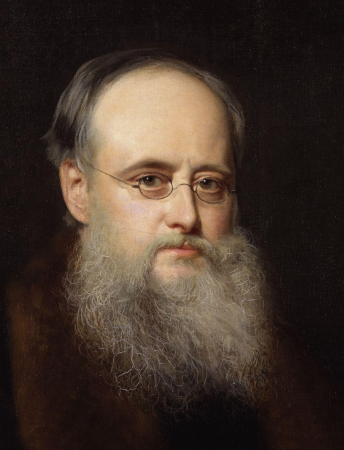 Wilkie Collins
Wilkie Collins was born in London in 1824. His father William was a reasonably successful painter – a member of the Royal Academy – but 'constitutionally insecure and self-critical'. His mother Harriet was a governess and proved to be the principal agent in Wilkie's early education.
The family lived in Cavendish Street and took their summer holidays in what was then the outlying rural area of Hampstead. This was a location favoured by artists, and family friends included the painter Constable and the poet and 'philosopher' Coleridge.
Wilkie was educated largely by his mother, but in 1836 when he was an impressionable twelve year old the whole family went on a two year tour of Italy. This included visits to museums, mixing with English expatriate artists in Rome, and Collins' first erotic adventure when he became enraptured by a married woman. The tour also took in Naples, Sorrento, Bologna, and Venice – all the time pursued by the threat of cholera.
Collins was fourteen before he entered formal education – a boarding school in Highbury where he was bullied and regarded by staff as a model bad student. He was glad to leave at seventeen, when his father found him a virtually unpaid job as a clerk.
By the time he was twenty he had begun placing short stories and sketches in various magazines – almost all anonymously. He also made the first of many visits to Paris, where he indulged his taste for wine, good food, and the habits of a flaneur.
He switched from working as a clerk to studying law at Lincoln's Inn Fields, and began Antonina, a historical novel. However, when his father died in 1847, he dropped everything for six months and wrote a paternal biography – which was dedicated to family friend Sir Robert Peel. The book was well reviewed and even a modest commercial success.
Collins developed an interest in the theatre, and through his work in amateur productions he eventually came into contact with Charles Dickens. The two got on very well together. Dickens appreciated Wilkie's hard work and professional attitude to writing: Wilkie enjoyed the older man's appetite for adventurism – fuelled by the disappointment of his marriage. They went on late night sorties into the underworld of Soho and the East End.
He became active as a journalist, writing for the radical newspaper The Leader founded by George Henry Lewes (Mr George Eliot). In religious terms he was a sceptic and critic of the Church, but not an atheist. He took an interest in hypnotism and clairvoyance which were both fashionable at that time. In 1852 he was called to the Bar – not having worked for or passed any exams, which was quite common in the Law at that period.
He contributed to Household Words and Bentley's Miscellany, but in 1852 published his first serious novel, Basil, for which he wrote a long preface explaining his artistic intentions. The novel was well received and has the distinction of being perhaps the first 'sensation novel'.
Despite his commercial success and social connections with the Coutts banking family, the odd thing is he didn't have his own bank account. He placed all his earnings in his mother's account and drew off cash when he needed it.
He grew closer and closer to Dickens, acting as a sort of bachelor support at a time that Dickens' marriage was floundering. There were long expeditions together with painter Augustus Egg to France, Switzerland, and Italy. However, Wilkie's revelries were slowed down somewhat by a venereal infection he picked up around this time.
He continued to produce enormous amounts of magazine sketches and journalism, and made his first efforts to break into the theatre with plays such as The Lighthouse and The Frozen Deep. These were not initially successful, whereas he was able to turn any number of his holiday jaunts and seagoing cruises into profitable non-fiction.
Rather surprisingly (since his best work was yet to come) he started to develop a Europe-wide reputation. A critical study of his early work appeared in the Revue des Deux Mondes and his next novel, After Dark (1856), was published by Tauschnitz for circulation on the Continent.
Although he was still quite young at thirty-two, he began to suffer from the various pains and 'rheumatic gout' which would affect him for the rest of his life. However, this did not affect his prodigious output, and around this time he added to the pressures under which he worked by embarking on serial publication. He worked out the plots of his novels in advance, but had to maintain a crushing level of production to stay a fortnight ahead of the printers – on both sides of the Atlantic.
As his international reputation took flight and his income rose as a consequence, he developed more interest in the establishment of copyright agreements. Like his friend Dickens, he took exception to unscupulous publishers issuing pirated editions of his work for which they had paid nothing. It was not until much later in the century that this practice was prohibited.
United as they were by many of their literary works, Dickens and Wilkie also shared central roles in two sexual scandals that developed around the same time. Dickens, the now world-famous author and family man, left his wife and nine children and took up secretly with the eighteen year old actress Ellen Ternan. Wilkie Collins did almost the opposite, but with the same effect. He started living openly with Caoline Graves, an older widow with a young daughter. They never married but stayed together (with one interruption) for the rest of his life. Caroline occupied the role of common-law wife, rather than that of mistress.
In 1859 he produced what was to become one of the most successful and best-selling novels of the nineteenth century. The Woman in White is a mystery story, a sensation novel, and a subtle critique of conventional values that piles up one thrilling incident after another. It became the talk of London, and when published in volume form sold out immediately in England and France.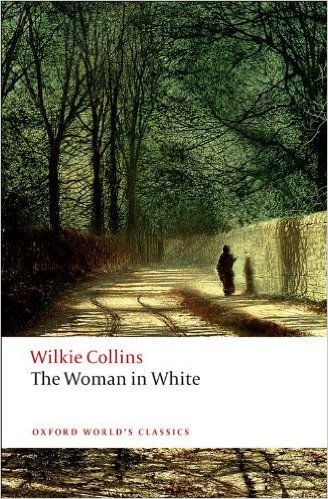 It was around this time that Wilkie, still suffering from the pains of his 'rheumatic gout', began the regular use of opium as an analgesic. Laudanum (opium disolved in alcohol) was available at any pharmacy for three pence an ounce around that time. Half an ounce was enough to kill a horse.
He started work on his next novel, spurred on by an advance from publishers Smith and Elder of £5,000 – the equivalent of half a million pounds today. After that he took Caroline and her daughter Carrie on an extended stay in Italy, where all three of them seemed to improve their health.
His next major work was Armadale which had been two years in the planning. It was successful both in England and America.even though the States were in the middle of a civil war. In order to protect his theatrical rights he immediately wrote a stage adaptation. He still hankered after success in the theatre, despite the fact tha a production of The Frozen Deep had been a flop.
In 1868 he had just started the serialisation of what was to be his second major success, The Moonstone when he suffered a double blow. First his mother died, then he suffered a savage attack of 'gout' which affected his eyes – though it is now thought that this affliction was actually a strain of venereal disease. He was forced to dictate some passages of the novel.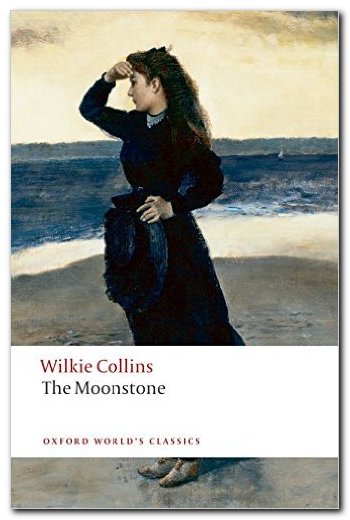 Wilkie had always used his mother's snobbish objection to the lower-class Caroline as a reason for not marrying. But even with maternal opposition now removed he still didn't make the relationship decent and legal. Caroline's reaction was understandable: she married someone else under an assumed name. Wilkie's was less so – he actually went to the wedding.
But by then he also had another working class servant girl in his life. Martha Rudd was about have the first of his three children. He installed her in lodgings a short walk from his large house in Marylebone and gave her an annual allowance and the name 'Mrs Dawson'. Caroline's daughter stayed on with Wilkie as his occasional amanuensis.
If this arrangement was not complex enough, it became so two years later when Caroline (now Mrs Crow) returned 'home' when her marriage failed. Yet like the plot of a Henry James novel, the respectability of her young daughter Carrie (seen socially as Wilkie's adopted child) conferred social acceptability back onto her mother, even though she was married to one man and living with another.
Throughout all this personal upheaval Wilkie was working on The Moonstone which when it was published made him a lot of money. It also profited Dickens, even though he was critical of the novel's over-elaborate construction. Not long after this, even though the two friends had so much in common, the relationship between them deteriorated. Shortly afterwards Dickens died.
Wilkie's next book was Man and Wife (1870) which was based on an idea he had originally conceived as a play. At a personal level he was now a man with two wives and two families. The next year he had his first taste of theatrical success when The Woman in White was staged at the Olympic Theatre. The original novel was completely changed by Wilkie himself, and whole scenes either omitted or added. The performance lasted four hours, but the play was a popular and critical success.
It is possible that this very success was detrimental to his later works, because the novels he went on to produce were always written with potential dramatisation in mind. They are full of long conversations between leading characters, set in a limited range of indoor locations. It proved to be the case that what was dramatic in a prose narrative was not necessarily so before the footlights – and vice versa.
In 1873 Wilkie embarked on a reading tour of America. He was well received as a famous author and a friend of Charles Dickens, but the trip was not profitable financially, largely because of poor management.
His next book, The Law and the Lady (1875) was not successful, but he was compensated by continued triumphs on the stage, even though his adaptation of Armadale altered and watered down the story until it was almost unrecognisable.
He was forever thinking of new ways to present old material – so much so that at times he sailed very close to self-plagiarism. But he was very keen to exploit all the avenues of publication open to him. He had an idea that there was an enormous audience or readership for literary entertainment 'out there' which had not yet been reached. He was right – and he also had not one but two families to keep.
He found assistance in this quest by hiring A.P. Watt – the first person to set himself up as what we now call a literary agent. The relationship was a good one – but Watt found difficulty in placing material that was considered too highbrow for provincial newspapers. The masses were not to be reached quite so easily.
As he got older his physical ailments multiplied and he became virtually a self-made invalid, living on cold soup and champagne. This did not prevent his conducting, at over sixty years of age, a flirtacious relationship with a twelve year old girl he befriended locally.
He continued to push himself right up to the end, sometimes working twelve hours a day to produce more stories and journalism. But he was sinking fast, and his last novel had to be passed over to Walter Besant for completion. Wilkie died in his recently acquired Wimpole Street apartment in September 1889.
His popular reputation continued to decline in the years after his death, even though the influence of sensation novels was still present in the work of younger writers such as Thomas Hardy. But there has been a revival of interest in his work starting in the late twentieth century, and now there is no reason why he should not be considred as a talented and major literary figure of his era, along with the equally neglected (and prolific) Mary Elizabeth Braddon.
© Roy Johnson 2016

Buy the book from Amazon UK

Buy the book from Amazon US
---
Catherine Peters, The King of Inventors: A Life of Wilkie Collins, London: Secker and Warburg, 1992, pp.498, ISBN: 0436367122
---
More on Wilkie Collins
More on the novella
More on literary studies
More on short stories
---