official guide to one of Bloomsbury's cultural treasures
Charleston is the country house in Lewes, Sussex which was established as a family home by Vanessa Bell and Duncan Grant. She was married to Clive Bell at the time and had children by both men, but this was how things were done in the Bloomsbury Group. They lived in the house for over fifty years, covering the walls and furniture with their paintings, designing ceramics, making rugs and wall hangings, cultivating the gardens – and generally forming what became a unique collection of domestic and interior design.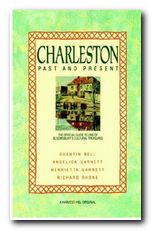 The house also became the country retreat for many of the Bloomsbury Group. Vanessa raised her children Julian, Quentin and Angelica there, and she was visited by her sister Virginia Woolf, as well as by her ex-lover Roger Fry, and at weekends her husband Clive Bell and his lover Mary Hutchinson. These people in turn brought their friends such as John Maynard Keynes, Lytton Strachey, E.M.Forster, and David Garnett. Their personal lives and relationships were rather complicated, but this joint artistic venture was one that helped cement their common interests in design, decoration, painting, and domestic arts.
The Bloomsberries were great supporters of modern art, and many of them had made judicious purchases long before the artists became well known. Consequently, the walls of the house came to be decorated not only with their own paintings, but with works by Picasso, Matisse, Derain, Vlaminck, and Modigliani.
The main part of the book is the official guide to the house and gardens, written by Bloomsbury expert Richard Shone. This contains details of the contents of all the main rooms, and is well illustrated by colour photographs of their principal features and objects.
The latter part of the book is a collection of letters and memoirs, written by Quentin Bell and Angelica Garnett, who was his sister but who didn't know that her father was Duncan Grant until she was eighteen. Quentin Bell's memoir is of an idyllic childhood, spent with his brother Julian, largely unsupervised by semi-absent parents. He gives a Swallows and Amazons type of account.
His sister Angelica's is more seriously thoughtful and reflective. It combines observations on Vanessa Bell's fabric designs with psychological analyses of her relationship with Charleston and its other inhabitants. She captures the spirit and the development of the house as if it were a living being. She also draws an interesting socio-political contrast with her Christmas visits to the conservative house at Seend, which was the home of Clive Bell's parents:
Even though it was at Seend that I celebrated my birthday – a birthday that belonged by rights to Charleston…the atmosphere of Victorian constraint could not have been tolerated for longer than the three or four days we spent there … it did not contain, as Charleston seemed to, the secret of creativity and renewal.
It's also a paean of appreciation for her mother, as the presiding spirit of generosity and creativeness that permeated the house. This chapter is an interesting addendum to the account of her childhood that she provides in Deceived with Kindness.
Miraculously, the house survived the second world war and was kept in more or less its original condition. Quentin Bell (who grew up there) describes the practical difficulties and strategic frustrations of restoring the property. Fortunately for the historical records of English modernism, the house was completely refurbished, then purchased from its original owners, and is now governed by The Charleston Trust.
© Roy Johnson 2000

Buy the book at Amazon UK

Buy the book at Amazon US
---
Quentin Bell et al, Charleston: Past and Present: The Official Guide to One of Bloomsbury's Cultural Treasures, London: Harvest Books, 1988, pp.180, ISBN 0156167735
---
More on art
More on design
More on biography
More on the Bloomsbury Group
Twentieth century literature
---