best-selling guide to publishers, agents, and outlets
This is the 'writing for children' version of the best-selling writer's yearbook and manual, which has come up with a winning formula. It lists all the resources any serious writer could need – the names, addresses, and contact details for publishers and agents, outlets for freelancers, and institutions which offer help to writers. Woven between these listings (which are updated every year) there are specially commissioned essays and articles by famous authors and illustrators – such as Children's Laureate Michael Morpurgo and JK Rowling; top editors and best-selling publishers; leading TV and radio producers, and other experts in the field of children's media.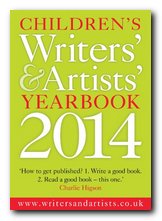 These give invaluable first-hand accounts of how the world of professional writing actually operates. Anyone aspiring to write for children will find these invaluable. The latest edition includes chapters entitled: How to Get an Agent; Learning to Write for Children; Writing Humour for Young Children; Do I Have to Have an Agent to Succeed?; What Does an Editor Do?; Eight Great Tips to Get Your Picture Book Published; UK Copyright Law; Writing Comedy for Children's Television; Children's Evergreens & Best Sellers; Out of the Slush Pile; Teenage Fiction; Marketing, Publicising and Selling Children's Books; Illustrating for Children's Books;
Like many other reference books, this guide represents very good value for money in terms of bulk information – but more importantly it's information which is reliable, up-to-date, and difficult to locate elsewhere.
If you have any serious intention of entering the commercial market as a children's writer or someone working in one of the associated creative arts – then this is a book which you will need sooner or later.
© Roy Johnson 2014

  Buy the book at Amazon UK

  Buy the book at Amazon US
---
Children's Writers' and Artists' Yearbook, London: A & C Black, 7th revised edition 2014, pp.480, ISBN: 1408195127
---
More on creative writing
More on writing skills
More on publishing
---