web log writing techniques and software
Web logging, known as blogging, is an easy way of updating a web page via a browser without the hassle of launching an FTP client or HTML editor. Some people claim that the blog is an entirely new form of communication – and Biz Stone is one of them. Blogging genius strategies is written from the perspective of a breathless young enthusiast, and yet the guidance he offers is perfectly sound and well organised. He starts off by telling you how to establish your blog – which is what most people will want. He shows how to log onto the most popular site of all – Blogger – and establish your Web presence. It's rather like the world of email and newsgroups ten years ago. (That's about a hundred years in Internet terms.)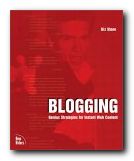 Everyone is posting their diaries, rants and raves, and creating gonzo journals with links to everything that's hip. He gives an overview of major blog service providers – Blogger, Moveable Type, Diaryland, and Radio Userland. Then, assuming that you are keen to make your blog visually attractive, he throws in a little HTML coding advice. This shows you how to add colour, text manipulation, and layout variety to your pages.
In fact for the more adventurous he even goes as far as Cascading Style Sheets and JavaScripts – then on to the serious business of making money from your blog. How can this be done? Well, via micro-payment systems, affiliate programs such as Amazon's, and even advertising – though I wouldn't hold your breath on this last one.
There's a chapter on arranging archives of your blogs, which can be done on a weekly or monthly basis. Then it's on to group blogs, blogs which invite comments on themselves, and even corporate blogs.
You can add search engine features, and he also shows you how you can increase traffic to your blog. This goes from making connections at Google to trading links with like-minded bloggers. If that's not enough, you can even syndicate your blog.
In the latest part of his advice the blog is elaborated and extended until it becomes, logically enough, a Web site. In fact he then goes on to discuss software applications which can download selected blogs you wish to read in the form of daily emails.
Since Biz Stone went on from writing this book to become one of the key players at Twitter – so he knows new media when he sees it. He takes the subject of blogging seriously, and leads you through all the basic elements to get you started, then on to the more advanced techniques which allow you to turn your blog into a modern communication art form. Why not start now – Its all free!
© Roy Johnson 2002

  Buy the book at Amazon UK

  Buy the book at Amazon US
---
Biz Stone, Blogging: Genius Strategies for Instant Web Content, Indianapolis (IN): New Riders, 2002, pp.309, ISBN: 0735712999
---
More on creative writing
More on writing skills
More on publishing
---