how to present text and data for publication
This is a style guide for writers who have produced the basic text but who need help laying it out effectively on the page – or on screen. It will be of particular interest to technical writers and those dealing with business documentation. Communicating in Style covers the basics of document design such as headings and subheadings; how to present dates, times, and email addresses; and how best to control spacing, indentation and margins to create effective pages.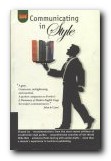 There are lots of small but important details: acronyms first, followed by the full version; no full stops after contractions; headings closer to body text which follows than that which precedes. He also suggests that abbreviations should be explained anew in each chapter of a book – especially if they deal with different topics. Yateendra Joshi is good on the punctuation and spacing of lists; the kerning of small caps; (symbols have no plurals); and how to use the numeric keypad to produce special symbols and characters.
On tables there's lots of good advice on alignment in columns and rows to simplify and clarify the presentation of data. Like Edward Tufte he believes in reducing any unnecessary lines, rules, and 'chart junk'.
He deals with questions such as 'Is the symbol for hour 'h' or 'hr'?' and 'Are thousands separated by commas or with a space?' plus lots of details on abbreviations, acronyms, contractions, and symbols.
There's a section on OHP and PowerPoint presentations and how to lay out the display for maximum effectiveness; how to submit manuscripts to journals; and how to integrate charts, diagrams, maps, and photographs into documents; citing and referencing sources of information, including web pages and electronic documents.
The feature of the book I liked best was the use of quotations from other well-known style guides to illustrate the main points of his arguments. These are placed on almost every left-hand page, along with a picture of the jacket cover and bibliographic details of the book itself.
I can confirm his claim that the book has been extensively field-tested with earlier drafts. Many versions have been made available to the Information Design email discussion group in the past couple of years.
He finishes off with advice on spelling, fonts, and formats for postal addresses and telephone numbers. This is in fact very detailed and sophisticated advice on the presentation of information on screen and page. It encourages us all to be more attentive.
It's good to see that this book has now found its way to Amazon.co.uk – but you might find it difficult to locate elsewhere. Be persistent however: it's well worth the effort.
© Roy Johnson 2004

  Buy the book at Amazon UK

  Buy the book at Amazon US
---
Yateendra Joshi, Communicating in Style, New Delhi: The Energy and Resources Institute, 2003, pp.250, ISBN: 8179930165
---
More on information design
More on design
More on media
More on web design
---