best-selling guide for term papers and academic essays
A Manual for Writers of Term Papers is the more-or-less standard US guidebook on academic writing. It's based on The Chicago Manual of Style, and offers a comprehensive and very detailed guide to the conventions of layout and presentation. In the last half century since it first appeared, this book has gone through six editions, and even though editorship has passed into other hands, the spirit of Kate Turabian's original approach has been preserved.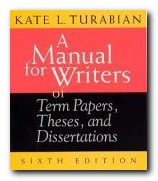 It covers everything from spelling, punctuation, and abbreviations to quotation, referencing, and the use of tables and diagrams. And all guidance notes are illustrated with real-life (and up-to-date) examples. There's a huge chapter dealing with every possible complication in showing reference notes, and even a section dealing with government documents.
The latest edition includes a useful useful chapter on sample pages. These show how to lay out text on a page, according to the conventions for academic documents – title page, list of contents, tables, maps, footnotes, and so on. There's also a recent addition on computers and word-processing (which already needs updating) and an excellent index.
Even if you are working to UK rather than US conventions, this is a very useful reference. It sits on my reference shelf alongside the Concise OED and an old copy of Roget's Thesaurus, and it gets used just as often. It gets more hits at this site than any other book, and it has sold more than five million copies. That's quite some guarantee!
© Roy Johnson 2000

  Buy the book at Amazon UK

  Buy the book at Amazon US
---
Kate L. Turabian, A Manual for Writers of Term Papers, Theses, and Dissertations, (6th edn) Chicago: University of Chicago Press, 1996, pp.300, ISBN: 0226823377
---
More on writing skills
More on dictionaries
More on grammar
More on online learning
---