Rosemary Sassoon is a distinguished expert on handwriting, and a typographist celebrated for her font set 'Sassoon Prima', which helps young school pupils learn to read and write. Digital versions of her work are illustrated in Computers and Typography 2, her latest book. It's a collection of essays on the role of digital type in graphic design and education. The emphasis in the first part is on page design. There's advice on laying out web pages and a chapter on the typographical limitations of HTML.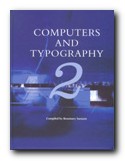 The subject is then broadened out into multicultural aspects of typography. It looks at the way in which computerised type has affected other writing systems, and there are chapters on setting non-Latin languages and the differences between English (which has 26 letters) and Japanese (which has 10,000). The next section looks at how the introduction of computers has changed working practices, including the education of typography students. This is followed by a detailed account of the creation of a new font set for US telephone directories.
A chapter by Rosemary Sassoon on marketing her own digital typefaces will be of interest to professional designers. Of greater importance for most readers however is the excellent checklist of tips on making text readable on screen.
The next section deals with the making and shaping of letters, and the design of educational software completes the picture.
But for me, the most interesting contribution was the last, in which Roger Dickinson explores the interface between computers and learners – listing the devices and the technological strategies which can make learning more effective.
This is a good follow-up to Rosemary Sassoon's first volume of Computers and Typography on topics related to digital type, and it will be of interest to web designers, information architects, and typographers – as well as 'fotaholics' .
© Roy Johnson 2002
---
Rosemary Sassoon (ed), Computers and Typography 2, Bristol: Intellect, 2002, pp.158, ISBN: 1841500496
---
More on typography
More on theory
More on typography
More on digital media
---