tutorial, commentary, study resources, plot, and web links
Covering End only ever appeared once as a long story during James's lifetime – in the publication The Two Magics which was printed in 1898 and also contained The Turn of the Screw. James refers to the work in his notebooks as a comedy – and the work was certainly written to a commission. It had actually been written earlier, in 1895 as a play for Ellen Terry.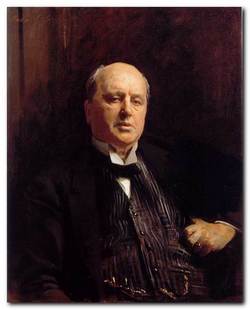 Henry James – portrait by John Singer Sargeant
---
Covering End – critical commentary
James and the theatre
Never was a story so obviously conceived as a theatre piece. James put a great deal of hopes and dreams in his attempts to become a successful dramatist. We now know that he failed miserably, being booed off stage at the opening night of Guy Domville in 1895. But he rather resourcefully converted many of his unused theatrical materials into prose fiction.
Covering End was originally written as a one act play called Summersoft in 1895 for his friend the actress Ellen Terry, but it was never performed. As a matter of fact, after he had converted the play to a story, he later went on to convert it back into a three act play called The High Bid, which was produced briefly in 1907.
Dramatic unity
The origins of this tale are nowhere more evident than in the amazing dramatic unity of the story in terms of time, location, and action. Everything takes place in the old house at Covering End; the drama unfolds in the space of a single afternoon; and the action is more or less continuous, with no temporal breaks.
All the characters are given perfectly plausible reasons for their entrances and their exits, through doors, garden windows, and the usual architectural devices of the proscenium arch theatre. and the drama flows from one character's conversation with one person to the next in an unbroken flow.
Characters remove themselves from the 'stage' of the action on the pretext of taking tea, looking at other rooms, or looking for someone else to whom they wish to speak.
Comedy, melodrama, or farce?
The characters in this tale are stereotypes from boulevard melodrama. Mr Prodmore is a pompous stock villain of supercilious vainglory – although he remains unpunished and does end up with all the money. He dresses in a ridiculously exaggerated fashion; he is motivated entirely by greed and self-promotion; and he mistreats his daughter.
Clement Yule is a young and handsome hero. He is an impoverished aristocratic landowner with radical and humane principles; he never seeks to take advantage; and he is kind towards others.
Mrs Gracedew is a pantomime fairy godmother. She has travelled from Boston to view and appreciate the hous;, she seems to have limitless finances to solve Yule's problems; she assists Cora in her romantic ambitions, and lingers to the last paragraphs before snapping up her man.
However, the aspects of boulevard comedy which audiences might accept in the theatre do not translate well into a realist prose narrative. We are expected to believe that a young aristocrat could be talked into marrying a woman who he had never met or spoken to in the early part of one afternoon, then an hour or so later after this element of the plot coming unstuck, asks another woman to marry him who had met only a few minutes before.
The conventions of Aristotelian drama are well realised, but they do not sit well with the conventions of the short (or even long) realistic story in this respect. The conversations are suffused with plenty of sub-Wildean repartee and bon mots, but it is not surprising that this story is so little known
---
Covering End – study resources

The Complete Works of Henry James – Kindle edition – Amazon UK

The Complete Works of Henry James – Kindle edition – Amazon US

Complete Stories 1898—1910 – Library of America – Amazon UK

The Cambridge Companion to Henry James – Amazon UK

Complete Stories 1898—1910 – Library of America – Amazon US

Covering End – HTML version at Gutenberg

Henry James at Wikipedia – biographical notes, links

Henry James at Mantex – tutorials, biography, study resources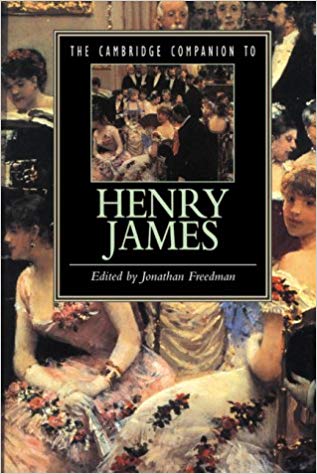 ---
Covering End – plot summary
Part I.   Handsome young Captain Clement Yule has inherited but never seen a venerable old English country house and estate at Covering End. But the estate is mortgaged and heavily in debts which are currently owned by Mr Prodmore, a rather obnoxious financier. Prodmore arrives at the house, followed by his daughter Cora.
Part II.   When Yule arrives Mr Prodmore proposes a business plan – that if Yule stands for parliament in the local constituency (Gossage) and marries his daughter Cora, he will cancel the estate's debts. However, Yule is a radical and reformer, whereas the Gossage seat is solidly conservative.
Part III.   Mrs Gracedew appears and charms old retainer Chivers with her enthusiastic appreciation of the house and its age. She meets Clement Yule and proposes to show him round his own home, but a party of local sightseers arrive. She immediately adopts the role of tour guide, extolling the house's historical and architectural virtues. The guided tour becomes virtually an auction, with Mrs Gracedew valuing the property at £50,000.
Part IV.   Yule reveals his financial predicament to Mrs Gracedew – without mentioning the element of marriage. She speaks warmly on the issue of his duty to preserve Cowering End and its traditions, and she urges him to stand for Gossage as a Tory.
Part V.   Cora speaks to Mrs Gracedew and reveals that marriage to her is also part of Mr Prodmore's plan. Yule then returns to announce that he has accepted Mr Prodmore's proposal.
Part VI.   Cora reappears to say that she refuses to marry Yule – because she is actually in love with another man, who happens to be very rich but has the unfortunate name of Hall Pegg. Mrs Gracedew promises to help her by talking round Mr Prodmore.
Part VII.   When Mr Prodmore reappears Mrs Gracedew asks him to give up his plans to marry Cora to Yule, and she offers to buy the house mortgages from him. He asks the price she announced earlier of £50,000, and she admits it was an exaggeration to impress the audience. When he sets off to recover Cora however, she offers to pay his price if he will forgive his daughter and let her marry Pegg. He agrees – but raises the price to £70,000.
Part VIII.   Mts Gracedew explains to Yule that he is now let off his mortgages and can 'own' his own home because she has bought off his debts. The house now back into its rightful ownership, she claims her work is done, but she lingers long enough for Yule to propose marriage to her – which she accepts.
---
Principal characters
| | |
| --- | --- |
| Covering End | an English country house and estate |
| Captain Clement Yule | its young and handsome radical inheritor |
| Chivers | an elderly servant |
| Mr Prodmore | a pompous and vain financier |
| Cora Prodmore | his daughter (22) |
| Mrs Gracedew | a rich American widow |
---
Further reading
Biographical

Theodora Bosanquet, Henry James at Work, University of Michigan Press, 2007.

F.W. Dupee, Henry James: Autobiography, Princeton University Press, 1983.

Leon Edel, Henry James: A Life, HarperCollins, 1985.

Philip Horne (ed), Henry James: A Life in Letters, Viking/Allen Lane, 1999.

Henry James, The Letters of Henry James, Adamant Media Corporation, 2001.

Fred Kaplan, Henry James: The Imagination of Genius, Johns Hopkins University Press, 1999

F.O. Matthieson (ed), The Notebooks of Henry James, Oxford University Press, 1988.
Critical commentary

Elizabeth Allen, A Woman's Place in the Novels of Henry James London: Macmillan Press, 1983.

Ian F.A. Bell, Henry James and the Past, London: Palgrave Macmillan, 1993.

Millicent Bell, Meaning in Henry James, Cambridge (MA): Harvard University Press, 1993.

Harold Bloom (ed), Modern Critical Views: Henry James, Chelsea House Publishers, 1991.

Kirstin Boudreau, Henry James's Narrative Technique, Macmillan, 2010.

J. Donald Crowley and Richard A. Hocks (eds), The Wings of the Dove, New York: W.W. Norton and Company, 1978.

Victoria Coulson, Henry James, Women and Realism, Cambridge University Press, 2009.

Daniel Mark Fogel, A Companion to Henry James Studies, Greenwood Press, 1993.

Virginia C. Fowler, Henry James's American Girl: The Embroidery on the Canvas, Madison (Wis): University of Wisconsin Press, 1984.

Jonathan Freedman, The Cambridge Companion to Henry James, Cambridge University Press, 1998.

Judith Fryer, The Faces of Eve: Women in the Nineteenth Century American Novel, Oxford: Oxford University Press, 1976

Roger Gard (ed), Henry James: The Critical Heritage, London: Routledge, 1968.

Tessa Hadley, Henry James and the Imagination of Pleasure, Cambridge University Press, 2009.

Barbara Hardy, Henry James: The Later Writing (Writers & Their Work), Northcote House Publishers, 1996.

Richard A. Hocks, Henry James: A study of the short fiction, New York: Twayne Publishers, 1990.

Donatella Izzo, Portraying the Lady: Technologies of Gender in the Short Stories of Henry James, University of Nebraska Press, 2002.

Colin Meissner, Henry James and the Language of Experience, Cambridge University Press, 2009

John Pearson (ed), The Prefaces of Henry James, Pennsylvania State University Press, 1993.

Richard Poirer, The Comic Sense of Henry James, Oxford: Oxford University Press, 1967.

Hugh Stevens, Henry James and Sexuality, Cambridge University Press, 1998.

Merle A. Williams, Henry James and the Philosophical Novel, Cambridge University Press, 1993.

Judith Woolf, Henry James: The Major Novels, Cambridge University Press, 1991.

Ruth Yeazell (ed), Henry James: A Collection of Critical Essays, Longmans, 1994.
---
Other works by Henry James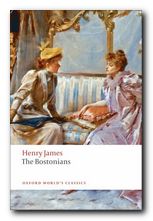 The Bostonians (1886) is a novel about the early feminist movement. The heroine Verena Tarrant is an 'inspirational speaker' who is taken under the wing of Olive Chancellor, a man-hating suffragette and radical feminist. Trying to pull her in the opposite direction is Basil Ransom, a vigorous young man to whom Verena becomes more and more attracted. The dramatic contest to possess her is played out with some witty and often rather sardonic touches, and as usual James keeps the reader guessing about the outcome until the very last page.


Buy the book at Amazon UK


Buy the book at Amazon US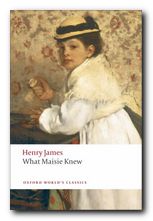 What Masie Knew (1897) A young girl is caught between parents who are in the middle of personal conflict, adultery, and divorce. Can she survive without becoming corrupted? It's touch and go – and not made easier for the reader by the attentions of an older man who decides to 'look after' her. This comes from the beginning of James's 'Late Phase', so be prepared for longer and longer sentences. In fact it's said that whilst composing this novel, James switched from writing longhand to using dictation – and it shows if you look carefully enough – part way through the book.


Buy the book at Amazon UK


Buy the book at Amazon US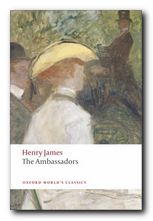 The Ambassadors (1903) Lambert Strether is sent from America to Paris to recall Chadwick Newsome, a young man who is reported to be compromising himself by an entanglement with a wicked woman. However, Strether's mission fails when he is seduced by the social pleasures of the European capital, and he takes Newsome's side. So a second ambassador is dispatched in the form of the more determined Sarah Pocock. She delivers an ultimatum which is resisted by the two young men, but then an accident reveals unpleasant truths to Strether, who is faced by a test of loyalty between old Europe and the new USA. This edition presents the latest scholarship on James and includes an introduction, notes, selected criticism, a text summary and a chronology of James's life and times.


Buy the book at Amazon UK


Buy the book at Amazon US
© Roy Johnson 2013
---
Henry James – web links

Henry James at Mantex
Biographical notes, study guides, tutorials on the Complete Tales, book reviews. bibliographies, and web links.

The Complete Works
Sixty books in one 13.5 MB Kindle eBook download for £1.92 at Amazon.co.uk. The complete novels, stories, travel writing, and prefaces. Also includes his autobiographies, plays, and literary criticism – with illustrations.

The Ladder – a Henry James website
A collection of eTexts of the tales, novels, plays, and prefaces – with links to available free eTexts at Project Gutenberg and elsewhere.

A Hyper-Concordance to the Works
Japanese-based online research tool that locates the use of any word or phrase in context. Find that illusive quotable phrase.

The Henry James Resource Center
A web site with biography, bibliographies, adaptations, archival resources, suggested reading, and recent scholarship.

Online Books Page
A collection of online texts, including novels, stories, travel writing, literary criticism, and letters.

Henry James at Project Gutenberg
A major collection of eTexts, available in a variety of eBook formats.

The Complete Letters
Archive of the complete correspondence (1855-1878) work in progress – published by the University of Nebraska Press.

The Scholar's Guide to Web Sites
An old-fashioned but major jumpstation – a website of websites and resouces.

Henry James – The Complete Tales
Tutorials on the complete collection of over one hundred tales, novellas, and short stories.

Henry James on the Internet Movie Database
Adaptations of James's novels and stories for the cinema and television – in various languages. Full details of directors and actors, production features, film reviews, box office, and even quizzes.
---
More tales by James
More on literature
More on the novella
More on literary studies
More on short stories
---