basic hands-on techniques for beginners
Missing Manuals are a series of technical help books which have come along to fill the space left by software developers who can't be bothered to explain how their programs work. This one covers lots of software, because it deals with the entire process of creating and running your own web site. Matthew MacDonald starts off by explaining how web sites work and how to decide which is the best type for you. Then it's time to roll up your sleeves and learn the details of HTML code and how to create a sample site. First he talks you through the basics of page layout, then he takes a big step forward technically to show you how to choose and register a domain name and how to upload files via FTP.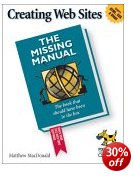 (My advice for beginners would be to skip this chapter and come back to it later when you are ready to launch.) Following this he looks at HTML editors such as Front Page and Dreamweaver and talks you through their features. I was glad to see however that he also includes free downloadable editors such as Nvu and CoffeCup. Next he talks you through all the most common formatting devices you will need to make your pages look good. Then it's on to style sheets, which is the correct and the best way to arrange the appearance of what appears on screen.
Next comes adding graphics, which most people want to do, once they've started creating text. Some of the techniques he demonstrates involve quite a sophisticated knowledge of style sheets and graphics, but fortunately he spells out the required coding and gives illustrated examples of the results. The same is true of his chapter on tables and layout using styles.
He gives excellent advice on promoting your site to search engines and directories, as well as straightforward explanations of some of the arcane technicalities of search engines.
There's also a chapter I didn't really expect – on how to make money with your site by signing up to the Google Ads and Amazon affiliate programs. These really do allow you to "make money whilst you are asleep" – so long as you can attract enough visitors to your site.
He ends with some fairly advanced tips and tricks: using JavaScripts and Dynamic HTML; creating fancy buttons and dropdown menus; and adding multimedia audio and video files. But for those people who want to have a presence on the Web but can't cope with all the technicalities of building and maintaining pages, he concludes with a chapter on blogging. This really is the quickest and easiest solution.
I have been tinkering with web sites and reviewing web design manuals for years, and all I can say is that this is the best beginners manual I have come across.
© Roy Johnson 2005
---
Matthew MacDonald, Creating Web Sites: The Missing Manual, Sebastopol: CA, O'Reilly, 2005, pp.548, ISBN 0596008422
---
More on web design
More on digital media
More on technology
---