showcase of the latest in web design techniques
This is a handsome collection of web site illustrations – with a difference. All the designers wish to challenge conventional web design principles and exploit the possibilities of the new medium to achieve dramatically innovative effects. 72 dpi is a book with superb graphics and production values, but you have to be prepared for some challenging visual concepts. The pages make few concessions to what Jakob Nielsen calls 'usability'. Plus the authors are not very good at explaining what they're up to. Details of navigation and who produced what are almost wilfully obscure. But it's all there if you're patient.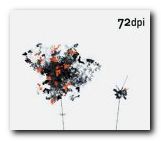 What the designers have in common is seemingly a desire to get away from standard navigation devices and text-dominated explanations of content. Their home pages offer instead visual dramas which are more like modernist paintings. Black and dark grey are the most popular screen colours, and there's lots of imaginative use of typography as a graphic design element. When I checked some the sites, many of them were using Flash and Shockwave [no surprise there then].
The elegant page spreads are interspersed by brief policy statements from the designers, some of them interestingly thoughtful on the subject of web design and its new challenges, others lapsing badly into art school manifesto babble.
Some of the designs show exquisite use of colour. I particularly liked Matt Owens' deeply layered pages which are reminiscent of Francis Bacon portraits. And indeed, some of these creations are very close to being works of art in a new medium.
Most of the latest avant-garde styles are represented – what Curt Cloninger calls HTML minimalism, Lo-Fi grunge, Mondrian poster, and Drafting table / transformer. What they certainly have in common is an imaginative approach to creating web sites. You are sure to find fresh ideas and visual stimulation here, even if they don't reveal how their special effects are achieved.
© Roy Johnson 2000

Buy the book at Amazon UK


Buy the book at Amazon US
---
Robert Klanten (ed), 72 dpi , Berlin: Die Gestalten Verlag, 2000, pp.345, ISBN: 3931126358
---
More on design
More on media
More on web design
---