guide to online possibilities for creative writers
Creative Web Writing is Jane Dorner's latest book which examines the skills you need if you want to put your writing onto the Internet. Her emphasis is on creative writing. She is speaking to those people who have been creating poems and stories in their back rooms and getting nowhere. If you realise that the Internet presents lots of new possibilities, this is her explanation of how it works and what those possibilities are.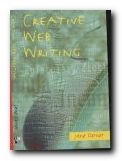 She covers collaborative story-telling, research online, interactivity and flexible text, as well as the nuts and bolts of styling for screen reading. Most importantly, she explains the range of new markets, new technologies, and how to apply them. Creative genres are covered, including autobiography, poetry, broadcasting, screen-writing and writing for children. There's also a very useful survey of the various delivery methods and payments for eBooks.
This is one of the most popular methods for aspiring authors to reach new readers. This section will be required reading if you are thinking of venturing into this world.
She also describes how to look carefully at contracts, how to submit your writing to an electronic publisher, and how to deal with Print on demand (POD) outlets.
The central part of the book deals with new forms of writing using Web technologies. This is one field in which she has clearly done her homework. She shows examples of writing in the form of Blogs (Web-logs) email (epistolary) narratives, fictions illuminated by graphics, the weird world of MUDs and MOOs, Flash-animated writing, and phonetic poetry.
Then she confronts the central problem for all writers working in a hypertext environment – the conflict between traditional linear story-telling and the random, fragmented, interactive experiences which the Web makes possible. The answer is, there's no easy answer.
Computer games she sees as a powerful paradigm for new story-telling, with additional possibilities offered by SMS messaging via mobile phones, and Big Brother type interactive radio and TV programmes.
She also provides some useful tips on writing style [Keep it short – Get to the point] some interesting notes on copyright in relation to hyperlinking; and there are plenty of useful listings. Software for self-publishing, story-generation, and storyboarding. Writing courses, experimental writers and writing groups, and most useful of all – details of eBook publishers and what they pay.
And by the way, if you've not had a lot of success with traditional publishers – don't worry too much. She explains why the market works against new writers and anything experimental. Read what she has to say, and you might not become rich and famous – but you'll realise that it is possible to put your work before the digital public.
© Roy Johnson 2003

  Buy the book at Amazon UK

  Buy the book at Amazon US
---
Jane Dorner, Creative Web Writing, London: A & C Black, 2002, pp.166, ISBN: 0713658541
---
More on creative writing
More on writing skills
More on publishing
---