presenting yourself successfully in writing
If you're applying for a job, you need all the help you can get. This book is a guide to maximising your chances. CVs and Job Applications is a manual of practical advice and useful tips on how to design your CV and write successful job applications. It focuses on preparing your application and presenting yourself in the best possible light. To do this you will need to think carefully about your own skills, interests, and aptitudes – then match them carefully to companies who are looking for people like you.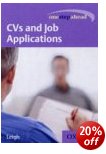 The guidance notes Judith Leigh offers are completely up to date, with advice about locating companies' web sites and email addresses, plus tips on investigating their policies and recruitment methods. Follow her advice, and it might help you land that job.
On writing your CV you should know that you have sixty seconds to make your pitch – because that's how long you will have to impress your potential employer. The guidance notes help you to plan and write your CV carefully with no mistakes.
She covers tricky issues such as how to deal with gaps in your career (periods of unemployment for instance, or years raising children) as well as how to fit your entire career, personality, hobbies, and work history onto what might be as little as two pages.
There's a chapter on writing covering letters and how to tailor their contents to maximise your chances, plus notes on how to fill in application forms.
Then what if your application succeeds? The next stage is an interview, and there are guidelines on how to prepare yourself and deliver your best performance on the day.
The book ends with some sample CVs, job applications, and covering letters, plus notes on the language of job adverts.
This is the latest title in a series of short beginner's manuals on communication skills from Oxford University Press which have proved very popular. The emphasis is on compact, no-nonsense advice directly related to issues of everyday life. If you do need to apply for a job in writing, this book will help you to make a good impression.
© Roy Johnson 2004
---
Judith Leigh, CVs and Job Applications, Oxford: Oxford University Press, 2004, pp.144, ISBN: 0198606141
---
More on writing skills
More on language
More on grammar
---