portfolio of illustrations, engravings, posters, and designs
David Gentleman is a very English artist and designer. He studied with Edward Bawden and John Nash at the Royal College of Art, London, and has established an international reputation from his work in engraving, lithographs, book illustration, posters, and a number of high-profile public design commissions. This monograph comes from a new series on individual designers published by the Antique Collectors Club. David Gentleman Design is a beautifully designed and well illustrated portfolio of his work from the 1950s to the present, with an introductory biographical and critical essay that outlines the wide range of his work. The rest of the book is devoted to showing examples which range from small private designs to large scale public commissions.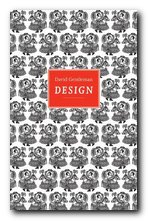 He was just too young to make a major contribution to the Festival of Britain in 1951, but well-enough connected with its major graphic designers to help him launch a successful career.
His work for the covers of Penguin Classics in the 1950s and 1960s will be very recognisable to anyone who remembers the originals or who has haunted second-hand bookshops since. He is particularly good at capturing the texture and details of buildings, even in small scale watercolour drawings – from humble rural cottages to grand country houses.
The engravings and woodcuts cling somewhat unappetizingly to a sort of late-Victorian attitude to design, whereas his watercolour drawings (executed at the same time) all seem modern and fresh. There is usually more blank space left in the design, which lets the object breathe, and there is more contrast between fine lines and washes of colour.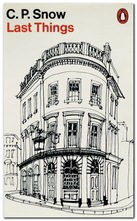 There's an overall feeling of softness and a deep feeling for English traditions. But this isn't to say that his work is feeble or nostalgic. Indeed, some of his most striking graphics are the posters designed to support radical social causes, such as his opposition to the war in Iraq.
It's interesting to note that as a young artist he set himself the twin goals of 'never to teach and never to commute' – and to his credit that he managed both. Instead, he seems to have accepted commissions from all and sundry. These range from designs for coins and postage stamps, book illustrations, lithographs, designs for fabrics and crockery, book dust-jacket covers, illustrated travel books from France, Italy, and India, commercial logos, colophons, and even the covers of company reports,
It might be a matter of personal taste, but it seems to me that his finest works are the architectural studies and the coloured landscape drawings. Certainly this attractive little selection generates the taste for seeing more.
The series of design monographs of which this volume is part feature very high design and production values. They are slim but beautifully stylish productions, each with an introductory essay, and all the illustrative material is fully referenced.

  Buy the book at Amazon UK

  Buy the book at Amazon US
© Roy Johnson 2010
---
Brian Webb and Peyton Skipwith, David Gentleman: Design, Suffolk: Antique Collectors' Club, 2009, pp.96, ISBN: 1851495959
---
More on design
More on media
More on web design
---