tutorial, commentary, study resources, plot, and web links
De Grey: A Romance first appeared in The Atlantic Monthly for July 1868. It was not reprinted during James's lifetime, and next appeared in the collection Travelling Companions published in New York by Boni and Liveright in 1919.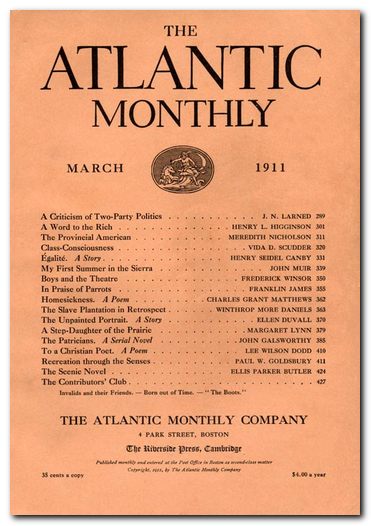 ---
De Grey – critical commentary
This tale is not much more than a sentimental anecdote, told in very general terms with very little attempt to provide concrete historical detail or even a realistic setting. James was only twenty-five years old and in his apprenticeship phase, writing for popular magazines such as The Galaxy. Even he seemed to be aware of the shortcomings in his work at that time:
I write little & only tales, which I think it likely I shall continue to manufacture in a hackish manner, for that which is bread. They cannot of necessity be very good; but they shall not be very bad.
The only points of interest in this particular tale are buried deep within its chronology. Mr De Grey has been great friends with Father Herbert, but they quarrelled – possibly 'over a woman'. There is also an implication that Mr De Grey's life had been 'blighted by an unhappy love affair' with the woman in the small portrait who died thirty-four year previously. "George De Grey met and loved, September 1786, Antonietta Gambini, of Milan". This is the same period in which De Grey travelled in Italy with his close friend Herbert, so Miss Gambini might be the woman over whom they quarrelled.
Both Paul and his father appear to be victims of the family curse: their first loves die (both Italian girls). Whilst touring Europe Paul formed a relationship with Miss L, who died in Naples – so Paul is following in the family tradition. But then Paul's father dies within one year of marrying Paul's mother, and Paul dies shortly before his marriage to Margaret.
It is interesting to note that if Mrs De Grey is sixty-seven and Paul is (say) in his twenties, he was conceived when she was in her early forties.. And yet Mr De Grey dies (from 'repeated sensual excesses') by the time he is thirty-five, and he must therefore have been much younger than his wife.
---
De Grey: A Romance – Study resources

The Complete Works of Henry James – Kindle edition – Amazon UK

The Complete Works of Henry James – Kindle edition – Amazon US

Complete Stories 1864—1874 – Library of America – Amazon UK

Complete Stories 1864—1874 – Library of America – Amazon US

De Grey: A Romance – see the original text

The Cambridge Companion to Henry James – Amazon UK

Henry James at Wikipedia – biographical notes, links

Henry James at Mantex – tutorials, biography, study resources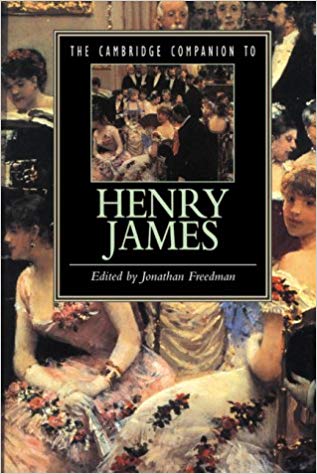 ---
De Grey: A Romance – plot summary
Mrs De Grey is a rich sixty-seven year old widow who lives a socially isolated life. Her catholic priest Father Herbert is tutor to her son Paul, who has no profession or ambition but is idolised by his mother. Whilst Paul is away touring Europe Mrs De Grey begins to feel lonely. She takes a poor girl Margaret Aldis as a companion, who blossoms under her patronage. Father Herbert is deeply smitten with the girl.
Margaret becomes enchanted by the very idea of Paul. She reads his letters to Mrs De Grey, closely watched by Father Herbert. Paul writes telling them that his engagement to an Italian girl has been broken off, and the girl later dies.
When Paul returns everyone is very impressed with his development. Paul and Margaret spend a lot of time together, talking about each other's lives, and eventually falling in love. However, Father Herbert reveals to her that the family has a long tradition of male heirs forming relationships with women who die within a year. Margaret decides to defy the curse, throwing herself enthusiastically into preparations for the marriage.
But one day she suddenly collapses in pain. She recovers, but then Paul falls ill. She feels as if she is taking her life from him. He goes out riding and falls from his horse. Margaret finds him, and he admits that she is killing him. He dies, and she becomes distracted.
---
De Grey – principal characters
| | |
| --- | --- |
| Mrs De Grey | a handsome Irish woman (67) |
| Father Herbert | her friend, an English Catholic priest and scholar |
| Paul De Grey | her American son |
| Margaret Aldis | her young companion |
---
Further reading
Biographical

Theodora Bosanquet, Henry James at Work, University of Michigan Press, 2007.

F.W. Dupee, Henry James: Autobiography, Princeton University Press, 1983.

Leon Edel, Henry James: A Life, HarperCollins, 1985.

Philip Horne (ed), Henry James: A Life in Letters, Viking/Allen Lane, 1999.

Henry James, The Letters of Henry James, Adamant Media Corporation, 2001.

Fred Kaplan, Henry James: The Imagination of Genius, Johns Hopkins University Press, 1999

F.O. Matthieson (ed), The Notebooks of Henry James, Oxford University Press, 1988.
Critical commentary

Elizabeth Allen, A Woman's Place in the Novels of Henry James London: Macmillan Press, 1983.

Ian F.A. Bell, Henry James and the Past, London: Palgrave Macmillan, 1993.

Millicent Bell, Meaning in Henry James, Cambridge (MA): Harvard University Press, 1993.

Harold Bloom (ed), Modern Critical Views: Henry James, Chelsea House Publishers, 1991.

Kirstin Boudreau, Henry James's Narrative Technique, Macmillan, 2010.

J. Donald Crowley and Richard A. Hocks (eds), The Wings of the Dove, New York: W.W. Norton and Company, 1978.

Victoria Coulson, Henry James, Women and Realism, Cambridge University Press, 2009.

Daniel Mark Fogel, A Companion to Henry James Studies, Greenwood Press, 1993.

Virginia C. Fowler, Henry James's American Girl: The Embroidery on the Canvas, Madison (Wis): University of Wisconsin Press, 1984.

Jonathan Freedman, The Cambridge Companion to Henry James, Cambridge University Press, 1998.

Judith Fryer, The Faces of Eve: Women in the Nineteenth Century American Novel, Oxford: Oxford University Press, 1976

Roger Gard (ed), Henry James: The Critical Heritage, London: Routledge, 1968.

Tessa Hadley, Henry James and the Imagination of Pleasure, Cambridge University Press, 2009.

Barbara Hardy, Henry James: The Later Writing (Writers & Their Work), Northcote House Publishers, 1996.

Richard A. Hocks, Henry James: A study of the short fiction, New York: Twayne Publishers, 1990.

Donatella Izzo, Portraying the Lady: Technologies of Gender in the Short Stories of Henry James, University of Nebraska Press, 2002.

Colin Meissner, Henry James and the Language of Experience, Cambridge University Press, 2009

John Pearson (ed), The Prefaces of Henry James, Pennsylvania State University Press, 1993.

Richard Poirer, The Comic Sense of Henry James, Oxford: Oxford University Press, 1967.

Hugh Stevens, Henry James and Sexuality, Cambridge University Press, 1998.

Merle A. Williams, Henry James and the Philosophical Novel, Cambridge University Press, 1993.

Judith Woolf, Henry James: The Major Novels, Cambridge University Press, 1991.

Ruth Yeazell (ed), Henry James: A Collection of Critical Essays, Longmans, 1994.
---
Other works by Henry James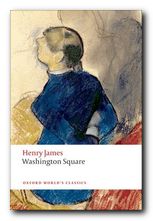 Washington Square (1880) is a superb early short novel, It's the tale of a young girl whose future happiness is being controlled by her strict authoritarian (but rather witty) father. She is rather reserved, but has a handsome young suitor. However, her father disapproves of him, seeing him as an opportunist and a fortune hunter. There is a battle of wills – all conducted within the confines of their elegant New York town house. Who wins out in the end? You will probably be surprised by the outcome. This is a masterpiece of social commentary, offering a sensitive picture of a young woman's life.


Buy the book from Amazon UK


Buy the book from Amazon US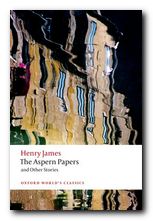 The Aspern Papers (1888) is a psychological drama set in Venice which centres on the tussle for control of a great writer's correspondence. An elderly lady, ex-lover of the writer, seeks a husband for her daughter. But the potential purchaser of the papers is a dedicated bachelor. Money is also at stake – but of course not discussed overtly. There is a refined battle of wills between them. Who will win in the end? As usual, James keeps the reader guessing. The novella is a masterpiece of subtle narration, with an ironic twist in its outcome. This collection of stories also includes three of his accomplished long short stories – The Private Life, The Middle Years, and The Death of the Lion.


Buy the book from Amazon UK


Buy the book from Amazon US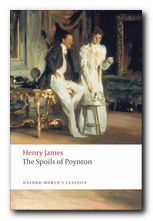 The Spoils of Poynton (1896) is a short novel which centres on the contents of a country house, and the question of who is the most desirable person to inherit it via marriage. The owner Mrs Gereth is being forced to leave her home to make way for her son and his greedy and uncultured fiancee. Mrs Gereth develops a subtle plan to take as many of the house's priceless furnishings with her as possible. But things do not go quite according to plan. There are some very witty social ironies, and a contest of wills which matches nouveau-riche greed against high principles. There's also a spectacular finale in which nobody wins out.


Buy the book from Amazon UK


Buy the book from Amazon US
© Roy Johnson 2013
---
Henry James – web links
Henry James at Mantex
Biographical notes, study guides, tutorials on the Complete Tales, book reviews. bibliographies, and web links.
The Complete Works
Sixty books in one 13.5 MB Kindle eBook download for £1.92 at Amazon.co.uk. The complete novels, stories, travel writing, and prefaces. Also includes his autobiographies, plays, and literary criticism – with illustrations.
The Ladder – a Henry James website
A collection of eTexts of the tales, novels, plays, and prefaces – with links to available free eTexts at Project Gutenberg and elsewhere.
A Hyper-Concordance to the Works
Japanese-based online research tool that locates the use of any word or phrase in context. Find that illusive quotable phrase.
The Henry James Resource Center
A web site with biography, bibliographies, adaptations, archival resources, suggested reading, and recent scholarship.
Online Books Page
A collection of online texts, including novels, stories, travel writing, literary criticism, and letters.
Henry James at Project Gutenberg
A major collection of eTexts, available in a variety of eBook formats.
The Complete Letters
Archive of the complete correspondence (1855-1878) work in progress – published by the University of Nebraska Press.
The Scholar's Guide to Web Sites
An old-fashioned but major jumpstation – a website of websites and resouces.
Henry James – The Complete Tales
Tutorials on the complete collection of over one hundred tales, novellas, and short stories.
Henry James on the Internet Movie Database
Adaptations of James's novels and stories for the cinema and television – in various languages. Full details of directors and actors, production features, film reviews, box office, and even quizzes.
---
More tales by James
More on literature
More on the novella
More on literary studies
More on short stories
---