insider victim's take of Bloomsbury goings-on
Angelica Garnett is the daughter of Vanessa Bell and her lover Duncan Grant. At the time of Angelica's birth, Vanessa was still married to Clive Bell, so Angelica was passed off to the world as his daughter, though many people in the inner circle of the Bloomsbury Group knew the truth. This crucial fact of her provenance was concealed from her until she was nineteen years old – whereupon she 'avenged' herself on the family by marrying David Garnett, who had been her father's lover even before she was born.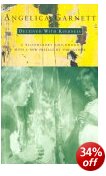 This was the central drama of her life, and this memoir is her side of the story. But it is also a vivid recollection of being raised in the heart of all that was Bloomsbury. She starts with a psychological portrait of her mother, childhood memories of living at the family home Charleston amongst Vanessa, Clive, Duncan, and their friends Roger Fry and relatives Virginia Woolf and Leonard Woolf. There are also idyllic holidays in France which seem to come from a bygone era.
At first, when she deals with the deception perpetrated by Vanessa, Clive, and Duncan she lets them all off quite lightly, providing them with convenient excuses and admitting (rather surprisingly, but par for this course) that her own true father's feelings are unknown to her.
There are lots of very charming scenes: life in Gordon Square, being washed in the bath by Maynard Keynes; Christmas with her 'grandparents' the Bells, surrounded by cooks, housemaids, and servants. There are some very lyrical episodes evoking upper-class life which although taking place in the 1920s might as well have been the late Victorian or early Edwardian period.
Some of her most perceptive passages are those in which she describes the relationship between her mother's artistic theories and her practice as an artist. The fact for instance that since Vanessa considered the subject matter of pictorial art unimportant, it was unnecessary for her to go any further than the bottom of the garden to find something worth painting.
There are extended portraits of Clive Bell and Duncan Grant, though it is odd that neither of them is referred to as 'father' – even though throughout the whole of her childhood Bell had been falsely ascribed to her as such.
On the subject of her aunt Virginia Woolf she wonders if she had ever made love to her husband Leonard. Yet she is writing as an adult, by which time she would have not only known the answer, but also that Virginia had also slept with Vita Sackville-West. The book is a charming evocation of a privileged youth, but for an in depth knowledge of its subjects, additional sources are definitely required.
She saves the most dramatic part of her story for last. Her very unequal relationship with David Garnett (she was twenty-six years younger) takes place against a backdrop of family disapproval, the onset of the second world war, and the suicide of her aunt Virginia.
Despite the apparent sophistication of the Bloomsbury set, most of the adults behave badly in concealing the important details of their former liaisons from her, and I couldn't help but feel sorry for her. She is at her most insightful in analysing the shortcomings of her mother, her father, and her husband – all conspirators against her psychological wellbeing.
After one hundred and fifty pages of indulgence and lyric evocation of a privileged upbringing, I finally began to admire her and it made this Bloomsbury memoir worth reading after all.
© Roy Johnson 2000

Buy the book at Amazon UK

Buy the book at Amazon US
---
Angelica Garnett, Deceived with Kindness: A Bloomsbury Childhood, London: Pimlico, new edition 1995, p.192, ISBN: 0712662669
---
More on biography
More on the Bloomsbury Group
Twentieth century literature
---