visual communication in transition
Design Without Boundarie is a collection of articles on visual communication produced between the 1980s and the mid-1990s. That was a period that saw an unprecedented development in graphic design in the USA and Europe, but Rick Poyner observes that there was no corresponding critical analysis of what was going on. This is his contribution to rectifying the matter. The pieces are exhibition and book reviews, profiles of designers, essays, and interviews. He is energetic and passionate about his subject, which is the relationship between design, illustration, and art – all of which he treats at both a theoretical and commercial level. And he's truly international in his reach of vision. He interviews April Greiman in America, reports from Dutch and Swiss design studios, and searches out UK designers in their workshops and even their homes.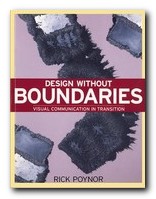 His approach is combative and challenging. He doesn't give up looking for theoretical rigour and method, and he certainly doesn't pull any punches with quite well-established figures. Jan Tschichold and Paul Rand both come under fire in the early pages of the book. It's a pity there aren't more illustrations (and some colour) because he spends a lot of time describing designers' work which would come alive better with graphics. However, there is an up side to this. Because of his pursuit of rigour and clear analysis, he's forced to describe works in a way which (where there are illustrations) turn out to be accurate and objective – certainly not the sloppy, self-oriented impressionism which passes for much of art criticism.
He really comes into his own on the ground of UK-based design. There are not one but two articles on Neville Brody in which he characteristically praises him for his design and challenges his theoretical assumptions. [In my experience, graphic artists are rarely gifted in articulating ideas about their own production. Go to any art school finals show to see the pretentious nonsense they write about their work.]
Peter Saville has interesting revelations to make about surviving early celebrity. It's amazing how insecure these famous designers can still feel beneath their apparent success. This might be caused by the rapidly changing styles of the businesses that employ them – music, fashion, popular magazines, and the arty end of commercial advertising.
Other designers he discusses include Vaughan Oliver, Why Not Associates, Cartlidge Levene, Tomato, and Jonathan Barnbrook. Then he does the same thing for a group he classifies as illustrators – Russell Mills, Dan Fern, Andrzej Klimowski, and the American Milton Glaser.
There's a section on magazines covering Nova, Oz, Modern Painters, David Carson's Ray Gun, and Emigre. These analyses are very impressive indeed. For Poynor not only captures the graphic spirit of these publications; he offers as well their background commercial histories, their successions of editors, changes of policy, and in most cases the reasons for their demise.
I liked the fact that the essays were fairly short – three or four pages at most. Because he gets straight down to business with no padding. And yet it's a huge book. If you're looking for a survey of contemporary design issues written by an extremely well-informed insider – this is it.
© Roy Johnson 2002

  Buy the book at Amazon UK

  Buy the book at Amazon US
---
Rick Poynor, Design Without Boundaries, London: Booth-Clibborn, 1998, pp.296, ISBN: 186154006X
---
More on design
More on media
More on web design
---