provocative and radical examination of good web design
Jakob Nielsen is the number one guru of 'Web usability' – mainly because he invented the term. What this expression means in a general sense is the degree to which web sites have been designed with the needs of users in mind – as distinct from those of the designer or the site owner. Nielsen is former distinguished engineer at Sun Microsystems, and he has been writing on hypertext, navigation, and Internet engineering for the last decade. Designing Web Usability is part one of a two-volume major statement of his theories on web design.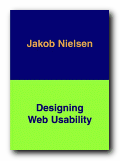 He expresses his views in a blunt and uncompromising manner. This is a bracing, indeed challenging book to read – but it is packed with reflections, principles, tips, and design theory on just about every possible aspect of web site design. He backs up his theory with the results of 'usability testing' and plenty of well illustrated, closely analysed real life examples, in many of which major companies have their sites held up for rigorous criticism.
His main priority is the creation of fast downloading pages ('speed must be the overriding design criterion') on the basis that people simply will not wait. Ten seconds is the average maximum, it would seem. To this end page size should be kept below 35K, and he's severely critical of big graphics. ('Remove graphic; increase traffic. It's that simple'.) Similarly, he's quite firm on the question of using frames: 'Just say No'.
There are good arguments to back up all these assertions – but also occasional puzzles. He seems to take a radical and scientific line when he argues that a page is inefficient because only sixty percent of the screen is devoted to product and navigation. But then in the next breath he admits that good design might include 'white space' – that is, unused screen real estate. There is no explanation of where one consideration ends and the other begins. He also makes the radical claim that HTML Standard 1.0 should be the web author's common denominator, but he is quite happy to discuss Cascading Style Sheets [supported only by version 4.0 browsers and above]. But these are minor problems: most of the time I was swept along by his infectious sense of intellectual exhilaration.
He argues for well-annotated outbound links, on the basis that each pointer towards useful information adds quality to your site. There are also interesting tips on links, such as not trying to link everybody to your home page. There's a strong temptation to do this – because you would naturally prefer every visitor to explore your site in full. But there is no reason why they should tolerate searching your site when they have been referred on the promise of something specific.
On writing for the web he favours brevity, content chunking [short paragraphs] and accuracy – on the basis that Content is King. As he puts it in his idiosyncratic prose style, we should 'write for scannability'. For someone whose message is to design for maximum usability, his language is occasionally a little opaque. He uses terms such as 'instantiated', 'best-fit regression line', 'optimal user experience' and 'hedonic wage model'. But once again, this quirkiness is vastly outweighed by the density of good advice packed into every page.
Advanced web site designers will be interested in what he has to say about the use of audio, video, animation, and even 3D effects – yet he also has insightful things to say about some of the smallest and apparently mundane elements of a web page. It's amazing what subtle nuances he wrings from his meditation on the choice of words for a page title for instance – something I imagine most people hardly give a second thought.
Beginners will appreciate his advice on matters such as creating good domain names for new businesses, whilst advanced users are catered for in sections which discuss the integration of your site with a search engine and the techniques for creating dynamic pages which change their content in response to customer demand.
He is unremittingly on the side of the user rather than the site owner or designer. In this sense he's the very opposite of design and graphics guru David Siegel – arguing extreme functionality over aesthetic form.
We still need more sites to base their information architecture on the customer's needs instead of the company's own internal thinking.
On large scale sites, he has some interesting points to make regarding the distinctions between intranets and extranets, and he deals comprehensively with issues of designing for international audiences, for users with disabilities, and for Web TV. He ends with some predictions on likely trends over the next few years, reminding us that despite any increases in audience and bandwidth, the vast majority will be low-end users for whom the prime concern is download time.
There have recently been criticisms in some design circles that Jakob Nielsen is too dogmatic and that his theories are based on the commercial demands of the Internet. Some of this may well be true, but anybody who has the slightest interest in web pages, site design, and information architecture should read this book. I feel quite confident that it is destined to become a classic, and personally, I look forward to the next volume, which is going to tell us 'How To Do It'. He's even got a provisional title – Ensuring Web Usability – and lists it for us in his section of recommended reading.
© Roy Johnson 2002
---
Jakob Nielsen, Designing Web Usability: The Practice of Simplicity, Indianapolis, Ind: New Riders, 2000, pp.420, ISBN: 156205810X
---
More on web design
More on digital media
More on technology
---