The principles of writing and editing for the Web
Anybody who has worked on Web projects will know they can become very complex. And those who provide the textual content are often trapped between graphic designers striving for visual glamour, and clients who want to promote their message. This guide to the entire process offers both detailed advice on writing and editing, plus checklists of help on how to clarify the job of the content provider, and how to survive a project. The authors start out by explaining the role of the web author and editor. This tends to be a mixture – part designer, part content provider, part information architect, plus usability tester and proofreader.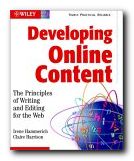 They start with an excellent analysis of why so many business web sites are unappealing, inefficient, and downright bad. There's a very good example of their makeover of the CIA web site, which spends too much time patting itself on the back. They improve its efficiency by ruthless pruning and making the information user-oriented. This is a master class in converting text from its print brochure origins to web-based delivery.
The focus throughout is on text, but they give plenty of attention to its close relationship with images on web sites. There's also an interesting consideration of the theory, the psychology, and the creation of hypertext links.
They have a lot of interesting observations on the relationship between the Web page and the screen. The issues are those all Web authors confront: how to minimise scrolling; how to keep content in the reader's mind; and how to create tight structure and clear navigation.
They also have valuable advice on creating editorial style guides and proofreading, plus an explanation of the latest technology and how it affects the content of a site.
It's a professionally oriented book, which assumes readers might wish to work in the new medium. And they tell you how to go about it. There are tables and checklists of the skills you will require and even pointers towards the opportunities available and what rates to charge.
This is aimed at intermediate to advanced users – but it will be of interest to anybody who wants to extend their writing skills into the digital realm. I read this book whilst engaged on two medium-sized Web projects, and can confirm that all the roles, tasks, and collaborations they describe are 100 per cent accurate.
© Roy Johnson 2002
---
Irene Hammerich and Claire Harrison, Developing Online Content: the Principles of Writing and Editing for the Web, New York: John Wiley, 2002, pp.384, ISBN 0471146110
---
More on online learning
More on technology
More on digital media
More on web design
More on computers
---