traditional beliefs, customs, myths, and superstitions
How would you find out what myths are attached to hedgehogs – or about cures for warts? It's no good looking in the excellent Brewer's Dictionary of Phrase and Fable, because that deals with sayings and people, not beliefs and activities. This Dictionary of English Folklore is a compendium of national beliefs which describes in reasonably objective terms the customs, myths, and superstitions associated with traditional English culture.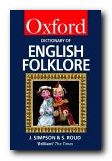 It excludes other parts of the British Isles on the grounds that Scotland, Ireland and Wales have their own languages, through which these beliefs have been transmitted. And if even a fraction of these beliefs are alive and well in the twenty-first century, it speaks volumes for the strength of tradition. It covers what it calls 'oral and performance' genres – such as cheese rolling, Morris dancing, and well dressing – which I can confirm are alive and popular in the part of England that I inhabit (except for the cheese rolling: we just eat it and have the oldest, Cheshire).
Mythical characters such as Robin Hood, Merlin, Beowulf, and father Christmas are examined – as well as what people believe about parts of the body. This includes the significance of certain fingers, the eyebrows, the nose, and especially the thumb – from 'OK' to 'obscene'.
The significance of special days in the calendar are well documented – All Saints' day, St Agnes' Eve (especially significant for love) – and there are beliefs associated with simple items such as plants – cowslip, parsley, foxglove, and clover.
They also cover archaeological items such as Stonehenge, Camelot, and my own special favourite ever since I first cycled past it as a youth – the Cerne Abbas Giant.
The line the authors take is a reasonable compromise between detached description and sympathetic endorsement of these beliefs. They are not afraid to debunk some ideas – such as the belief that 'Ring-a-ring-a-roses' is connected with the Great Plague. (The first English versions were recorded in a New Year ceremony in Allendale, Northumberland, in which the men march through the village with blazing tar barrels – a custom which only started in 1858.)
So if you want to check out fairy rings, Devil's hoofprints, frog showers, pancake races, sin-eating, and the special significance of Saturday – it's all here. If there's evidence, they give it. If not, they usually give it the benefit of the doubt. You can make up your own mind.
© Roy Johnson 2003

  Buy the book at Amazon UK

  Buy the book at Amazon US
---
J. Simpson (ed), Dictionary of English Folklore, Oxford: Oxford University Press, 2003, pp.420, ISBN: 0198607660
---
More on dictionaries
More on language
More on literary studies
More on grammar
---