illustrated encyclopedia of all matters related to design
This is a comprehensive guide to international developments in graphic design. From pre-industrial printing presses and medieval typography to computer graphics and avant-garde stylistic advances. The Dictionary of Graphic Design provides information about graphic designers, typographers, journals, movements and styles, organisations and schools, printers and private presses, art directors, technological advances, design studios, graphic illustrators, and poster artists. The entries are in alphabetical order ranging from the ABC system of standard paper sizes via Mackintosh and John Maeda to typographists Hermann Zapf and Piet Zwart.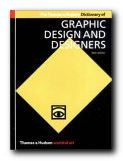 Entries are cross-referenced, and there's also a chronological chart which outlines the relationship between movements, technology and designers around the world.This second edition has been completely revised, updated, and completely redesigned by Derek Birdsall. It includes 485 wonderfully varied illustrations which give a stunning visual record. It's a shame they are mainly in black and white, but in such a bargain-price book I don't suppose we can have everything.
They cover a wide range of media, including advertising, corporate identity, posters, packaging, magazine and book design, as well as fine art and illustration.
It's very well informed and clearly based on in-depth knowledge of the subject. The authors cover all aspects of graphic design from 1840 to the present day – from William Morris, inspired by nature, and El Lissitzky's Constructivist design, to the Designer Republic's visuals for the music and club scene and John Maeda's computer graphics.
There's an illustration of almost every individual designer mentioned, and they are particularly generous towards younger contemporaries such as Mark Farrow and Peter Saville, whose work has been in CD and LP record cover design industry.
I checked out their entries on popular designers such as Neville Brody, David Carson, and Paul Rand, and all of them were spot on. The collection also introduced me to many designers whose work I recognised but who I had never heard of before.
© Roy Johnson 2004

  Buy the book at Amazon UK

  Buy the book at Amazon US
---
Alan and Isabella Livingston, Dictionary of Graphic Design and Designers, London: Thames & Hudson, 2003, pp.239, ISBN: 0500203539
---
More on design
More on media
More on web design
More on information design
---