famous writers – on literature, authorship, and life
This Dictionary of Literary Quotations is a new and expanded edition of an acclaimed collection of over 4,400 quotations – by writers, about writers, about books and literature, and about a huge range of other related issues. The quotations on any topic are listed by date, so you can trace what writers have said about drink and drugs (for instance) from Horace in 65BC to J.C. Ballard in 1990. To locate any item, there's a table of themes and a list of key words at the back of the book.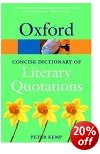 Editor Peter Kemp also includes a list of authors (Ackroyd to Zola) and a key word index (abandoned to zombies) to track down what you're looking for. But the most interesting thing is the double system of entries in the main body of the book. These include listings by writer – so you can look up what Flaubert or William Faulkner said of note on fame or earning a living – but there are also listings of what writers have said about each other.
And it's not always complimentary. Katherine Mansfield opines that "E.M.Forster never gets any further than warming the teapot" and D.H. Lawrence says of James Joyce's work that it is:
Nothing but old fags and cabbage stumps of quotations from the Bible and the rest, stewed in the juice of deliberate journalism and dirty-mindedness.
But the main entries are also grouped under themes or topics – from adaptations to writing. Other subjects range from inspiration, alcohol, and censorship, to characters, travel writing, the novel, science fiction, and even the writerly task of choosing names for characters.
There are also charming interpolations, such as 'Borrowed titles' where works such as Antic Hay, Blithe Spirit, and Darkness Visible are given their rightful sources.
It's an excellent collection – focussed on literary themes and related matters, but because literature takes in everything from big ideas (philosophy) to details of good style and punctuation, most people will find these quotable comments of interest.
Amongst writers who come out well are Henry James, Evelyn Waugh, and even Julian Barnes. Some are pithy and insightful – such as Scott Fitzgerald:
An exclamation mark is like laughing at your own joke.
Others make you wonder at the wisdom which comes from 'success' – as in Jeanette Winterson's staggeringly vainglorious comments on being asked to name the best living author:
No one working in the English language now comes close to my exuberance, my passion, my fidelity to words.
What's the difference, you might ask, between this and Dictionary of Quotations by Subject and the Concise Dictionary of Quotations. The answer is that this uses writers as sources, and its focus is on matters literary – all aspects of creativity, writers block, editing, publishers, style, reputation, libraries, and figures of speech. It's a first rate example of its kind.
© Roy Johnson 2005

  Buy the book at Amazon UK

  Buy the book at Amazon US
---
Peter Kemp, Dictionary of Literary Quotations, 2nd edn, Oxford: Oxford University Press, 2nd revised edition 2004, pp.512, ISBN: 0198662815
---
More on language
More on literary studies
More on writing skills
More on creative writing
More on grammar
---