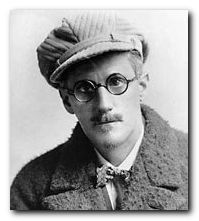 1882. James Joyce was born in Dublin, the eldest of ten children. His father was a rather improvident tax collector. The family became progressively impoverished.
1888. He was educated in Jesuit schools, with emphasis on Catholic and scholastic doctrine. [These establishments were also renowned for their intellectual rigour.] Joyce was a talented student, especially good at languages. He moved from being devout to bitterly anti-Catholic. These experiences were later used as material for his autobiographical novel, A Portrait of the Artist as a Young Man.
1893. Enters Belvedere College, a Jesuit boys' day school – fees having been waived because of family's needy circumstances.
1894. Joyce reads Lamb's Adventures of Ulysses and writes theme on Ulysses as 'my favourite hero'.
1897. Wins prize for best English composition in Ireland for his age group.
1898. Studies languages at University College, Dublin. Rebels against Church, Family, and the State. Begins to read Ibsen. Active campaigner for freedom of expression and equality for women.
1902 Leaves university to study medicine in Paris, but gives it up and writes reviews for newspapers.
1904. Back in Dublin following his mother's death, Joyce meets Nora Barnacle on June 10, subsequently to be known as 'Bloomsday' and used as temporal setting for Ulysses. Opposed to marriage, but unable to live together because of moral climate at that time, they move to Trieste and live there for the next ten years. Joyce earns a precarious living teaching English at the Berlitz School of Languages.
1905. Joyce writing stories which are later collected as Dubliners, and Stephen Hero, a novel based on his own early life. Supported by his brother Stanislaus.
---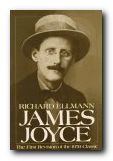 James Joyce is an acclaimed biography, considered by many to be the definitive account of Joyce's life and work. Richard Ellmann has a sympathetic grasp of Joyce's personality. A reverence for his literary accomplishment is balanced by a bemused affection for his weaknesses. Whether Joyce is putting the finishing touches to Ulysses, falling down drunk in the streets of Trieste, or writing erotic messages to his future wife, Ellmann's account always shows us a genius and a human being. This latest edition has been revised and expanded to include newly discovered primary material, including details of a failed love affair, a limerick about Samuel Beckett, a dream notebook, and previously unknown letters.
---
1907. Publishes Chamber Music (poems). Financial hardship partly self-induced as a result of erratic and improvident lifestyle. Eyesight problems begin.
1908. Begins revising Stephen Hero. Many unsuccessful attempts to have Dubliners published.
1909. Returns to Dublin and opens the city's first cinema – the 'Volta'.
1912. Lectures on Defoe and Blake at Trieste University. Passes Italian state exams to become a teacher. Lectures on Hamlet.
1913. Writes Giacomo Joyce, a novella based on unconsummated affair with one of his language students. Corresponds with American poet Ezra Pound, who begins serialization of A Portrait of the Artist as a Young Man in his magazine the Egoist.
1914. Joyce's annus mirablis. Publication of Dubliners. Begins writing Ulysses.
1915. Completes Exiles, a play. Family moves to neutral Switzerland during first world war. Zurich important centre for arts, theatre, and political exiles. Awarded a grant (£75) from Royal Literary Fund.
1917. American and English editions of Portrait well received. Further eye operations. Harriet Shaw Weaver begins her financial support which lasts throughout the rest of Joyce's life: (she even pays for his funeral).
1918. Serialization of Ulysses begins in the American magazine Little Review. Reputation grows. Forms a theatrical group, the English Players, and stages The Importance of Being Earnest.
1919. Copies of Little Review confiscated and burned by US Postal Authorities. Family returns to Trieste.
1920. Family moves to live in Paris for next twenty years. Friendships with Pound, Wyndham Lewis, and T.S.Eliot. Supported by American bookshop owner Sylvia Beech.
1921. Little Review prosecuted by the Society for the Suppression of Vice for publishing extracts from Ulysses. Sylvia Beech offers to publish under the imprint of her bookshop, Shakespeare and Company.
1922. Ulysses printed in Dijon and published on Joyce's fortieth birthday. Nora refuses to read it.
1923. Writes the first pages of Finnegans Wake. More eye operations fail to save failing sight. Ulysses pirated in America and copies seized by customs in England.
1927. Fragments of the Wake published in small magazines, but work is constantly revised and re-written.
1930. Publication of Stuart Gilbert's critical study James Joyce's Ulysses, written with Joyce's assistance.
1931. Travels to London with Nora to be married 'for testamentary reasons' following the death of his father. Daughter Lucia goes mad after falling in love with Samuel Beckett, who was then acting as Joyce's secretary.
1934. First publication in USA of Ulysses by Random House. Travels to Switzerland to be near Lucia who was in a mental institution. Almost blind, Joyces writes in coloured crayons.
1935. Continues work on Finnegans Wake. (Nora describes it as – "that chop suey he's writing").
1936. First publication in UK of Ulysses by Bodley Head.
1939. Finnegans Wake published in London and New York in the year of Joyce's fifty-seventh birthday.
1941. Following the occupation of France, Joyces move back to neutral Switzerland. Joyce dies after an abdominal operation. (Joyce's dates 1882-1941 identical to those of Virginia Woolf.)
© Roy Johnson 2004
---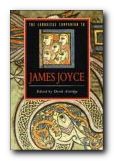 The Cambridge Companion to James Joyce contains eleven essays by an international team of leading Joyce scholars. The topics covered include his debt to Irish and European writers and traditions, his life in Paris, and the relation of his work to the 'modern' spirit of sceptical relativism. One essay describes Joyce's developing achievement in his earlier works (Stephen Hero, Dubliners, and A Portrait of the Artist as a Young Man), while another tackles his best-known text, asking the basic question 'What is Ulysses about, and how can it be read?' The issue of 'difficulty' raised by Finnegans Wake is directly addressed, and the reader is taken through questions of theme, language, structure and meaning, as well as the book's composition and the history of Wake criticism.
---
More on James Joyce
Twentieth century literature
More on study skills
---