design, designers, products, movements, influences
This Dictionary of Modern Design is a serious textual resource on design matters, written by somebody who is quite clearly steeped in his subject. Jonathan Woodham is Professor of the History of Design at the University of Brighton, and this compendium has all the hallmarks of being a summation of a lifetime's work. It's an A to Z compendium of entries which run from architects and designers Alvar and Aino Aalto, through to typographer and book designer Hermann Zapf. It covers the period from the mid-nineteenth century to the end of the twentieth.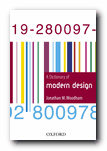 There are over 2,000 entries on names and movements from the past 150 years of design. The only weakness is that there are hardly any illustrations – something they might rectify in a second edition. Individual entries are a mixture of individual designers – Paul Rand, Milton Glaser, and Jan Tschichold, plus movements such as Bauhaus, Omega workshops, and Wiener Werkstatte, to specific products such as The Dyson vacuum cleaner, Levi Strauss jeans, and the bathroom fittings suppliers Villeroy and Boch.
There are also entries on materials (polypropylene) places (Museum of Modern Art) events (Festival of Britain) institutions (the Design Institute) and even individual products such as Barby, the wonder doll, plus entries on companies (Habitat, IKEA) product strategies (flatpacks) materials (Formica) typographists (Eric Gill) and even shops (Biba and Healds).
Individual entries are punctuated by occasional pull-out boxes which define movements and general terms – such as art deco, constructivism, kitsch, neo-modernism, and streamlining. The entries are presented in a plain and uncluttered prose style, with cross references to related items:
Lissitsky, El (Lazar Markovich Lissitsky 1890—1941) The Russian *Constructivist typographer, graphic designer, architect, painter, photographer and theorist El Lissitsky was influential in the dissemination of *Modernism both through his work and his theoretical writings. He studied architecture and engineering under Joseph Maria *Olbrich and others at the Technical School at Darmstadt between 1909 and 1914, visiting Paris, the hub of avant-garde artistic activity, in 1911. He moved back to Russia to practise architecture in 1914, but also worked in the fine arts and illustration, underlining notions of his concept of the 'artist-engineer'…
[and so on]
It's a shame there aren't more illustrations, but there's a huge bibliography which reflects the scholarly provenance, a timeline which puts design events from 1840 to the present into a social and political context, and a comprehensive bibliography.
© Roy Johnson 2006

  Buy the book at Amazon UK

  Buy the book at Amazon US
---
Jonathan M. Woodham, A Dictionary of Modern Design, Oxford: Oxford University Press, 2006, pp.544, ISBN: 0192806394
---
More on design
More on media
More on web design
More on information design
---