street-speak, vulgar language, swearing and obscenities
As the editors say in their introduction to this latest edition of the Oxford Dictionary of Modern Slang, 'A year, to paraphrase Harold Wilson, is a long time in slang'. In fact the principal difficulty in compiling lexical resources of this type is what to leave out – because a great deal of slang is very evanescent. Oxford University Press have the advantage of compiling their dictionaries from the huge 'Corpus' of recorded language use which makes up the data base from which their publications are compiled. This is a collection of examples of how the English language is actually being used, drawn from the printed word – from literary novels and specialist journals to everyday newspapers and magazines, and from Hansard to the language of chatrooms, emails, and weblogs. The database contains over two billion words, and expands at the rate of 350 million words a year.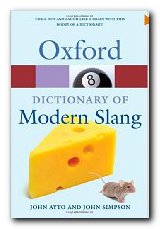 So this assembly of what's current has a better chance than most of being directly relevant – though you should remember that in order to qualify for inclusion in a dictionary, words have to be written down, not simply spoken. OUP also stipulate that they have to remain there for some time before they are considered for inclusion in dictionaries
The entries of this compilation run from abso-bloody-lutely and Acapulco gold via manky and meeja to wuss, yuckie, and zonker. As you can perhaps detect from this random selection, it's rather polite in tone. There's little of the ribaldry of Roger's Profanisaurus or the scholarly rigour of Eric Partridge's Dictionary of Slang and Unconventional English
There are lots of very dated references such as Ally-Pally (BBC) and Andrew (the navy) which I seriously doubt are in general circulation now – except with people over retirement age. But I was glad to see that it includes rhyming slang, as well as street language from other English-speaking cultures such as America and Australia, so the book could be useful if you're thinking of emigrating.
There are also some linguistic curios in the form of words for which the etymology is simply not known – such as eighty-six (to refuse to serve someone in a restaurant) and others which just seem genuinely unusual and very entertaining – such as copacetic (outstanding) and gamahuche (cunnilingus or fellatio).
There is a certain respect given to lewd slang. The editors don't balk at including carpet-muncher and mantee, but these entries are noticeably brief, and ladies in sensible shoes doesn't get listed. They offer bristols and boobs, but not headlamps or hooters. I also looked in vain for the expressive rack, the amusingly faux-naive front-bottom, and the very well known Ugandan discussions. Entries on some less contentious issues are almost embarrassingly passé – such as goggle box (television) and knuckle sandwich (a punch).
There's also a thematic index – because many of the terms are drawn from the worlds of drugs, sport, youth culture, and television, as well as traditional slang topics such as sex, money, and bodily functions. I always think that compilations of this kind are quire good fun, but all in all, there's not much here that your maiden aunt could object to.

  Buy the book at Amazon UK

  Buy the book at Amazon US
© Roy Johnson 2010
---
John Ayto and John Simpson, Dictionary of Modern Slang, Oxford: Oxford University Press, (second edition) 2010, pp.408, ISBN: 0199232059
---
More on language
More on literary studies
More on writing skills
More on creative writing
More on grammar
---