rhyming slang explained and brought up to date
Would you know what to do if you were left on your Jack Jones for a day with the saucepan lids? Rhyming slang originated in early nineteenth century London. Everyone knows that apples and pears = 'stairs', and whistle and flute = 'suit'. Here's how the system works. The rhyming word is the second of a pair, and the connection is not always obvious – as in Derby Kelly = 'stomach' (belly). But usage is made more complicated by the fact that it is the first, non-rhyming word which is spoken – so you go up the apples to bed, not the pears. This new Dictionary of Rhyming Slang explains explains all the well-known terms, and many you will never have heard of before.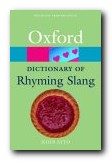 If that is not complex enough, the inventive and playful strain of rhyming slang is seen in the tendency to transfer via rhyme from the original term to more and more remote associations – as in bottle and glass = 'bottom' (arse), which becomes bottle; but that in its turn is rhymed with Aristotle, which is shortened to arris, which then in its turn is rhymed with April in Paris. Are you still with us?
The most commonly used terms in John Ayto's amusing collection are coined for the perennial slang topics – body parts, sex, the lavatory, crime, drink, gambling, illness, and death. But he also covers such topics as work, sport, and even household objects.
It was once thought that rhyming slang was dying out, but the recent fashion for using celebrity names has proved this not to be true – as in [the now disgraced] Garry Glitter = 'pint of bitter', abbreviated to a Garry of course. The alternative might be to order a couple of Britneys (Spears).
All the people whose names have been memorialised in this way are given thumbnail biographies. Thus, the cast immortalising haemorrhoids includes Michael Miles, Nobby Stiles, Valentine Dyall, and Emma Freud.
[It is interesting to see that John Ayto cites Roger's Profanisaurus Rex amongst his sources of authentic persuasive coinings. If you follow that link, be warned – it's much stronger stuff.]
Drink does much better than food, rhyming slang is obviously largely the province of the male, and it often embeds itself so deeply into general linguistic usage that we are hardly conscious of it – as in porkies (porky pies) for 'lies', and loaf (loaf of bread) for 'head'.
There's a big index, so you can easily locate any term you hear but whose meaning you can't guess (as I couldn't with balaclava). This is an excellent and certainly bang up-to-date account of what is obviously still a thriving sub-set of English Language.
© Roy Johnson 2003

  Buy the book at Amazon UK


  Buy the book at Amazon US
---
John Ayto, Dictionary of Rhyming Slang, Oxford: Oxford University Press, 2003, pp.309, ISBN: 0198607512
---
More on language
More on literary studies
More on writing skills
More on creative writing
More on grammar
---