tutorial, commentary, study resources, and web links
Dr Jekyll and Mr Hyde (1886) became very popular as soon as it was first published under its real title of Strange Case of Dr Jekyll and Mr Hyde. Since then it has been repeatedly adapted for the stage and the cinema – usually to provide a starring role for a male actor who can deliver a bravura performance playing both major parts. It has also entered popular culture as a symbol of the 'dual' nature of the human personality – with the potential for good and evil in a permanent state of tension, battling against each other in the same person.
---
Dr Jekyll and Mr Hyde – 1920 film version
Full length 1920 movie – with John Barrymore
---
Dr Jeckyll and Mr Hyde – critical commentary
The Novella
Dr Jekyll and Mr Hyde is a narrative of only 26,000 words in length – which is the same as some long short stories. But the composition has all the hallmarks of a novella, based on the usual criteria for distinguishing this literary genre that lies half way between a long story and a short novel.
The story is densely compacted, with all its elements focussed on the single issue of the mystery of the Jekyll/Hyde duality. There are no digressions, no extraneous characters, and not even any lengthy descriptive or atmospheric passages.
There is a consistency of mood and tone throughout the tale which contributes to its unity of effect. Once again, nothing distracts from
There is a unity of location throughout the drama, with particular focus on Dr Jekyll's house and its symbolic division into quarters which are public and private, open and locked, known and secret. Although the action of the novel moves a little around the locality, almost all of it is centred upon the doctor's rooms, and in particular his 'cabinet', which is an inner sanctum within the 'dissecting rooms' where he carries out his practice.
The recurring motifs in the story reinforce its central concern with the duality of human nature. Jekyll has a large cheval mirror in which he inspects his transformations. A mirror is designed to reflect the object before it, but of course it also produces a 'double'. The austere Utterson is contrasted with his cousin Enfield who is a man about town.
Letters
Much of the plot hinges on documents and letters generated by the principal characters.
1. The story begins with Jekyll's puzzling will which he has entrusted to Utterson.
2. Hyde writes a letter of reassurance to Jekyll.
3. Lanyon leaves behind a letter revealing what he knows of Jekyll.
4. Lanyon's letter itself contains a letter written to him by Jekyll
5. Hyde writes letters to both Poole and Jekyll.
5. Jekyll leaves behind a confessional letter.
And almost like a reflection of the doubled and interlocking nature of the main narrative, these letters are sometimes contained within each other.
The Double
Stevenson's tale is part of the long and honourable tradition of 'the double' in fiction. This includes examples such as Shelley's Frankenstein, Poe's 'William Wilson', Dostoyevski's The Double, Conrad's The Secret Sharer, James' 'The Jolly Corner', and Nabokov's The Eye. In most of these cases there is deliberate ambiguity concerning the second person or identity. The story appears to be about two separate people who are completely unlike each other, or may be very similar. In some cases the first character feels a rivalry with, dislikes, or even wishes to kill the second. But they are in fact one and the same person.
Dr Jekyll and Mr Hyde is a perfect example of this literary trope. Jekyll and Hyde are polar opposites. Jekyll is tall, upright, honest, and philanthropic. Hyde is small and misanthropic to the extent that he commits murder. They are like representations of the conscious and the unconscious mind – the Ego and the Id.
Almost every element within Dr Jekyll and Mr Hyde has a parallel or a double. Dr Jekyll and Mr Hyde are two aspects of the same man. Jekyll's house has two entrances – one the respectable public front entrance, the other a partly hidden, secret, and locked rear entrance. Dr Lanyon leaves behind two letters. And the novella ends with two explanations in two letters for the mystery and how it came about.
For further discussion of this theme, see our tutorial – The Double
Narrative progression
It is often said that Dr Jekyll and Mr Hyde is a story told backwards, and it's quite true that the novella ends with an account of how Dr Jekyll came to take up his dangerous experiments with drugs. But it would perhaps be more accurate to say that it is a story with a mystery, the explanation for which is delayed. The actual sequence of events is as follows.
1. Jekyll's behaviour has become erratic and poses a problem for his friend Utterson.
2. Tension and mystery ensue in the search for Mr Hyde.
3. There is a dramatic finale when Hyde commits suicide.
4. The narrative ends with two explanations of the mystery and its origins.
The missing participles
The full title of the novella is Strange Case of Dr Jekyll and Mr Hyde. It is hardly surprising that it has become more widely known in its truncated form as Dr Jekyll and Mr Hyde because the missing definite article (The) creates an unnatural gap or absence in the title. This might be a stylistic quirkiness on Stevenson's part, because it is repeated in some of the chapter titles which similarly lack a definite article – Story of the Door, Search for Mr Hyde, Incident of the Letter, Remarkable Incident of Dr Lanyon, and Incident at the Window
---
Dr Jekyll and Mr Hyde – study resources

Dr Jekyll and Mr Hyde – Oxford Classics – Amazon UK

Dr Jekyll and Mr Hyde – Oxford Classics – Amazon US

Dr Jekyll and Mr Hyde – Penguin Classics – Amazon UK

Dr Jekyll and Mr Hyde – Penguin Classics – Amazon US

Dr Jekyll and Mr Hyde – Audiobook CD – Amazon UK

Dr Jekyll and Mr Hyde – Audiobook CD – Amazon US

Dr Jekyll and Mr Hyde – Cliffs (study) Notes – Amazon UK

Dr Jekyll and Mr Hyde – York (study) Notes – Amazon UK

Dr Jekyll and Mr Hyde – Spark (study) Notes – Amazon UK

Dr Jekyll and Mr Hyde – 1932 film version (DVD) – Amazon UK

Dr Jekyll and Mr Hyde – Norton Critical edition – Amazon US

Dr Jekyll and Mr Hyde – Kindle edition

Dr Jekyll and Mr Hyde – 2002 TV version (DVD) – Amazon UK

Dr Jekyll and Mr Hyde – 1981 film version (DVD) – Amazon UK

Dr Jekyll and Mr Hyde – 1931 & 1941 film versions (DVD) – Amazon UK

Dr Jekyll and Mr Hyde – eBook versions at Gutenberg

Dr Jekyll and Mr Hyde – audiobook at LibriVox
---
Dr Jekyll and Mr Hyde – plot summary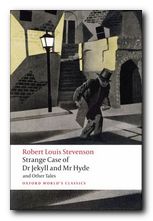 Mr Utterson, a lawyer, has the disturbing task of dealing with the will of his friend Dr Jekyll, who in the event of his death or disappearance wishes to leave all his money (a quarter of a million pounds) to his friend Edward Hyde. Utterson learns that Hyde has bought his way out of trouble after attacking a young girl, using a cheque signed by Jekyll. Discomforted by suspicions of possible blackmail and wrong-doing, Utterson tracks down Hyde, but then Jekyll reassures him that all is well.
When another brutal and fatal attack is carried out on one of Utterson's clients, the circumstantial evidence points to Hyde as the perpetrator, but when sought out he has disappeared. Jekyll reassures Utterson that Hyde will no longer be a problem, and shows him a letter to that effect from Hyde. However, the handwriting is similar to that of Jekyll.
After a period of relative normality, Dr Jekyll begins to cut himself off from Utterson and the rest of society, and their friend Dr Lanyon dies in odd circumstances, leaving behind a letter. Dr Jekyll's butler Poole reports in alarm to Utterson that something is wrong with Jekyll. Utterson and Poole break into Jekyll's inner rooms and find Hyde dead from cyanide poisoning.
Utterson then goes home to read both Lanyon's letter and a signed confession from Dr Jekyll. These explain how Jekyll has experimented with 'transforming' drugs which have allowed him to turn at will into Edward Hyde and lead a double existence. Having explored the evil side of his own nature, he has become addicted to the drugs and no longer able to control the transformations. He has therefore committed suicide whilst in the persona of Edward Hyde.
---
Dr Jekyll and Mr Hyde – principal characters
| | |
| --- | --- |
| John Gabriel Utterson | a middle-aged lawyer |
| Richard Enfield | his younger cousin, a man about town |
| Edward Hyde | a savage, rancorous man who commits murder |
| Dr Henry Jekyll | a respected man of medicine |
| Dr Hastie Lanyon | fellow doctor and friend of Utterson |
| Sir Danvers Carew | an MP and client of Utterson's |
| Mr Guest | Utterson's head clerk |
| Poole | Dr Jekyll's butler |
---
Further reading
Fred Botting, Gothic, London: Methuen, 1996.
Jenni Calder, RLS: A Life Study, London: Hamish Hamilton, 1980.
Paul Coates, The Double and the Other: Identity as Ideology in Post-Romantic Fiction, London: Macmillan, 1988.
Linda Dryden, The Modern Gothic and Literary Doubles: Stevenson, Wilde and Wells, London: Macmillan, 2003.
Sigmund Freud, 'The Uncanny' (1919) Penguin Freud Library vol.xiv, London: Penguin, 1985. 335-376.
Claire Harman, Robert Louis Stevenson: A Biography, London: Harper Collins, 2005.
Wayne Koestenbaum, Double Talk: The Erotics of Male Literary Collaboration, London: Routledge, 1989.
Robert Mighall, A Geography of Victorian Gothic: Mapping History's Nightmares, Oxford: Oxford University Press, 1999.
Karl Miller, Doubles: Studies in Literary HistoryOxford: Oxford University Press, 1985.
Elaine Showalter, Sexual Anarchy: Gender and Culture at the Fin de Siécle, London: Bloomsbury, 1992.
---
Film version
1931 film starring Frederick March
© Roy Johnson 2011
---
More on literature
More on the novella
More on literary studies
More on short stories
---