the first lesbian vampire story?
Sheridan Le Fanu was an Irish writer of Gothic tales and mystery novels who came from the same tradition which produced Oscar Wilde and James Joyce. Indeed, he went to the same university – Trinity College Dublin. But his work is less well known, with one exception – the long story (or maybe novella) Carmilla which was to influence Bram Stoker when he came to write his classic Dracula. However, Carmilla (1871) is not only a vampire story – it's a lesbian vampire story – plus all the usual trappings of the Gothic horror tale.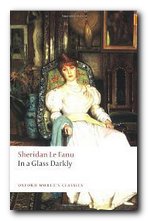 The setting is, as usual, a remote part of central Europe. Laura (the damsel to be in distress) lives with her elderly father in a castle situated miles from anywhere in the middle of a forest. As a youngster, she has a frightening nocturnal experience when she dreams she is visited in bed by a beautiful girl. Some years later a mysterious woman travelling with her daughter Carmilla has a coach accident nearby. She leaves the girl in their care and continues her journey.
Carmilla reveals to Laura that they have met before, and recounts to her an identical childhood dream. They agree that the experience was memorable and significant for both of them. Carmilla subsequently becomes passionately attached to Laura, acting towards her like a lover – but also displaying erratic mood swings. She insists on sleeping in a locked room, and doesn't get up until the afternoon.
There is an outbreak of mysterious deaths in the district, and an ancient oil painting of a Countess Mircalla Karnstein turns out to be an exact likeness of Carmilla. Laura is flattered but also slightly disturbed by the sexual advances Carmilla makes towards her. She has another nocturnal attack – this time by a giant black cat.
Following this she begins to fall ill – but in a manner which she feels is not altogether unpleasant. Further nocturnal visions make her fear Carmilla is in danger, but when the servants go to check in the middle of the night, Carmilla is not in her room – which is locked.
Laura and her father then accompany a grieving neighbour to the old ruined estate of the Karnsteins, where he intends to avenge his niece's death. En route he tells them the story of a mysterious woman who leaves her beautiful daughter Millarca in his care. Millarca exerts a malign influence on his niece, who dies. The story of course is a close parallel to that of Laura and her father.
The neighbour has traced back the history of evil in the locality to the Karnstein family, whose tombs they visit in a Gothic chapel. The grave of Millarca Countess Karnstein is opened, and even though she has been dead for one hundred and fifty years, her features are 'tinted with the warmth of life', her eyes are open, and she is still breathing. There is only one possible solution: she is despatched in the manner prescribed for all vampires.
It's a marvelously condensed tale, full of thematic parallels, doubling, incidents which echo and repeat each other, and repeated motifs all centred on the principal theme of vampirism – which is why it can reasonably be described as a novella. Of course it has all the conventional features of the Gothic horror story – the remote castle setting, a motherless heroine who is threatened by evil forces, a mysterious and beautiful stranger with very sharp teeth, inexplicable deaths, locked doors, and transmogrification.
In order to understand some of the perplexing mysteries, it's helpful if you know the rules governing vampires and their behaviour, but these have become reasonably well established in the last two hundred years:
they escape from their graves and return to them for certain hours every day, without displacing the clay or leaving any trace of disturbance in he state of the coffin or the cerements … The amphibious existence of the vampire is sustained by daily renewed slumber in the grave. Its horrible lust for living blood supplies the vigour of its waking existence. The vampire is prone to be fascinated with an engrossing vehemence, resembling the passion of love, by particular persons.
It is this aspect of 'fascination' which will be of particular interest to contemporary readers. The appearance of figures such as old men in tall black hats, a hunchback with a fiddle, and even a black servant with a turban and large white eye-balls are easy enough to fit into the iconography of the Gothic romance – but the overtly sexualised relationship between Carmilla and Laura is unusual, especially by nineteenth century standards.
Carmilla gets into bed with Laura, she is repeatedly kissing her, stroking her hair, and declaring both the passion that she feels and her belief that they destined for each other. Laura in her turn is excited by the magnetism between them, and also a little disturbed by it. Her description of their encounters is couched in distinctly orgasmic terms.
Sometimes there came a sensation as if a hand was drawn softly along my cheek and neck. Sometimes it was as if warm lips kissed me, and longer and more lovingly as they reached my throat, but there the caress fixed itself. My heart beat faster, my breathing rose and fell rapidly and full drawn; a sobbing, that rose into a sense of strangulation, supervened, and turned into a dreadful convulsion, in which my senses left me and I became unconscious.
And the story is ripe for other approaches to interpretation. It is drenched with instances of 'the double' for instance. Almost every character is twinned with another. The two female lead characters appear to be the same age (Carmillia is of course one hundred and fifty years older) and they have identical and simultaneous dreams. Even the landscape and the architecture is doubled.
In the Oxford Classics edition (which also contains Le Fanu's other tales of the supernatural) there are two other interpretations explored. One which sees the novella in terms of social anxiety regarding the decline of the protestant 'acendency' in Ireland, and another focussing on Le Fanu's own insecurities with an ailing wife and unpaid debts. Whichever interpretation you wish to pursue, this is undoubtedly a significant text in the history of the Gothic horror story – and of vampires in particular.

Buy the book at Amazon UK

Buy the book at Amazon US
© Roy Johnson 2011
---
Sheridan Le Fanu, In a Glass Darkly, Oxford: Oxford University Press, 2008, pp.347, ISBN: 0199537984
---
More on literature
More on the novella
More on literary studies
More on short stories
---