complete manual and guide to popular web editor
The 'Missing Manual' series is the brainchild of best-selling author David Pogue. These guides provide printed instructions for software normally issued without them. Dreamweaver seems to be the web design tool of choice for both serious amateurs and professionals. It offers lots of powerful tools which allow you to control everything from the details of page design to larger issues of style sheets, JavaScript interactivity, and Web management. Dreamweaver is to web pages as a word processor is to normal documents. That is, it has multiple commands which format the page in any way you wish. And the good thing is, you don't have to learn any of the underlying code.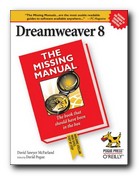 You can preview the results in multiple browsers – whichever you have installed. This manual covers all the conventional topics of web design – tables, frames, links, text formatting, and layout – but without once discussing the hieroglyphics of coding which must deter so many people wishing to design their own pages. It also deals with the more advanced features of web design, using style sheets, forms, layers, and multimedia such as Flash and Shockwave.
I think this is what has made Dreamweaver so popular – it caters for the amateur who doesn't need to learn code; the semi-pro who needs power tools on a reasonable budget; and even the pro who wants site maintenance and management. It handles all these levels of task with ease.
Dreamweaver has lots of terrific features – such as a tool which will convert tags from upper to lower case – that is from from <B> to <b>. Why is this important? Because XML – to which we're all heading – requires lower case tags. This makes it a powerful conversion tool, amongst other things.
There's even a feature for re-organising existing sites which will automatically update all your links and folders. In addition, you can run a site past the program and it will show you any orphaned pages and broken links. These are excellent features for both amateur and professional users.
David McFarland's explanations are painstaking and thorough, and these Missing Manuals are produced at O'Reilly Associates – which guarantees high quality production values.
© Roy Johnson 2006
---
David McFarland, Dreamweaver: The Missing Manual, Sebastopol (CA): Pogue Press/O'Reilly, 2006, pp.960, ISBN: 0596100566
---
More on web design
More on digital media
More on technology
---