guide to making eCommerce sites more efficient
Web guru Jakob Nielsen teamed up with design maven Donald Norman to form a consultancy which now dominates the business of Web 'usability'. E-Commerce User Experience is a company report they have produced which offers guidelines on how to make e-commerce sites more efficient. The suggestions they make are based on findings from detailed studies of twenty e-commerce sites, with users in the United States and Europe. The sites tested are typical e-Commerce sites – clothes, flowers, books, furniture, toys, and CDs. Companies range from Boo, Sears, Disney, and eToys, to Herman Miller. The main issues covered include how to sell goods and services, how to build trust with customers, and how to display product information.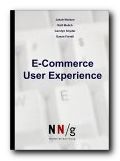 Other important issues include trading across national boundaries, and making the ordering transaction as smooth as possible. The testing methodology is meticulously documented, and in line with current thinking on quality testing, the emphasis is on small groups carefully watched – not mass numbers. It throws down the gauntlet to his critics. What he's saying is – 'This is what users actually do and want. Can you prove otherwise?'
Nielsen even gives you advice on how to do your own usability testing – and how to cut corners to make it cheaper than the very service he offers. In other words, he follows his own principles of 'show the customer what's available'. This is an approach which inspires confidence in the user – and it does the same for his readers.
He deals with issues which are very basic, and yet which can be difficult to do properly – such as how to categorise topics on a site. Do CD-ROMs belong under 'entertainment' or 'electronics' – or both? How to classify information requires that you have analysed your bank of data closely, and conceptualised the connections between its items.
On some of his recommendations you might be tempted to think 'But that's common sense'. For instance – 'Make it clear how much products cost'. But when he examines the sample sites, it's interesting how they often don't deliver this information. Prices are often concealed until late in the checkout process.
He's very thorough on how search results should be displayed – and in particular 'failed results'. Any eBusiness which carries a lot of different stock items needs to think this issue through carefully. There's also a detailed examination of the heart of any eCommerce site – the shopping basket. Every click, box, and link is examined for its relevance and efficiency.
He follows the policy of comparing eCommerce sites with physical bricks and mortar stores – which is reasonable, because these are the real competition. Some people are bound to complain that Nielsen's paradigm is entirely commercial, arguing that there are Web sites where the 'experience' is paramount. His reply will be to point to his title – this is e-Commerce. But in fact the lessons we can learn from this can meaningfully inform designers of all kinds of sites.
Nielsen's approach forces you to consider every smallest detail of the on-screen experience from the user's point of view. This means clear labelling and navigation, intelligent page design, and thoughtful information architecture. Show graphics of your products – close-up pictures giving details. Arrange shopping carts so that the customer choices on colour, size, and other variables is made before the actual check out.
Don't be surprised by the high price tag. What you're paying for here is an industrial strength professional business report. Anybody working in eCommerce will profit from its recommendations. It's packed with first-hand experience, well illustrated with real-life examples, and the advice offered is based on rigorous testing.
As one of his enthusiastic reviewers at Amazon says – 'Anybody contemplating a serious e-Commerce site will find their investment in this report repaid ten times within the first year's trading'. I think that might also be said for any serious Web designers or design studios.
© Roy Johnson 2002

  Buy the book at Amazon UK

  Buy the book at Amazon US
---
Jakob Nielsen et al, E-Commerce User Experience, Fremont (CA): Nielsen Norman Group, 2001, pp.389, ISBN: 0970607202
---
More on eCommerce
More on media
More on publishing
More on technology
---