complete guide to electronic publishing on a budget
Lots of people now have websites, but are they reaching lots of customers? In the main – no. And the reason? Well, how does anybody know a site exists? Why should they go there when there are lots of others doing the same thing? And who's got the time anyway? Chris Pirillo argues that e-mail can be a more effective way of reaching customers than the Web. And he might be right. Many people pin all their hopes on a few HTML pages stuck up on a server (which he describes as being like opening a hamburger stand in a dead-end street). On the other hand, almost everybody reads their e-mail, so why not use it as a vehicle for publishing instead?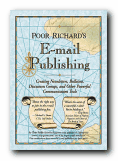 Some of the more popular e-mail newsletters have 200-400,000 regular subscribers. He outlines the possibilities – discussion groups, bulletins, and announcement lists – but it's the free e-mail newsletter which is at the heart of this book. He takes you through all the technicalities of how to run one. ISP registration; mailing programs; list management software [it's still possible to do most of this free, by the way] subscribing and unsubscribing; and how to deal with bounced messages and address changes. The approach is direct, there's a reassuring tone, and his advice is based on first-hand experience – which follows the very practical approach of these guides from TopFloor.
This is most definitely not a get-rich-quick manual. In fact many of the successful ventures he describes don't make any money from their newsletters – though they might from associated activity, such as consultancies and advertising. In fact the odd thing, as he observes, is that there might be a case for creating a website which compliments a newsletter.
The latter part of the book is a series of essays by other successful newsletter entrepreneurs: Peter Kent, founder of TopFloor publishing; Adam Boettiger who describes running a discussion list; Fred Langa who bravely reveals the nightmare of running a list during a series of recursive mailbounce loops; and Randy Cassingham, who made his newsletter This Is True into a full time job:
Everybody thought I was crazy; they didn't see how I could make money by giving my column away for free over the Internet. I replied that I ought to be able to quit my day job in two years, and then went home that night an expanded my notes into a business plan. That plan has remained virtually unchanged and, virtually two years to the day later, I quit my day job, moved to Colorado, and went to work full time on This is True.
There are also several useful appendices: list service providers (Lyris is the current favourite); mailing list software (LISTSERV, Majordomo); resources for electronic publishing; e-mail programs; mailing list e-mail commands (such as unsubscribing and requesting a weekly digest of messages); and fifty golden tips for e-mail publishers.
He's gung-ho, but doesn't hide the fact that it's all a lot of hard work. However, if you follow his instructions, you could be up and running in a few days. But what happens if your newsletter is so successful that the technical management of it becomes a pain? Answer – subscribe to a list management service. He gives a comprehensive list of questions a potential subscriber should be prepared to ask in making a selection.
So although the book appears to be targeted on a small audience, it is one which might expand rapidly as soon as people wake up to the fact that e-mail is what he calls the 'undiscovered form of electronic commerce'. This is an excellent addition to the best-selling series of TopFloor's 'Poor Richard' guides to digital enterprise.
© Roy Johnson 2000

  Buy the book at Amazon UK

  Buy the book at Amazon US
---
Chris Pirillo, Poor Richard's E-mail Publishing: Creating Newsletters, Bulletins, Discussion Groups, and Other Powerful Communication Tools, Colorado: TopFloor, 1999, pp.334, ISBN: 0966103254
---
More on eCommerce
More on media
More on publishing
More on technology
---