eBusiness techniques and strategies for success
Mitchell Levy preaches the simple message of all eCommerce books – "At the most basic level, online customers expect service, speed, and easy access". In fact the overall message of E-volve-or-Die.com is that the customer must come first. He certainly explains how eCommerce works at a practical level, with lots of real life examples. It's a world of constant experimentation, collaborating with the right partners, and keeping the customer at he centre of every decision. Part one deals with the transition from the industrial to the digital age; part two is how to form and implement a business plan; part three deals with marketing; and part four is about shifting markets, surviving, and e-volving into the future.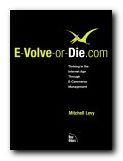 It's all expressed in an upbeat, gung-ho style which sometimes slips over into enthusiastic cliche – 'E-commerce is here to stay' and 'Thinking outside the box' – but on the whole his writing is clear and vigorous. Yet it does seem rather perverse to insist that eCommerce be called 'a holistic Internet-enabled entity'. He deals mainly with big businesses such as eBay, Amazon, and Yahoo! (all of them one time risky start-ups) but the principles are the same even for small businesses.
What most people will not be aware of in eCommerce is how heavily it relies on partnerships, affiliate programmes, and all sorts of new intermediary trading – as well as the new business opportunities created by payment mechanisms, reminder services, portals, and traffic monitoring.
Some of his larger management strategies make big business sound a bit like some form of economic Boy Scout utopia, with everyone on the payroll pulling together with no such thing as friction or rivalry in sight. The rest is sensible advice, and his proposals are backed up with evidence.
For the most ambitious readers, he outlines the issues and opportunities of establishing a global presence, and he shows how to make the important decisions in focussing on your core business abilities and 'outsourcing the rest'.
At the sharp end of serving the customer is establishing a customer database – to which all employees should have access. The other element which is both new and yet a constant of eCommerce is change.
Don't make a five year but a one year business plan – and be prepared to revise it after six months. Nothing stays still on the Net.
People with small business sites will be glad to know that he offers plenty of tips on how to make your site more effective – all of which is elaborated on the book's own web site at www.ECnow.com – and he ends with a series of real life case studies of companies who have successfully embraced the new opportunities.
This book will be of interest to students and teachers of business studies, commercial site managers, and anybody who wants to take a look at the practical consequences of launching into eCommerce.
© Roy Johnson 2001

  Buy the book at Amazon UK

  Buy the book at Amazon US
---
Mitchell Levy, E-volve-or-Die.com, Indianapolis (IA) New Riders, 2001, pp.324, ISBN: 07357102871
---
More on eCommerce
More on media
More on publishing
More on technology
---