a radical defense of traditional punctuation rules
Who would have thought it! A book on punctuation at the top of the best-seller lists. The title refers to joke about a panda who goes into a cafe, orders a sandwich, then pulls out a gun and fires it. The panda had read an encyclopedia entry on itself which contained the unnecessary comma in Eats, Shoots and Leaves. Lynn Truss's attitude to punctuation is enthusiastic, robust, and uncompromising, as her subtitle makes clear.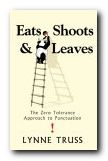 She wants you to become angry at the misuse of apostrophes and indignant at misplaced commas. She teaches via anecdote, which is probably why the book is so popular. There are no stuffy grammar lessons here, just accounts of bad punctuation, explanations of why they are wrong, and exhortations to keep up standards.
She likens punctuation to good manners – something which should be almost invisible, but which eases the way for readers. And in fact for all her slightly tongue-in-cheek militancy, she takes a non-pedantic line where there are areas of doubt or where punctuation becomes a matter of taste and style.
She takes you on a lively and entertaining tour of the comma, the semicolon, the apostrophe, the colon, and the full stop. Then it's on to the piquancies of the exclamation and the question mark.
There are several interesting but mercifully brief detours into the history of punctuation – and I couldn't help smiling when she confessed that her admiration for Aldus Manutius the elder (1450-1515) ran to being prepared to have his children.
Her style is very amusing and, appropriately enough for a book on language, quite linguistically inventive. She knows how to get close to you as a reader and isn't scared to take risks.
For all her vigilance however, I think she misunderstands one example of the apostrophe – and the point of the joke it is making. A cartoon showing a building with the sign Illiterate's Entrance could be using the term 'illiterate' as a collective singular. She thinks it should read Illiterates'. But we won't quibble.
She ends by looking at the chaos of random punctuation which now predominates much of email messaging – and feels apprehensive. But I don't think she needs to worry. For every hyphen or ellipsis to punctuate a gap in thought and sense, there is a new word or a new linguistic invention to compensate. Language may well be a self-compensating and even self-correcting system after all.
Anyone who is unsure about the basics of punctuation will learn some valuable lessons here, and those who already care will have their feelings and understanding confirmed in a very entertaining manner.

  Buy the book at Amazon UK

  Buy the book at Amazon US
© Roy Johnson 2009
---
Lynn Truss, Eats, Shoots & Leaves: The Zero Tolerance Approach to Punctuation, London: Profile Books, 2009, pp.209, ISBN: 0007329067
---
More on writing skills
More on language
More on grammar
---