eCommerce tips and tricks for auction success
eBay is one of the big eCommerce success stories – a giant marketplace where over 20 million goods of all description are being bought and sold at the astonishing rate of $680 every second of the day. You can buy and sell almost anything. Some people buy what others throw out at knock-down prices, then re-sell the same stuff at a profit – and actually make a living doing so. David Karp's book is not just a user's manual – though it does show you how to use the system. And the hack in his title refers to making the best of its features to improve your trading. He explains how to use and improve search terms to find what you're looking for.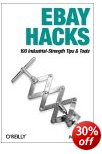 He also includes Perl scripts for those enthusiasts who want to take their buying and selling strategies to a more serious level. There's an amazing amount of detail on how to operate the bidding system, including tips on what's called 'sniping' – making a killer bid just before an auction closes. All this is advice based on first-hand experience. He's a seasoned buyer and seller, and he even reveals some of the mistakes he has made.
There is a dizzying array of checks and balances to promote fairness and minimise cheating on eBay. The auction process works through interlocking systems of trust, public feedback, posted reputations, and third-party arbitration for any disputes.
He deals with an amazing range of skills: page design, eCommerce payments and banking, digital photography, scripting (if you want to maximise control) public relations (dealing with buyers or sellers) and mail order techniques for shipping items you sell.
Finally, for those who want to open a serious business, he explains the steps for running a full time store on eBay. You can also join their affiliate program and 'make money whilst you are asleep'.
You might want to start with just a little part-time hobby, or you could become a serious eCommerce day-trader. Either way, everything you need to know about taking part in the world's biggest auction is covered here.
The latest edition has been completely revised and updated to make use of an array of new tools and features, as well as to reflect the changes in the eBay API, eBay's policies, and the general practices of its increasingly sophisticated users.
© Roy Johnson 2005

  Buy the book at Amazon UK

  Buy the book at Amazon US
---
David A. Karp, eBay Hacks: 100 Industrial-strength tips and tools, Sebastopol: O'Reilly, 2nd edn, 2005, pp.447, ISBN: 059610068X
---
More on eCommerce
More on media
More on publishing
More on technology
---