beginner's guide to editing and re-writing
Oxford University Press have just brought out a series of short beginners' manuals on communication skills. Their emphasis is on compact, no-nonsense advice directly related to issues of everyday life. Jo Billingham's Editing and Revising Text provides a practical approach to reworking your writing for students, office workers, and newsletter editors. She covers editing your own work and text written by others, and her whole approach is designed to help you make any writing more effective.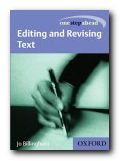 Every part of writing is covered – from the choice of individual words, through sentence construction and arranging paragraphs, to creating firm structure in the parts of a longer piece of work. She discusses the differences between editing, re-writing, and proof-checking, and shows how to revise sentences for brevity, simplicity, and clarity (move the subject to the start!).
There's an interesting section on how to edit if there's too little or too much information in the text, plus the importance of how to judge if it's right for its intended audience.
She also covers the process of making multiple edits – on paper and screen – and quite rightly suggests that it is best to edit for one feature at a time.
I was glad to see that she emphasises the usefulness of the word-processor as an aid to editing. It's amazing how work can be improved by using spelling and grammar-checkers, as well as the powerful tools of cut-and-paste, and search-and-replace.
The book has examples from real articles, essays, letters and reports, and the last part is a series of checklists for different types of editing – technical, academic, business, and even email.
She also gives a brief explanation of proof-reading, and perhaps the most difficult task of all – making sure that there is structural and linguistic 'flow'.
The chapters of these guides are short and to-the-point; but the pages are rich in hints, tips, and quotes in call-out boxes. The strength of this approach is that it avoids the encyclopedic volume of advice which in some manuals can be quite frightening.
© Roy Johnson 2005

  Buy the book at Amazon UK

  Buy the book at Amazon US
---
Jo Billingham, Editing and Revising Text, Oxford: Oxford University Press, 2002, pp.136, ISBN: 0198604130
---
More on publishing
More on journalism
More on creative writing
More on writing skills
---