the world's largest print encyclopedia – on one DVD
Just imagine – people used to take out long-term loans to buy the multi-volume printed edition of Encyclopedia Britannica. Now it's available on CD for the price of a single book. That's the revolution in digital technology for you — and a lesson in eCommerce. Britannica started in the mid-18th century and went on to become the world's most famous encyclopaedia. The latest CD version includes all the material from the 32-volume print edition, and there's more too. They have also added the Merriam-Webster Dictionary and a world atlas packed with statistics and facts.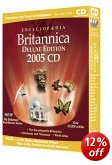 Other outstanding features are audio and video clips, natural language searching, and a series of topic tours – showing you superb multimedia presentations of chosen topics — from Aviation to Wildlife. There are 100,000 articles and entries on practically everything you could imagine — all of them authoritative, and some written by distinguished scientists and authors, such as Albert Einstein and Robert Louis Stevenson. On top of this impressive library of data, there are 12,000 photos and maps, timelines on science, ecology, medicine, music and literature; plus 125,000 active hyperlinks to resources on the Internet you can trust.
The materials add up to a hefty 2 GB over three CDs, and there are two options for using them. You can install the whole thing onto your hard disk. Alternatively, you can run a partial install, which is much lighter on resources, but requires disk-swapping during use. You can also update the materials – which is a big bonus.
Britannica is designed like a Web site, with a homepage which is always within reach. There are three ways of accessing information. You can Search, or use an A-to-Z feature, or Knowledge Navigator. You can also search once, then click between the results on all three of these interfaces.
It also has a facility that allows you to compare data between nations and create instant reports, graphs and tables for research or homework. As well as bookmarks, you can take notes on a particular item, or collate and lay out your collections in an attractive, publishable format.
The latest 2010 de lux edition is actually three encyclopaedias in one: Encyclopaedia Britannica Library, Britannica Student Library and Britannica Children's Library. Our parents and grandparents would hardly have believed it. In terms of the sheer volume of information, this really is a stunning bargain.
© Roy Johnson 2005

  Buy the book at Amazon UK

  Buy the book at Amazon US
---
Encyclopedia Britannica on CD-ROM, updated annualy.
---
More on language
More on literary studies
More on writing skills
More on creative writing
More on grammar
---