how social media will change the future of work
The title of this book combines two coded terms – Web 2.0 and 'The Enterprise' – for which read social media software' and Big Business. And the purpose is to show how the techniques and concepts behind Web 2.0 applications (blogs, wikis, tagging, RSS, and social bookmarking) can be used to encourage collaboration efforts in what was previously thought of as secretive, competitive businesses.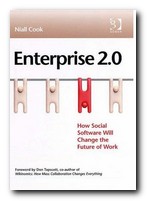 It's an argument which is fast becoming quite familiar. To succeed in modern business, managers and directors must learn to listen and talk to their customers and staff. They need to be more agile in their thinking, less monolithic in their practices, and they need to catch up to new Internet-based activities which can sweep away unwary traditionalists overnight [look what happened to Encyclopedia Britannica] and create multi-billion pound enterprises almost as quickly [Amazon, Google].
Niall Cook realises that there will be problems and resistance to such suggestions from within orthodox business communities. But he also points to their existing weaknesses.
Companies spend millions of dollars installing information and knowledge management systems, yet still struggle with the most basic challenges of persuading their employees to use them.
Will it be difficult to persuade large organisations to adopt these very democratic tools? He offers case studies from companies such as the BBC, IBM, Microsoft, and BUPA and others to show that it might. He even makes a case for the use of instant messaging and social presence software (MSN and Twitter).
He also has an example of the US Defence Intelligence Agency using mashups to provide simultaneous streams of information through a single interface (because that's what its users want), and a multinational software company using Facebook as an alternative to its own Intranet (because its employees use it more).
He gives a very convincing example of the creation of a wiki running alongside the company Intranet in a German bank. The IT staff started using the wiki to generate documentation, and within six months use of the Intranet was down 50%, email was down 75%, and meeting times had been cut in half.
In fact he misses the opportunity to point out that one of the biggest incentives for companies to embrace Web 2.0 software is that much of it is completely free. Almost all major programs are now available in Open Source versions – including such fundamentals as operating systems (Linux) content management systems (Joomla) and virtual learning environments (Moodle).
In the UK, government institutions have invested and wasted billions of pounds after being bamboozled by software vendors. In the education sector alone, VLEs such as Blackboard and WebCT have proved costly mistakes for many colleges and universities. They are now locked in to proprietary systems, whilst OSS programs such as Moodle run rings round them – and are free.
Is the embracing of social software solutions likely to take place any time soon? Well, Cook has some interesting answers. His argument is that these developments are already taking place. Smart companies will catch on, and obstructors will fall behind with no competitive edge.
Bear in mind that within just five years, members of the MySpace generation are going to be entering the workforce, bringing their collaborative tools with them. If you don't have the software that allows them to search, link, author, tag, mashup, and subscribe to business information in the ways they want to, they are going to do one of three things: use third party software that does; leave to join a competitor that does; not want to work for you in the first place.
Even the software solutions in this radical, indeed revolutionary development, must be fast, light, and quick to implement.
Speed and flexibility. Oracle's IdeaFactory took just a few days to build. Janssen-Cilag's wiki-based Intranet was purchased, customised, and launched within two weeks.
This is all part of what Peter Merholz in his recent Subject to Change calls agile technology. Cook provides strategies for those who wish to implement these ideas within their own company – and it has to be said that he assumes a certain degree of subversiveness might be necessary.
The book ends with a review of the literature on social software and a comprehensive bibliography – so anyone who wants to pursue these matters at a theoretical level has all the tools to do so. But I suspect that anybody who is taken with these new ideas – if they have any blood in their veins – will immediately want to go away and put them into practice.
This is a truly inspirational book which should be required reading for managers, IT leaders, systems analysts, developers, and business strategists in any enterprise, small, medium, and especially large. I can think of two organisations I am working with right now (one a university, the other a large city college) who ought to be implementing these ideas but who are doing just the contrary – stifling innovation. One, following its culture of 'no change' has just been swallowed up by its rival. The other is running onto the financial rocks precisely because it refuses to learn from its users and its own staff – whilst claiming to do just the opposite.
© Roy Johnson 2008

  Buy the book at Amazon UK

  Buy the book at Amazon US
---
Niall Cook, Enterprise 2.0: how social software will change the future of work, London: Gower, 2008, pp.164, ISBN: 0566088002
---
More on eCommerce
More on media
More on publishing
More on technology
---