the basics of academic planning and writing skills
Oxford University Press have just brought out a series of short beginners' manuals on communication skills. Their emphasis is on compact, no-nonsense advice directly related to issues of everyday life. Chris Mounsey's Essays and Dissertations tackles the essentials of academic writing in a systematic manner. He begins with understanding and interpreting essay questions, then moves on to the research you might have to do to answer them.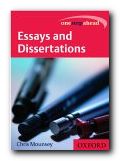 This involves selecting books, finding quotes, and developing the outline of your own arguments. This is followed by the central point of almost all successful writing – planning. Next comes editing and writing drafts, then how to present your results, using a word processor.
Having covered these basics, he then moves up a notch to cover the more advanced skills of time management, Internet research, and alternative strategies for writing essays. This leads into the special problems posed by dissertations, then exams.
The book ends with a series of writing checklists, guidance on common mistakes, how to deal with footnotes and bibliography, and suggestions for further reading.
The chapters are short; almost every page has hints, tips, and quotes in call-out boxes, there are checklists and suggestions for further reading. The strength of this approach is that it avoids the encyclopedic volume of advice which in some writing guides can be quite frightening.
This book provides students at all levels with easy-to-follow guidance on how to structure an essay and how to select and research the most appropriate subject to write on. You will need more guidance when it comes to writing a long dissertation, but this book will certainly help you to reach that point.
© Roy Johnson 2002

  Buy the book at Amazon UK

  Buy the book at Amazon US
---
Chris Mounsey, Essays and Dissertations, Oxford: Oxford University Press, 2002, pp.128, ISBN: 0198605056
---
More on study skills
More on writing skills
More on online learning
---