A child pulled between religion, science, and poetry
Father and Son (1907) is a profoundly sad book which details the struggle between religious belief and scientific rationalism in the middle of the nineteenth century. It has the appearance of an autobiography, but author Edmund Gosse stresses more than once that it's a 'study of two temperaments', by which he means the relationship between him and his father, Philip Gosse. It's sad because his story details the terrible struggle between two people who obviously love each other dearly, but in ways which are completely different and even antagonistic.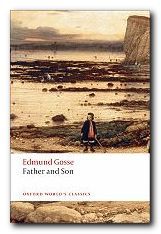 The father is a strict, authoritarian, and evangelical Christian who wishes to control and mould a son entirely in his own image. The son feels oppressed, lonely, burdened with anxiety and self-doubt, and he is denied the pleasures and innocence of a normal childhood. On almost every page the reader is invited to sympathise with the fragile and tender feelings of a young boy who is denied any form of natural enjoyment, but is exhorted to prepare himself for Judgement Day. Before even the age of ten he is being commanded to prove the fervour of his commitment to the True Way to God.
His father Philip Gosse was a successful writer, a naturalist, and a member of the fundamentalist Christian sect of Plymouth Brethren. They believed that every word of the Bible was literally true because in their terms it was the actual word of God. All other religious beliefs were deemed heretical and their adherents doomed to hell and damnation – particularly Catholics. The Lord would only save those who truly believed, and who were prepared to be baptised (often for a second time) as adults.
To accept this ideology was only the beginning. After that it was the duty of every true believer to proselytise and convert non-believers to the True Way. The young Gosse had this drummed into him relentlessly in a domestic routine which was puritanical, cheerless, and devoid of any normal social pleasures.
The narrative documents his lonely childhood in Islington with no friends, the early death of his mother, and an amazing absence of any formal education. This was followed by a move to live in Devon when he was about ten years old – which provided a slight amelioration in the grimness of life. But it's significant that this slim pleasure was found in gathering and documenting specimens of sea creatures in rock pools on the shore – which was precisely his father's scientific specialism.
The central point of the drama comes in 1857 when his father published a work of theory (with the unfortunate title of Omphalos) which sought to reconcile Biblical accounts of creation (Genesis) with scientific evidence of the world's evolution over millions and millions of years. His explanation was a version of what we now call creationism. He suggested that God made the world completely in six days – and that it already contained all the aeons of materials that we now see as historical evidence. Moreover, all its animal life was in a fully developed state of being.
Expecting great things from this work, he was mortified when it was badly received, and of course two years later in 1859 Darwin delivered the hammer blow of The Origin of Species which provided the explanation that is still accepted today and that constituted a challenge to religious belief that left it reeling.
Boarding school provided a slight relief from the physical presence of parental pressure. However, the interrogations his father had subjected him to personally were immediately replaced by an almost daily demanded for written evidence detailing proof of his son's efforts to remain uncontaminated and free from the temptations of 'infidelity'. At that time this meant adherence to the True Way and was code for a virulent strain of anti-Catholicism.
The young Gosse discovered Shakespeare and romantic poetry as a sort of alternative and antidote to the extreme puritanism his father continued to impose on him, but in the end he never shook off the shackles of religious belief. It's interesting to note that this semi-confessional memoir and heart-rending account of a spiritually anguished childhood originally ended with Gosse in a religious fervour, imploring the Lord to take him away:
Come now, Lord Jesus, come now and take me to for ever with Thee in Thy Paradise. I am ready to come. My heart is purged from sin, there is nothing that keeps me rooted to this wicked world … take me before I have known the temptations of life, before I have to go to London and all the dreadful things that happen there.
It was the publisher Heinemann who insisted on his writing an Epilogue which brought the account to its natural conclusion – which was the eventual (partial) triumph of the son's sense of personal identity over the tyranny of such an oppressive father figure.
The struggle between them continued even when Gosse was a young adult, living independently. Eventually he mustered sufficient courage to express mild reservations about evangelical Christianity and its exclusive claim to the Truth. But it is his father's devastating and uncompromising riposte, holding to the logic of his fundamentalist belief which is the artistic conclusion of the narrative.
Some readers have said that it is the oppressive, scholarly, and Ahab-like figure of Gosse senior who emerges as the more admirable of the two characters (or 'temperaments') and that Gosse junior reveals himself as a feeble, complaining, and self-centred figure.
That's why the book is so sad – because it's almost impossible not to wish that this young child then young man could break away from his emotionally tyrannical father – having the confidence to throw off the system of belief that is being welded onto him like a suit of armour. But he never really succeeds.
Gosse went on to become a successful man of letters and was instrumental in introducing figures such as Ibsen and Gide into English literary culture, but this is the book for which he will be remembered. It's rather like one of the Cotman or Crome watercolours that are evoked in the text – offering a pastoral and sentimental vision of English childhood that nevertheless captures the powerful ideological conflicts that affected the latter part of the Victorian era. It's perhaps significant that the memoir was published only a few years before Lytton Strachey's Eminent Victorians, a book that helped to draw a line under the same phenomenon for once and all.

Buy the book at Amazon UK

Buy the book at Amazon US
© Roy Johnson 2012
---
Edmund Gosse, Father and Son, Oxford: Oxford University Press, 2009, pp.241, ISBN: 0199539111
---