stories, novels, diaries
Beginners should start with the short stories of Franz Kafka before tackling his novels. Be prepared for writing which can be very philosophical, heavily symbolic, and full of strange images. In Franz Kafka's greatest works there is often no plot or dramatic tension, but the prose style (even in translation) is truly original. Kafka's work is also full of black humour; he often writes both about and from the point of view of animals; and some of his shorter pieces are in the form of parables, meditations, poetic fragments, and sketches.
Keep in mind that Kafka was one of many great writers who did not win the Nobel Prize for literature – along with Tolstoy, Joseph Conrad, Thomas Hardy, Virginia Woolf, D.H.Lawrence, and James Joyce. His work was hardly known outside his native Chzeckoslovakia during his lifetime, and yet it had immediate and enormous impact once it was translated in the late 1920s. He is now regarded as one of the giants of twentieth-century literature.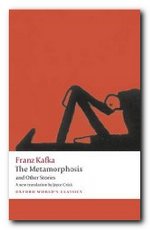 Metamorphosis (1915) is truly one of Kafka's masterpieces – a stunning parable which lends itself to psychological, sociological, or existential interpretations. It's the tale of a man who wakes up one morning and finds himself transformed into a giant insect. His family are horrified, gradually disown him, and he dies of neglect, with a rotting apple lodged in his side. Franz Kafka is one of the most important and influential fiction writers of the early twentieth century. He was a novelist and writer of short stories whose works came to be regarded as one of the major achievements of twentieth century literature. Metamorphosis is one of his most stunning and memorable works.


Buy the book at Amazon UK


Buy the book at Amazon US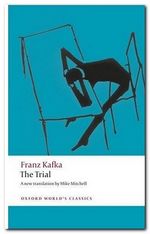 The Trial is Kafka's one indisputably successful novel – a haunting and original study in existential anxiety, paranoia, and persecution. Joseph K is accused one day of being guilty – but not told what crime he has committed. He wrestles hopelessly with legal officials and a nightmare-like court which acts on arbitrary rules and refuses to give explanations. He spends the entire novel striving to find justice. In the end he fails, only to be killed 'like a dog'. Kafka gave expression to modern anxiety three decades before most people even started feeling it. This is a novel which stands outside literary norms – a superb achievement of literary modernism. Be prepared for black humour as well as mind-bending contradictions and deeply etched literary expressionism. Read the stories and The Trial as a start and a minimum.


Buy the book at Amazon UK


Buy the book at Amazon US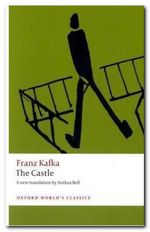 The Castle is Kafka's last work – a long, rambling, and unfinished novel in which the castle itself operates as a huge metaphor for authority and bureaucracy. If The Trial is about a hopeless search for justice, The Castle is often said to be about the search for grace and forgiveness. The setting is a remote village covered almost permanently in snow and a community fraught with tensions and sexual predators. It lies like a magnificent ruin amongst the many other fragments in Kafka's oeuvre. This is strictly for the advanced devotee. Tackle this one only when you have read the other shorter works.

Buy the book at Amazon UK


Buy the book at Amazon US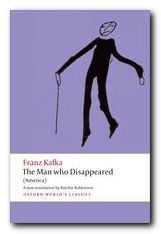 Amerika (also known as The Man who Disappeared) is Kafka's first attempt at a novel. He is renowned for documenting the horrors of modern life, but Kafka also had a lighter and amusing side. This novel is incomplete, like so much else he wrote. It's the story of Karl Rossmann who after an embarrassing sexual misadventure is expelled from his European home and goes to live in an imaginary United States (which of course Kafka had never visited). The story is deeply symbolic – as usual – and an interesting supplement to the central texts. In fact it's a reverse 'Rags to Riches' story, because Karl starts his engagement with the American Dream quite successfully – but by the end of the novel he is destitute. The first chapter is frequently anthologised as 'The Stoker'.


Buy the book at Amazon UK


Buy the book at Amazon US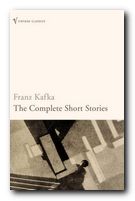 The Complete Short Stories is an amazing bargain, because this includes not only the stories, but also Kafka's fragments, parables, and sketches. Many of these – although sometimes no more than jottings – contain the germs of ideas and images which Kafka worked up later into his major works. Kafka wrote on the boundaries between fiction and philosophy, and very often he blurrs the distinction between the two.


Buy the book at Amazon UK


Buy the book at Amazon US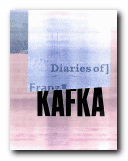 The Diaries Kafka wrote to himself almost as much as he did to other people, and he communicated some of his most subtle and revealing ideas in fragments and notes made in the margins of his tormented life. Here there are the wrestlings with guilt and personal inadequacy, plus the aspirations to a a higher spiritual life. They cover the period from 1910 to 1923 and reveal the inner world in which he lived. He also describes the father he worshipped but feared, and the woman he loved but could not bring himself to marry. It is sometimes difficult to see where his fiction ends and his biographical notes begin, but they form an interesting contrast if they are read in conjunction with the letters and the notebooks. They also need to be read with care, because they conceal almost as much as they reveal.


Buy the book at Amazon UK


Buy the book at Amazon US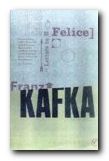 Letters to Felice Many of Kafka's surviving letters were written to women with whom he was 'in love'. The qualification of this term is necessary because they reveal a fascinating ambiguity in his attitude to the recipients. Thousands of words are spent analysing his feelings, arranging meetings then cancelling them, deciding to get married and making all the necessary arrangements for where and how to live – and then changing his mind, and writing endless further letters explaining his reasons. Other letters reveal his painstaking sympathy and scrupulous kindness to friends, his neurotic fastidiousness over what most people would regard as trivialities, and his amazing modesty in dealing with other figures of the literary world.


Buy the book at Amazon UK


Buy the book at Amazon US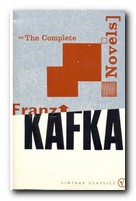 The Complete Novels is a handy, good value compilation which includes Amerika, The Trial, and The Castle. One Amazon reviewer complains that the print is very small, but you can hardly complain when three major works are rolled into one volume of nearly eight hundred pages for less than the price of two cocktails. The translation used is that by Edwin and Willa Muir written in the 1930s.

Buy the book at Amazon UK


Buy the book at Amazon US
---
Franz Kafka – web links

Franz Kafka at Mantex
Biographical notes, book reviews and study guides on the major works, video presentations and documentaries, adaptations for cinema and television, and links to Kafka archives.

Franz Kafka at Project Gutenberg
A major collection of free eTexts in a variety of formats – in both English and German.

Franz Kafka at Wikipedia
Biographical notes, social background, survey of the stories and novels, publishing history, translations, critical interpretation, and extensive bibliographies.

Franz Kafka at the Internet Movie Database
Adaptations for the cinema and television – in various languages. Full details of directors, actors, production features, box office, film reviews, and even quizzes.

Kafka in Love
Video photomontage featuring portraits of Kafka, his friends and family, and locations in Prague – with a rather schmaltzy soundtrack in Yiddish and English.

Kafka-Metamorphosis
A public Wiki dedicated to Kafka and his work, featuring the short stories, interpretations, and further web links.

Kafka Society of America
Academic group with annual meetings and publications. Also features links to other Kafka-related sites

Oxford Kafka Research Centre
Academic group based at Oxford University that tracks current research and meetings. [Doesn't seem to have been updated since 2012.]

The Kafka Project
Critical editions and translations of Kafka's work in several languages, plus articles, literary criticism, bibliographies.

Tribute to Franz Kafka
Individual fan site (created by 'Herzogbr') featuring a collection of texts, reviews, and enthusiast essays. Badly in need of updating, but contains some interesting gems.

Finding Kafka in Prague
Quirky compilation of photos locating Kafka in his home town – with surrealist additions and weird sound track.

Who Owns Kafka?
Essay by Judith Butler from the London Review of Books on the contentious issues of ownership of Kafka's manuscripts where they are currently held in Israel – complete with podcast.

The Kafka Archive – latest news
Guardian newspaper report on the suitcase full of Kafka and Max Brod's papers released by Israeli library.

Franz Kafka: an illustrated life
Book review of a charming short biography with some unusual period photos of Kafka and Prague.
© Roy Johnson 2004
---
More on Franz Kafka
More on the novella
More on literary studies
More on short stories
---