timeline, writings, social context
1883. Franz Kafka born in Prague, which was then part of the Hapsburg empire. Father prosperous Jewish businessman. Family speaks German. K successful as a schoolboy, but prone to ill-health.
1899. First early writings – all destroyed.
1901. Attends German University in Prague. Studies chemistry for two weeks, then changes to law.
1902. First meeting with Max Brod, who was to become his fiend, biographer, and literary executor.
1904. Working on a novel – The Child and the City [subsequently lost]. Writes first version of 'Description of a Struggle'.
1906. First love affair. Successful degree in Doctorate of Law. Begins one year of legal training.
1908. Begins work in Accident Insurance offices in Prague. First publication of short 'stories'.
1910. Starts to keep a diary. Further publication of short pieces. Trips to Berlin and Paris.
1911. Further travels. First spell in sanatorium for ill health. Working on another novel (Amerika].
1912. Meets publishers Ernst Rowalt and Kurt Wolff, and Felice Bauer at the home of Max Brod. Second visit to sanatorium. Writes Metamorphosis. Also writes his story 'The Judgement' in one single overnight sitting.
---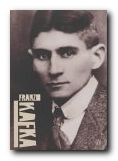 Franz Kafka: Illustrated Life is a photographic biography that offers an intimate portrait in an attractive format. A lively text is accompanied by over 100 evocative images, many in colour and some previously unpublished. They depict the author's world – family, friends, and artistic circle – together with original book jackets, letters, and other ephemera. An excellent starting point for beginners which captures fin de siecle Europe beautifully.
---
1913. Makes first of several visits to Berlin to meet Felice Bauer, who becomes his fiancee (more than once). Kurt Wolff published The Stoker – which is the first chapter of Amerika. Travels to Vienna, Trieste, Venice and Lake Garda. First meeting with Grete Bloch in Prague.
1914. Moves into the first of many apartments to live alone. Takes leave of absence to work on The Trial. Writes 'In the Penal Colony'. Official engagement to Felice is broken off.
1915. Resumes relationship and travels with Felice. Another visit to a sanatorium. Writes 'Before the Law'. Metamorphosis published.
1917. Writes stories 'The Great Wall of China', 'The Hunter Gracchus', 'A Report to an Academy'. Renews engagement to Felice and travels with her to Hungary – returning alone. Moves back into his parent's apartment. Tuberculosis of the lungs diagnosed. Second engagement broken off.
1918. Continued illness. Works as a gardener at sanitarium. Returns to work, but contracts Spanish flu.
---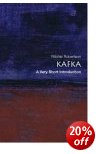 Kafka: A Very Short Introduction introduces Kafka's life and cultural background, then traces a number of themes in his best-known works. It's in an interesting and attractive format – a small, pocket-sized book, stylishly designed, with illustrations, endnotes, suggestions for further reading, and an index. If you've not studied Kafka before, this will give you pointers on what to look for. It covers Kafka's biography, then interpretations of his work – including one quite original approach concerning the relationship between his writing and his body.
---
1919. Meets Julie Wohryzek and becomes engaged to her – but wedding postponed. Takes lessons in Hebrew. Receives letters from Milena Jesenska-Polak, who is translating some of his work. Writes 'Letter to his Father'.
1920. Persistent illness. Begins writing the He aphorisms. Correspondence with Milena, who he visits in Vienna. Breaks off engagement to Julie Wohryzek, but continues seeing her. Returns to work – and to live in his parent's apartment.
1921. Attempts to break off relationship with Milena. Back into sanitarium. Milena visits him in Prague. He shows her his diaries.
1922. Starts work on The Castle. Pensioned off by his employers. Writes 'Investigations of a Dog'. Further illness.
1923. Further Hebrew studies. Spends lots of time in bed. Breaks off relationship with Milena. Goes to live with Dora Dymant in Berlin. Writes 'The Burrow'.
1924. Fuel crisis in Berlin. K's health deteriorates. Moves back to Prague. Writes 'Josephine the Singer, or the Mouse Folk'. Dora takes K to sanatorium in Austria. K instructs Max Brod to burn all his writings. Brod agrees, but disobeys instruction. K dies 3 June – buried in Jewish cemetery in Prague.
---
Franz Kafka – web links

Franz Kafka at Mantex
Biographical notes, book reviews and study guides on the major works, video presentations and documentaries, adaptations for cinema and television, and links to Kafka archives.

Franz Kafka at Project Gutenberg
A major collection of free eTexts in a variety of formats – in both English and German.

Franz Kafka at Wikipedia
Biographical notes, social background, survey of the stories and novels, publishing history, translations, critical interpretation, and extensive bibliographies.

Franz Kafka at the Internet Movie Database
Adaptations for the cinema and television – in various languages. Full details of directors, actors, production features, box office, film reviews, and even quizzes.

Kafka in Love
Video photomontage featuring portraits of Kafka, his friends and family, and locations in Prague – with a rather schmaltzy soundtrack in Yiddish and English.

Kafka-Metamorphosis
A public Wiki dedicated to Kafka and his work, featuring the short stories, interpretations, and further web links.

Kafka Society of America
Academic group with annual meetings and publications. Also features links to other Kafka-related sites

Oxford Kafka Research Centre
Academic group based at Oxford University that tracks current research and meetings. [Doesn't seem to have been updated since 2012.]

The Kafka Project
Critical editions and translations of Kafka's work in several languages, plus articles, literary criticism, bibliographies.

Tribute to Franz Kafka
Individual fan site (created by 'Herzogbr') featuring a collection of texts, reviews, and enthusiast essays. Badly in need of updating, but contains some interesting gems.

Finding Kafka in Prague
Quirky compilation of photos locating Kafka in his home town – with surrealist additions and weird sound track.

Who Owns Kafka?
Essay by Judith Butler from the London Review of Books on the contentious issues of ownership of Kafka's manuscripts where they are currently held in Israel – complete with podcast.

The Kafka Archive – latest news
Guardian newspaper report on the suitcase full of Kafka and Max Brod's papers released by Israeli library.

Franz Kafka: an illustrated life
Book review of a charming short biography with some unusual period photos of Kafka and Prague.
© Roy Johnson 2004
---
More on Franz Kafka
More on the novella
More on literary studies
More on short stories
---