the basics of generating traffic and web site promotion
This is a beginner's guide to web site promotion and search engine placement. Its main advantage is that it will not overwhelm somebody new to this arcane technology. Don Sellers begins with a simple explanation of search engines and what they do. He tells you how to get your site listed, how to understand which links give the biggest hits, and how to get listed with the top search engines, such as Yahoo!, AltaVista, and Excite. He also explains the subtle differences between the major players in this field. [His baseball metaphor is catching].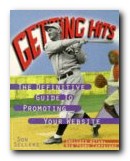 He describes how to set up links both to and from other sites, and where to submit your site for free web promotion. He lists plenty of submission sites, announce sites, and how to use them. His lessons on netiquette in newsgroups and mailing lists will be helpful for newcomers to these areas of the Web. He assists you in targeting which newsgroups you should list your Web page with, and identifies some of the pitfalls of using this method of promotion.
He also includes some interesting suggestions for offline site promotion – creating your own press releases and getting listed in magazines for instance.
If you want to spend money, he has sound advice on banner advertising and how to pay for key words, as well as how to analyse the statistics of web logs to interpret the results. Finally there is a useful listing of free and commercial resources to help you.
His overall advice is that there are no easy shortcuts. Success will come from testing and refining your site regularly to stay competitive in the medium.
© Roy Johnson 2002

  Buy the book at Amazon UK

  Buy the book at Amazon US
---
Don Sellers, Getting Hits: the definitive guide to promoting your web site Berkeley, CA: Peachpit, 1997, pp. 178, ISBN: 0201688158
---
More on eCommerce
More on media
More on publishing
More on technology
---