insider tips for putting academic writing into print
We all know that in the present climate of academic writing, it's a case of publish – or perish. The stress on doing 'research' then getting published is almost the only way to 'get on'. This book tells you how to do it. Despite the dubious imperatives, Jerry Wellington starts out by looking at the huge variety of positive reasons why people write and publish – as well as the numerous fears which might prevent others from doing so. He argues largely in favour of publishing in established, printed journals on the grounds that they offer the author more credence and protection – though there's no mention of the amazingly small number of people who ever read them.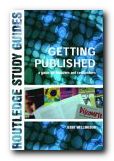 Next comes advice in taking account of the publication in which your writing will appear, its readership, and most crucially the type of article or review and how it will best fit the editor's requirements. There's a long section on 'the writing process' based on interviews with people who describe their approaches (the planners and the improvisers) as well as their reactions to peer review and criticism. You are certain to find somebody in here who shares your own approach. He describes what to write about, and even offers a checklist on how to be original.
He then describes the process of submitting an article for publication – both from the writer's and publisher's point of view. Much of this is taken up with the pros and cons of the peer review process.
Then comes the case of publishing in book form. After warning quite rightly that you shouldn't write a word until you have a contract, he then shows you how to prepare a publication proposal in great detail.
He throws in some observations and tips on the techniques of writing – how to plan and structure your work; how to edit and re-write what you produce; and how to develop a sense of 'good writing'.
Finally he looks at future possible trends in publishing – which focus largely on electronic journals and what's called 'self-archiving'. Anyone interested in this development would do well to look at the work of Steven Harnad in this field.
And for those who want to take the subject seriously, this book could profitably read alongside Peter Wood's Successful Writing for Qualitative Researchers.
I wrote this review on the day the UK government announced it would allow the formation of new non-research universities. So the rules of the game may well be changing soon. For most people however, the steps to getting published in the academic world will remain the same; and they are all covered here.
© Roy Johnson 2004

  Buy the book at Amazon UK

  Buy the book at Amazon US
---
Jerry Wellington, Getting Published: a guide for lecturers and researchers, London: Routledge, 2003, pp.136, ISBN: 0415298476
---
More on publishing
More on writing skills
More on journalism
More on creative writing
More on writing skills
---