tutorial, commentary, study resources, and web links
Glasses was first published in the Atlantic Monthly in 1896. Henry James records in his Notebooks "A little idea occurred to me the other day for a little tale that Maupassant would have called Les Lunettes though I'm afraid The Spectacles won't do". The story does have the sort of ironic twist that Maupassant featured in some of his own stories – of which James was a great admirer. It features the ever-present un-named first person narrator through whom the events of the story are presented.
---
Glasses – critical commentary
The main theme
The principal theme of the story is signaled throughout by images of sight, seeing, looking, and appearance. The narrator's occupation is looking at people and representing them in paintings. It is Flora Saunt's eyes to which he is first attracted and which give him the inspiration to paint her portrait
However, we learn that these eyes are also her point of weakness, and she feels socially threatened by the prospect of wearing glasses.
Mrs Meldrum is a fairly conventional figure of fun because of the odd juxtaposition of her manner and her appearance.- 'the heartiest, the keenest, the ugliest of women' with 'the tread of a grenadier and the voice of an angel'. She has
a big red face indescribably out of a drawing, from which she glared at you through gold-rimmed aids to vision, optic circles of such diameter and so frequently displaced that some one had spoken of her as flattering her nose against the glass of her spectacles.
This comic vision is rammed home countless times throughout the narrative, with her spectacles referred to variously as 'nippers', 'pince nez, and 'great goggles'.
Geoffrey Dawling on the other hand is physically unattractive: 'a long, lean confused, confusing young man, with a bad complexion and large protrusive teeth' – but the narrator feels that he is a gentleman because he is reassured by his 'good green eyes'.
Dawling has fallen in love with Flora without even having met her – after seeing her portrait in the exhibition. It is significant that Flora at first rejects his attentions out of hand as unthinkable, but she later blossoms as his wife – but only when she can no longer see him.
During the course of the story people repeatedly stare at each other – through spectacles, a telescope, and opera glasses. And emotional scenes invariably bring tears to somebody's eyes.
A secondary issue
It is interesting to note how Flora's fate is closely tied to her physical appearance and her income. She is an orphan, living in straightened circumstances, but has one advantage – her good looks. She knows that she must use those looks to attract a husband, because she is aware that she does not have a good figure. She also realises that if she were to wear glasses, this would reduce her chances of capturing a suitable husband.
And the conventions of society on this issue support her, for when she reveals her ocular weakness (as James might put it) to her fiancé Lord Iffield, he breaks off the engagement. Two interesting developments flow from that.
An engagement at that time could not be broken off lightly, without causing damage to social 'reputation' – particularly that of the woman. Iffield transfers the blame for the rupture onto Flora, so that he cannot be accused of 'breach of contract' – but offers her money as compensation. It is not made clear if she accepts it or not.
Blemishes
Contemporary readers might find it mildly amusing that so much fuss is made about the issue of having to wear glasses – though Flora's eyesight is very seriously affected, to the extent that she eventually becomes blind.
What they will not fail to notice however, is a sudden flash of corrosive and wholly gratuitous anti-semitism on James's part when the narrator arrives in Folkestone to visit his mother.
The place was full of lodgings, and the lodgings were at that season full of people, people who had nothing to do but stare at one another on the great flat down. There were thousands of little chairs and almost as many little Jews; and there was music in an open rotunda, over which the little Jews wagged their big noses.
This sort of thing takes some explaining away, even with allowance made for some 'historical context' – the more so since it is not an isolated instance in James's work. There are many cases of Jews making a fleeting appearance in his fiction, and almost all are cast as negative stereotypes.
---
Glasses – study resources

The Complete Works of Henry James – Kindle edition – Amazon UK

The Complete Works of Henry James – Kindle edition – Amazon US

Complete Stories 1892—1898 – Library of America – Amazon UK

Complete Stories 1892—1898 – Library of America – Amazon US

The Complete Tales (Vol 9) – Paperback edition – Amazon UK

Selected Tales – Penguin Classics edition – Amazon UK

Glasses – eBook formats at Project Gutenberg

The Cambridge Companion to Henry James – Amazon UK

Henry James at Wikipedia – biographical notes, links

Henry James at Mantex – tutorials, biography, study resources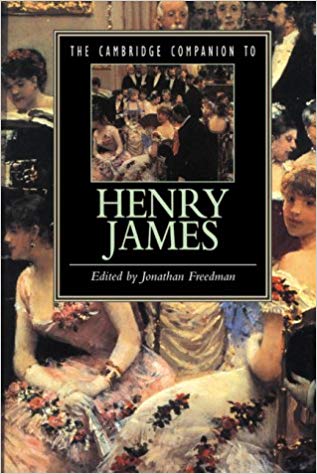 ---
Glasses – plot summary
The narrator is on holiday in Folkstone to visit his mother. In the company of a family friend Mrs Meldrum (who wears glasses) he meets Flora Saunt.
Flora is an attractive orphan eking out a small inheritance, living in the shadow of people who are taking advantage of her. She is full of self-confidence and is surrounded by admirers.
The narrator introduces his mother to Flora and proposes to paint her portrait. He asks her about a problem she is rumoured to have with her eyes. Flora protests that there is nothing whatever wrong with her. Her upper class admirers then snub the narrator's mother.
Flora's admirer Lord Iffield buys her portrait when it is exhibited at the Royal Academy, then Geoffrey Dawling arrives at the narrator's studio to purchase the preliminary sketches, merely on the strength of having seen the portrait.
Dawling becomes deeply enamoured of Flora, and refuses to take the narrator's critical advice about her. Flora accuses the narrator of trying to put pressure on her to marry Dawling.
The narrator sees Flora whilst he is out shopping, but is puzzled that she doesn't see him. He discovers her secretly wearing glasses to inspect a toy.
The narrator discusses this revelation with Dawling, who wishes to check the source of the narrator's suspicions – Mrs Meldrum. Dawling reports back from Folkstone that Flora has a horror of looking like Mrs Meldrum, but that he will continue to pursue her.
Flora reveals the desperation of her plight to the narrator. She feels that she must marry before revealing her eye problem – because her face is her one good feature, since she 'no figure'. When it is announced that Flora has become engaged to Lord Iffield, Mrs Meldrum tries to protect Dawling from the shock.
Dawling goes abroad and the narrator goes to America for a year. When he returns he meets Flora in Folkstone. She is a shadow of her former self, and is living with Mrs Meldrum.
Mrs Meldrum reveals to the narrator that Flora confessed her condition to Lord Iffield, who then backed out of their engagement and offered her financial compensation. Flora is living on next to nothing but the charity of Mrs Meldrum.
The Narrator goes back to America for three years, whilst Flora and Mrs Meldrum go abroad. When the narrator returns to London he sees Flora at the opera, looking more beautiful and well off than she has ever done before.
But when he goes to join her in her theatre box he discovers that she has gone blind. She has in fact married Dawling, who continues to be devoted to her. The narrator hurries to Mrs Meldrum for a full account of events, but she doesn't want to discuss the matter.
---
Principal characters
| | |
| --- | --- |
| I | the un-named narrator, a portrait painter |
| — | his invalid mother in Folkestone |
| Mrs Meldrum | his mother's friend |
| Flora Louisa Saunt | an orphan, with a beautiful face but 'no figure' |
| Bertie Hammond Synge | one of Flora's admirers |
| Lord Iffield | an admirer of Flora's who becomes engaged to her |
| Lord Considine | another admirer of Flora's |
| Geoffrey Dawling | an awkward but decent Oxbridge admirer of Flora's |
---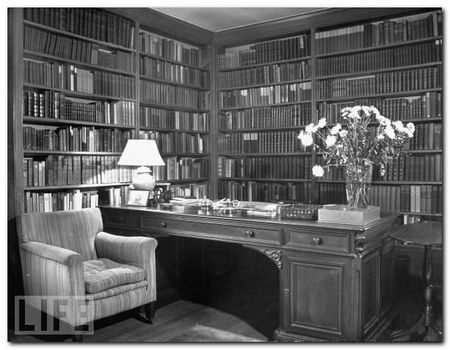 Henry James's study
---
Further reading
Biographical

Theodora Bosanquet, Henry James at Work, University of Michigan Press, 2007.

F.W. Dupee, Henry James: Autobiography, Princeton University Press, 1983.

Leon Edel, Henry James: A Life, HarperCollins, 1985.

Philip Horne (ed), Henry James: A Life in Letters, Viking/Allen Lane, 1999.

Henry James, The Letters of Henry James, Adamant Media Corporation, 2001.

Fred Kaplan, Henry James: The Imagination of Genius, Johns Hopkins University Press, 1999

F.O. Matthieson (ed), The Notebooks of Henry James, Oxford University Press, 1988.
Critical commentary

Elizabeth Allen, A Woman's Place in the Novels of Henry James London: Macmillan Press, 1983.

Ian F.A. Bell, Henry James and the Past, London: Palgrave Macmillan, 1993.

Millicent Bell, Meaning in Henry James, Cambridge (MA): Harvard University Press, 1993.

Kirstin Boudreau, Henry James's Narrative Technique, Macmillan, 2010.

J. Donald Crowley and Richard A. Hocks (eds), The Wings of the Dove, New York: W.W. Norton and Company, 1978.

Victoria Coulson, Henry James, Women and Realism, Cambridge University Press, 2009.

Daniel Mark Fogel, A Companion to Henry James Studies, Greenwood Press, 1993.

Virginia C. Fowler, Henry James's American Girl: The Embroidery on the Canvas, Madison (Wis): University of Wisconsin Press, 1984.

Jonathan Freedman, The Cambridge Companion to Henry James, Cambridge University Press, 1998.

Judith Fryer, The Faces of Eve: Women in the Nineteenth Century American Novel, Oxford: Oxford University Press, 1976

Roger Gard (ed), Henry James: The Critical Heritage, London: Routledge, 1968.

Tessa Hadley, Henry James and the Imagination of Pleasure, Cambridge University Press, 2009.

Barbara Hardy, Henry James: The Later Writing (Writers & Their Work), Northcote House Publishers, 1996.

Richard A. Hocks, Henry James: A study of the short fiction, New York: Twayne Publishers, 1990.

Donatella Izzo, Portraying the Lady: Technologies of Gender in the Short Stories of Henry James, University of Nebraska Press, 2002.

Colin Meissner, Henry James and the Language of Experience, Cambridge University Press, 2009

John Pearson (ed), The Prefaces of Henry James, Pennsylvania State University Press, 1993.

Richard Poirer, The Comic Sense of Henry James, Oxford: Oxford University Press, 1967.

Hugh Stevens, Henry James and Sexuality, Cambridge University Press, 1998.

Ruth Yeazell (ed), Henry James: A Collection of Critical Essays, Longmans, 1994.
---
Other works by Henry James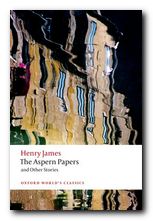 The Aspern Papers (1888) is a psychological drama set in Venice which centres on the tussle for control of a great writer's correspondence. An elderly lady, ex-lover of the writer, seeks a husband for her daughter. But the potential purchaser of the papers is a dedicated bachelor. Money is also at stake – but of course not discussed overtly. There is a refined battle of wills between them. Who will win in the end? As usual, James keeps the reader guessing. The novella is a masterpiece of subtle narration, with an ironic twist in its outcome. This collection of stories also includes three of his accomplished long short stories – The Private Life, The Middle Years, and The Death of the Lion.


Buy the book from Amazon UK


Buy the book from Amazon US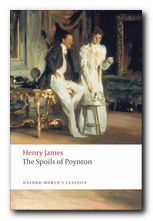 The Spoils of Poynton (1896) is a short novel which centres on the contents of a country house, and the question of who is the most desirable person to inherit it via marriage. The owner Mrs Gereth is being forced to leave her home to make way for her son and his greedy and uncultured fiancee. Mrs Gereth develops a subtle plan to take as many of the house's priceless furnishings with her as possible. But things do not go quite according to plan. There are some very witty social ironies, and a contest of wills which matches nouveau-riche greed against high principles. There's also a spectacular finale in which nobody wins out.


Buy the book from Amazon UK


Buy the book from Amazon US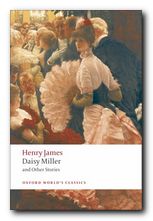 Daisy Miller (1879) is a key story from James's early phase in which a spirited young American woman travels to Europe with her wealthy but commonplace mother. Daisy's innocence and her audacity challenge social conventions, and she seems to be compromising her reputation by her independent behaviour. But when she later dies in Rome the reader is invited to see the outcome as a powerful sense of a great lost potential. This novella is a great study in understatement and symbolic power.


Buy the book from Amazon UK


Buy the book from Amazon US
© Roy Johnson 2012
---
Henry James – web links

Henry James at Mantex
Biographical notes, study guides, tutorials on the Complete Tales, book reviews. bibliographies, and web links.

The Complete Works
Sixty books in one 13.5 MB Kindle eBook download for £1.92 at Amazon.co.uk. The complete novels, stories, travel writing, and prefaces. Also includes his autobiographies, plays, and literary criticism – with illustrations.

The Ladder – a Henry James website
A collection of eTexts of the tales, novels, plays, and prefaces – with links to available free eTexts at Project Gutenberg and elsewhere.

A Hyper-Concordance to the Works
Japanese-based online research tool that locates the use of any word or phrase in context. Find that illusive quotable phrase.

The Henry James Resource Center
A web site with biography, bibliographies, adaptations, archival resources, suggested reading, and recent scholarship.

Online Books Page
A collection of online texts, including novels, stories, travel writing, literary criticism, and letters.

Henry James at Project Gutenberg
A major collection of eTexts, available in a variety of eBook formats.

The Complete Letters
Archive of the complete correspondence (1855-1878) work in progress – published by the University of Nebraska Press.

The Scholar's Guide to Web Sites
An old-fashioned but major jumpstation – a website of websites and resouces.

Henry James – The Complete Tales
Tutorials on the complete collection of over one hundred tales, novellas, and short stories.

Henry James on the Internet Movie Database
Adaptations of James's novels and stories for the cinema and television – in various languages. Full details of directors and actors, production features, film reviews, box office, and even quizzes.
---
More tales by James
More on literature
More on the novella
More on literary studies
More on short stories
---